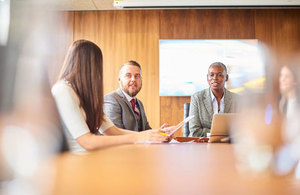 HM Courts and Tribunals Service (HMCTS) has contracted the services of Cragg Ross Dawson, a research agency, to recruit legal professionals to take part in research to support projects in HMCTS.
Cragg Ross Dawson will also manage communications between the participants in research and HMCTS during the process.
This revised approach will give legal professionals participating in HMCTS research timely notifications, and it will help to increase coordination and consistency in the research process.
What do I need to know?
Cragg Ross Dawson will recruit legal professionals as participants for research for projects within HMCTS.

any correspondence you receive will clearly indicate that Cragg Ross Dawson is acting on behalf of HMCTS. The correspondence will provide you with information on the purpose of the research and what you would be required to do as a participant, should you decide to take part in the research activity.

Cragg Ross Dawson will provide you with their company's full
/Public Release. View in full
here
.