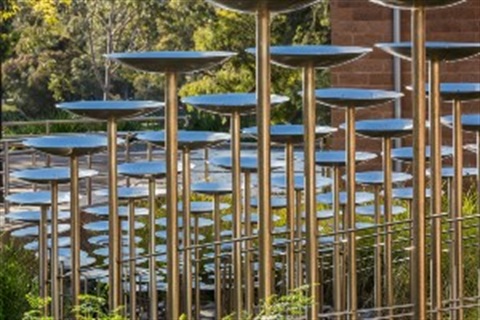 Nillumbik's long tradition of supporting our vibrant arts community continues with the endorsement of two key policies.
At this week's Future Nillumbik committee meeting, Councillors endorsed the Art Collection Policy and the new Public Art Policy.
The Art Collection Policy 2019-2022 and Curatorial Guidelines outline the management of the Nillumbik Shire Art Collections and the acquisition of artworks.
Nillumbik's collection consists of more than 500 indoor visual art works, 15 outdoor permanent public artworks and more than 120 objects of civic memorabilia. The collection was last valued in 2016 at $2.5 million.
Nillumbik Prize for Contemporary Art is a major form of acquisition for the collection and celebrates the diversity of contemporary visual arts. The biannual award has a $20,000 first prize.
The Public Art Policy 2019-2022 and Implementation Guidelines recommend a range of opportunities to activate public spaces by supporting artists to create new works for residents and visitors.
Street art and murals, performance art and busking, as well as permanent outdoor sculptures are covered under this Policy.
The policy would see a contribution of 1 per cent of all major publically accessible developments valued in excess of $2 million being allocated to public art – to be funded either by negotiations with developers, or in the case of civic projects, by Council.
Nillumbik Mayor Karen Egan said the policies were an important strategic document for the Shire and supported Council's goal to foster artistic expression and make public and participatory arts an everyday experience.
Cr Egan said this term of Council was committed to supporting the growth of the arts in Nillumbik and had increased its investment in this area.
"Nillumbik has long been renowned for its deep connections to the arts," Cr Egan said.
"These policies invest in a range of artistic pursuits from traditional works to busking and innovative contemporary projects."
Image credit: Robert BAINES. Transaction (detail) 1994. Stainless steel 30cm-320cm x 175cm x 500cm (irregular). Public Art Collection Nillumbik Shire Council
/Public Release. View in full
here
.