Sarah Monnier and Chloe Belair-Morin complete the two-year, tri-university program while earning their master's degrees in information studies
Sarah Monnier and Chloe Belair-Morin are the first graduates of Concordia's Indigenous Student Librarian Program.
Both recent graduates from McGill University's Master of Information Studies program, Monnier and Belair-Morin recently became the first to complete the tri-university initiative where First Nations, Métis or Inuit graduate students from McGill or Université de Montréal participate in a two-year-long paid position at the Vanier or Webster libraries at Concordia.
"I am thrilled that both Chloe and Sarah were able to join the Concordia Library team over the past two years while completing their master's degrees in information studies," says Lorie Kloda, associate university librarian at Concordia. "Despite some challenges due to the pandemic, including working almost entirely remotely for a year and a half, they were able to contribute to many library initiatives and gain experience in a variety of sectors."
The Indigenous Student Librarian Program was designed to push for more diversity in the field, as well as to directly support Indigenous graduate students by providing real-world experience within the profession.
Overcoming significant barriers
"The reason I pursued an archival career is because I have always admired the work of archivists and their ability to give voice to local histories of objects, people and institutions. During my time working and volunteering, I realized there are significant barriers for Indigenous people to have access to their cultural records," says Monnier, a member of Lac Seul First Nation.
"Historically, the most insurmountable issue is that the stewardship of archival material remains in the hands of large institutions that are physically distant from local communities. Within these institutions – due to lack of community input – these materials have been misinterpreted, misidentified or simply removed altogether."
In order to create the change she wanted to see and bridge the gaps she saw within current archival systems, Monnier says she realized she needed to bolster her education and professional skills to progress in her field. Monnier and Belair-Morin began their work at the Concordia Library in September 2020 and have indeed been able to share their knowledge with the university community while sharpening their skills on the job.
"The Concordia Indigenous Student Librarian program provided the perfect combination of the academic and hands-on experience necessary in order to develop the skills of an academic librarian or archivist," says Monnier.
One of the main projects undertaken by the two graduates was the development of the Library Guide for the Pîkiskwêtân Learning Series.
"The Library Guide is an invaluable tool to support the Pîkiskwêtân Learning Series and we are really fortunate to have had Sarah and Chloe collaborate on its development, along with Concordia librarian Susie Breier," says Kloda.
The students were also able to work on a number of other projects throughout their time in the program, including creating an online course reserves reading bank; developing library exhibitions and digital outreach material; and working with Special Collections to digitize the Boyce Richardson fonds.
"The fonds project was really important to me as my main area of interest in my field is archives," says Belair-Morin, who is Algonquin from Kitigan Zibi Anishinabeg. "I gained a lot of valuable experience and skills in this area, like learning how to properly handle photographs and slides, as well as practicing my description skills."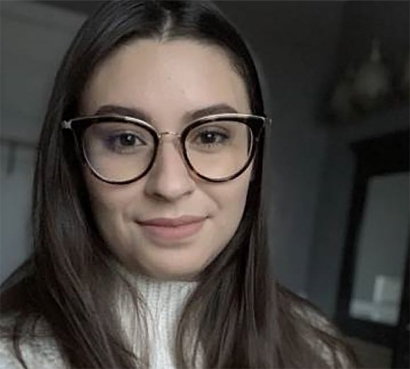 Chloe Belair-Morin: "The program offers you a chance to find the niche that you are most suited for and interested in."
A great launchpad
After completing studies in the library and information fields, many students choose to either stay within a university setting or to work in public schools or cultural centres within their communities. Now that she has graduated and her contract is ending, Belair-Morin says she hopes to continue working with archives and special collections for the next stage of her career.
Monnier was recently hired as a research archivist for the We Are Here: Sharing Stories project in the Indigenous Initiatives Branch at the Library and Archives Canada (LAC) in Ottawa. She says her career goal is to provide better access to Indigenous archival material, as well as create and maintain community connections.
"The project is part of the massive digital initiative at LAC," says Monnier. "My role specifically is to provide in-depth research into Indigenous archival content in LAC's collections and provide culturally appropriate metadata to facilitate online access to records pertaining to First Nations, the Métis Nation and Inuit peoples."
Both Monnier and Belair-Morin agree that the Indigenous Student Librarian Program is a great launchpad for Indigenous students interested in pursuing fulfilling careers in libraries and information.
"Everyone I worked with was lovely and was really interested in seeing me and co-worker succeed in our field," says Belair-Morin. "The program offers you a great chance to explore different facets of the field and find the niche that you are most suited for and interested in."
Belair-Morin and Monnier are only the first two students to graduate from the program and kickstart their careers. According to Kloda, there will be many more to come.
The Indigenous Student Librarian program is just getting started," says Kloda. "The Concordia Library, in partnership with McGill's School of Information Studies and the École de bibliothéconomie et des sciences de l'information at Université de Montréal, hopes to welcome more students pursuing professions in information studies in the future."
/Public Release. This material from the originating organization/author(s) may be of a point-in-time nature, edited for clarity, style and length. The views and opinions expressed are those of the author(s).View in full
here
.