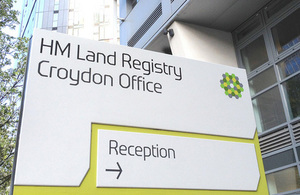 We will continue to operate as close to normal as possible in light of the COVID-19 pandemic. We would like to apologise to anyone who might be affected by a slower-than-usual service.
Impact on our services
Our Business e-services, which receive the majority of all applications, are running as normal. We are prioritising the services that allow property transactions to continue as normal.
We anticipate minimal disruption to:
bankruptcy searches 
land charges searches
local land charges searches
MapSearch
official copies of documents
official searches of the index map
official searches of part
official searches of whole
Property Alert
We anticipate that some of our services will be affected by the current situation with some applications taking slightly longer than our usual service standards.
We anticipate moderate disruption to discharge updates.
We are working hard to ensure our most important services continue, as a result services which have less impact upon the normal operation of the property market are likely to experience more significant disruption. We anticipate that we will be unable to meet normal service standards for these services.
We anticipate more significant disruption to:
Find a property
register create applications
register update applications
Expedite an application
We apologise if your application is affected by this necessary prioritisation of work. If you feel that your application is urgent, you can ask us to expedite it under certain circumstances. If we approve your request, we will process your application sooner. Find out how you can expedite your application.
/Public Release. View in full
here
.