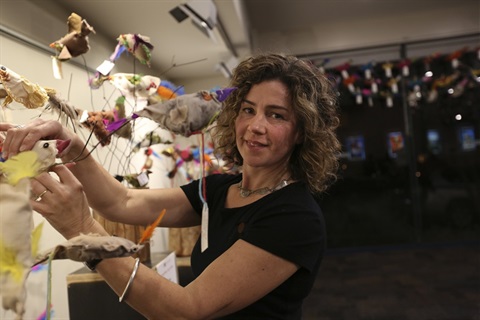 CrossXpollinatioN will have new artistic directors in 2019, with Veronica Phillips and Andrew Delaney to take over the reins from long-serving artistic director Carole Redlich.
Veronica and Andrew both have a deep existing association with CrossXpollinatioN and are excited to collaborate on the 2019 fibre and textile exhibition, which will officially open to the public on Friday, June 28.
Veronica has a background in visual merchandising and worked for many years in the fashion industry in Melbourne and London. She currently works throughout the Colac Otway and Surf Coast shires teaching art classes to students, and leading public art and sculpture projects to engage people in spaces and places.
Andrew also has a background in visual merchandising, having worked as a stylist with retail institution Myer Melbourne for a decade, and also in the corporate events industry. He has spent eight years as a practising artist producing emotive textile-driven collections including Darwin and Lincoln – both of which have been showcased throughout the western district and in Melbourne.
Both Veronica and Andrew studied at The Melbourne College of Decoration (now RMIT) and as professional practising artists in the western district will come together to put their creative stamp on CrossXpollinatioN.
COPACC Manager Tamzin McLennan paid tribute to outgoing artistic director Carole Redlich, who had been the creative force behind CrossXpollinatioN for the past six years.
"Carole has curated and hung CrossXpollinatioN since its inception in 2013.
"She has brought a thoughtfulness, professionalism and sensitivity to CrossXpollinatioN that has helped develop its reputation as one of the best fibre and textile art exhibitions in Australia.
"We are so very grateful for the energy and expertise that Carole has brought to CrossXpollinatioN and we wish her the very best as she steps back to focus more on her art practice."
Deans Marsh-based Veronica has led school engagement for CrossXpollinatioN for the past four years and said she was excited about the new challenge of artistic direction.
"I've loved seeing the reaction people get when they first enter the COPACC foyer, seeing the school kids' exhibition for the first time," she said.
"Then as they step inside the darkness of Civic Hall they see all the wonder of the CrossXpollinatioN textile and fibre exhibition dramatically lit up under moody spotlights.
"I'm very much looking forward to leading the creative direction of the 2019 CrossXpollinatioN exhibition with seasoned curator Andrew Delaney."
Geelong-based Andrew is an experienced CrossXpollinatioN artistic director and a past feature artist.
"I'm looking forward to CrossXpollinatioN, as I do every year whether I'm attending as a viewer, part of the setup or as a participating artist.
"The quality of work and the sense of community is the thing that constantly draws me back.
"And the fact that it's so professionally and technically lit and staged is also a huge drawcard, anyone who sees it is always seriously impressed.
"Typically, you don't get a chance to show textiles in an environment of six-metre ceilings, blackout and full lighting rigs unless you're a major player.
"You can have a piece in your lounge room, but once it goes into the Civic Hall space it takes it up a notch and gives you an amazing sense of achievement to see your art shown in that way."
/Public Release. View in full
here
.