The Novo Nordisk Foundation Center for Biosustainability, DTU Biosustain, has an increased focus on entrepreneurship. This has resulted in the establishment of a Pre-Pilot Plant (PPP) suited for testing and optimisation of cell factories at pre-industrial scale. This plant is a pivotal brick in the Center's mission of turning small-scale science into big business.
Andreas Worberg, Director Translational Core at The Novo Nordisk Foundation Center for Biosustainability (DTU Biosustain) has a mission. He wants to ensure acceleration of technologies with potential of going to market.
"Testing and scale-up require big investments and often venture capital. These investments are quite risky, and, therefore, many investors are hesitant or negative. Our job is to show that the cells can perform in near-industrial scale settings, so investors will have more ease in mind and will become more likely to invest," he says.
In 2017, the Novo Nordisk Foundation granted 118 Million Danish Kroner to DTU Biosustain for the establishment of this bioprocessing plant. By now, the Pre-Pilot Plant is operational, employing 14 employees and operating, amongst other, an automated ambr250© fermentation screening unit with 24 fermenters, two 30-L fermenters, one 150-L fermenter and various separation and purification downstream equipment fit for this scale.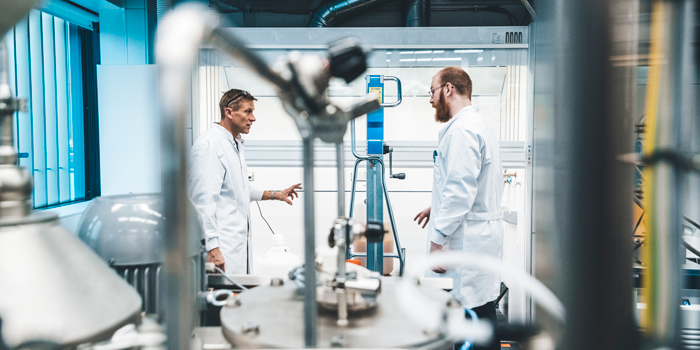 Know your customer!
The Pre-Pilot Plant is part of the Center's Translational Core, which works with strain engineering, economic market modeling (econometrics), analytics, screening, testing and purification. In short, the translational core bridges basic research with commercialization.
Andreas Worberg has a background from industry, and he always has the end in mind. And so should everyone else in his opinion:
"Good research is, of course, pivotal – but we need to have focus on commercializing our findings."
But building a successful business from 'university technology' takes more than just commercial thinking from the beginning of a research project. The researcher needs to make product life-cycle analysis, assessments and ask the right questions. If you forget this, you have a high risk of failing, he argues.
"Always have the end in mind!," he says repeatedly.
Andreas Worberg explains that some scientists assume they know the consumer's demands. But their assumptions are often wrong. For instance, a pesticide has a completely different value chain than for instance an industrial enzyme, a dietary supplement or a building block amino acid. And the customer has totally different requirements and demands depending on the product. For pharmaceuticals, safety may be the most important factor. For a pesticide, it may be that it is "bio" and environmentally friendly. Therefore, you should test your product as early in the development as possible to get customer-feedback.
"Feedback is fundamental, but a lot of researchers believe that if they develop a good process, people will buy the product – no, they won't! And this is what a lot of people in biotech have been suffering from."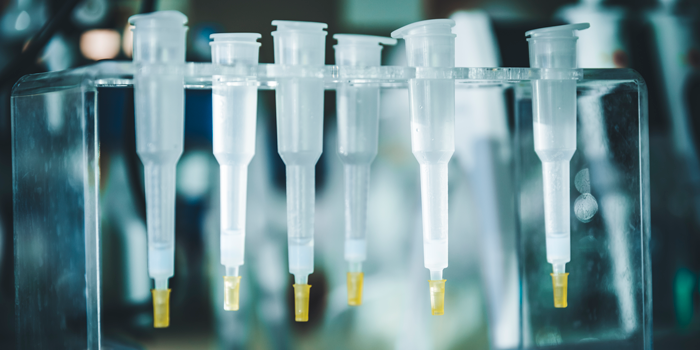 Denmark depends on cell factories
Today, up to 40 percent of Denmark's so-called Gross Value Added (GVA) is produced in fermentation processes, i.e. biochemical processes facilitated by microorganisms – cell factories. A country's GVA is a measure of the value of all goods and services that have been produced in a country, minus the cost of all inputs, raw materials and taxes. In this light, it pays to spend money on research that can improve fermentation processes, as this will benefit Danish business, explains CEO of DTU Biosustain Bernhard Palsson:
"If Denmark wants to continue to excel in producing sustainable chemicals, food, and pharmaceuticals, we must address these challenges in order to make the production more efficient. Today, many cell factories actually never make it to the industry, because scaling up is too difficult and costly. Therefore, we have to make it easier to prepare cells for large scale production. The gain can potentially be billions of Kroner," he says.
Getting through the eye of a needle
In principle everyone has access to the PPP both internally and externally as long as their business case is solid and fits the mission of the Center. It is the Execute Management Team within the Center that decides which projects go into the PPP. The team assesses the projects from a variety of standardized criteria and questionnaires. After assessing, they give feedback and may turn down a project if there are too many unanswered questions or uncertainties.The management team can also choose to ask the scientists to develop technology or IP further before it can proceed into the PPP. Because the PPP covers all operational expenses, and even buys new equipment if needed, the eye of the needle is small, but rewarding.
One of the researchers, who have had the privilege of using the PPP is Professor Alex Toftgaard Nielsen. He got the opportunity to optimize a bacterial strain producing amino acids in the PPP.
"We saw great advances in our production, when we got help from the analytics team and the pre-pilot plant, and it was really important to get this kind of help and support to mature the project," he says.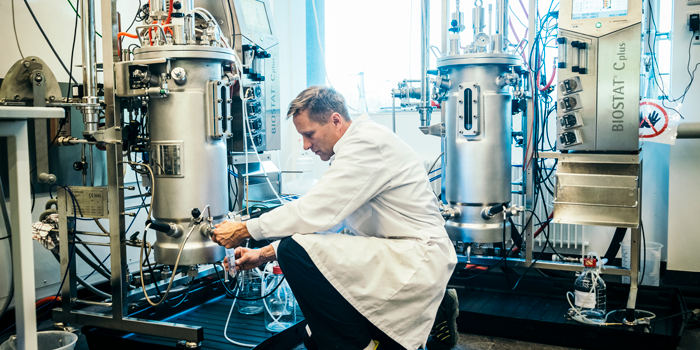 Downstream is THAT important
The PPP targets the so-called downstream processes, which take place after a microbe has been designed and built and to some extend tested on small scale. Downstream is about optimizing separation conditions, production and securing a good purification process. Downstream optimization is often extremely important, because if the yield is too low or if purification is too expensive the business model often goes down the drain.
The PPP typically targets products with a market price of approximately 1,500 USD/ton – 50,000 USD/ton, which are typically higher-value commodity products such as polymers for electronics, furniture, paint or additives in cosmetics and food supplements.
"I want to inspire others to work with us – making the Center a gravity point for attracting innovators"
Andreas Worberg, Director Translational Core, DTU Biosustain
Even though Andreas Worberg's mission is to get researchers to think 'applied', he emphasizes that the Center is a research center in its core.
"This is why The Center can and must be fearless and use our position to investigate within areas that seem unlikely to succeed."
Yes, this sounds a bit contradictory. But, as he explains, this Center can take risks no one else can.
"The industry is reluctant, and shareholder driven, and start-ups don't have the muscle to do time-consuming technology development projects. So sometimes, we must see the possibilities in the impossible in order to found the next Novozymes."
Gravity point for innovators
In the coming years, the PPP will expand with more equipment, and Andreas Worberg will have his eyes firmly fixed on getting an even closer collaboration with industry and partners such as BioInnovation Institute.
"I want to inspire others to work with us – making the Center a gravity point for attracting innovators. I believe this will open the doors to developing better technologies, better science and contributing to the Danish and International biotech industry," he says.
At the moment a new project lead by Senior Researcher Irina Borodina and Associated Scientific Director Douglas Kell, both from DTU Biosustain, is about to enter the PPP pipeline. The goal of this project is to optimize the production line of a commercially interesting amino acid with vitamin-characters.
/Public Release. This material comes from the originating organization and may be of a point-in-time nature, edited for clarity, style and length. View in full
here
.