In einer multimedialen Web-Ausstellung des Exzellenzclusters ct.qmat Würzburg-Dresden lassen sich die Rätsel der Quantenwelt ergründen.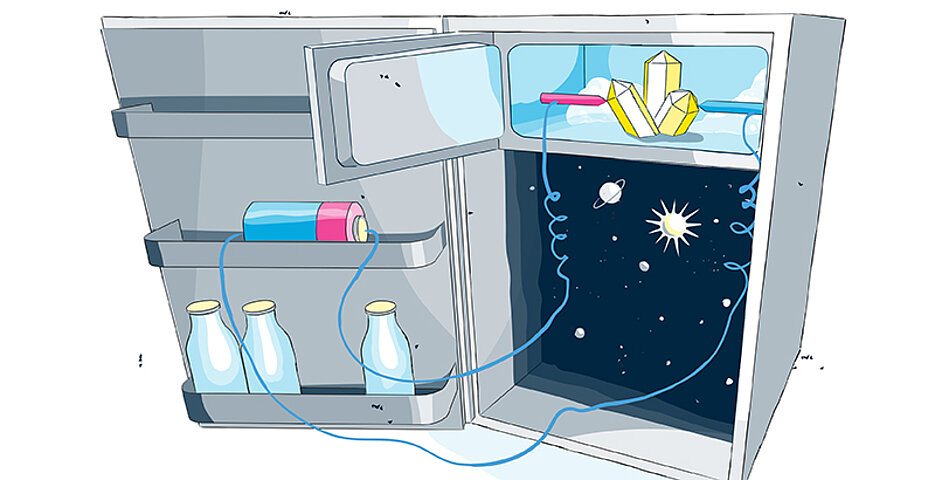 Das Exzellenzcluster ct.qmat erforscht neue Quantenmaterialien, die unter extremen Bedingungen – wie zum Beispiel ultratiefen Temperaturen – überraschende Phänomene offenbaren. (Image: pixelwg / Jörg Bandmann)

Kälter als im Weltraum, mehr Druck als 30 Pottwale auf eine Briefmarke ausüben und Supermagnete, die gleich zwei Eiffeltürme halten könnten: Die Suche nach neuen Quantenmaterialien, den Werkstoffen von übermorgen, findet heute unter Extrembedingungen statt. Doch oft ist schwer zu verstehen, was die Forscherinnen und Forscher in ihren Hochleistungslaboren eigentlich tun.
Das Würzburg-Dresdener Exzellenzcluster ct.qmat – Komplexität und Topologie in Quantenmaterialien hat nun einen großen Schritt für die Wissenschaftskommunikation gemacht: Die Web-Ausstellung "Schaufenster – Blick in unsere Forschung" informiert über Arbeit, aktuelle Erkenntnisse und Ziele der mehr als 250 internationalen Cluster-Forschenden – mit allgemein verständlichen Texten, eingängigen Illustrationen und unterhaltsamen Videos unter https://ctqmat.de/schaufenster.
"In diesem Jahr wurden gleich drei Ausstellungen eröffnet, die unsere Forschungsinhalte erklären. Die positive Resonanz brachte uns auf die Idee, diese Themen multimedial aufzubereiten und auf unserer Webseite zugänglich zu machen. Jetzt kann man überall auf der Welt ganz bequem vom Sofa aus durch unsere rätselhafte Quantenwelt navigieren. Nicht zuletzt während der Corona-Pandemie ein enormer Vorteil", betont Professor Matthias Vojta, Dresdener Sprecher des Exzellenzclusters.
Von kalten Chips zu Quantencomputern
Leicht nachvollziehbar erklärt die Web-Ausstellung in deutscher und englischer Sprache, welche extremen Bedingungen in Hochleistungslaboren herrschen, warum die Forschenden Quantenmaterialien Atom für Atom maßschneidern und was die topologische Quantenphysik mit haarigen Donuts zu tun hat. Ein Ausblick auf zukünftige Anwendungen führt von "kalten Chips" bis zu "QuBits" und Quantencomputern. Für alle, die mehr wissen wollen, gibt es Verweise zu Hintergrundinformationen.
"Wir sind deutschlandweit führend im Bereich topologischer Quantenmaterialien und spielen weltweit in der Topliga unseres Forschungsgebiets. Doch wir möchten auch außerhalb unserer Wissenschafts-Community einer breiten Öffentlichkeit vermitteln, wie spannend unsere Experimente sind, welche wegweisenden Ergebnisse wir schon vorweisen können und was dies für die gesamte Gesellschaft bedeutet. Für uns eine Herzensangelegenheit, denn wir sind überzeugt, dass Quantentechnologien die Hightech des 21. Jahrhunderts entscheidend prägen und zu neuen Anwendungen führen werden", erläutert Professor Ralph Claessen, Würzburger Cluster-Sprecher.
Exzellenzcluster ct.qmat
Das Exzellenzcluster ct.qmat – Complexity and Topology in Quantum Matter (Komplexität und Topologie in Quantenmaterialien) wird seit 2019 gemeinsam von der Julius-Maximilians-Universität Würzburg und der Technischen Universität Dresden getragen. Mehr als 250 Wissenschaftlerinnen und Wissenschaftler aus 33 Ländern erforschen topologische Quantenmaterialien, die unter extremen Bedingungen wie ultratiefen Temperaturen, hohem Druck oder starken Magnetfeldern überraschende Phänomene offenbaren. Gelingt es, diese besonderen Eigenschaften unter Alltagsbedingungen nutzbar zu machen, könnte das die Basis für revolutionäre Quantenchips und neuartige technische Anwendungen sein. Das Exzellenzcluster wird im Rahmen der Exzellenzstrategie des Bundes und der Länder gefördert.
/Public Release. This material from the originating organization/author(s) may be of a point-in-time nature, edited for clarity, style and length. The views and opinions expressed are those of the author(s).View in full
here
.