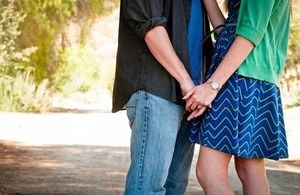 Government sets out next steps for opposite-sex civil partnerships
Government announces plans for extending civil partnerships to opposite sex couples
Equalities Office to also seek views on the conversion of marriages to civil partnerships
Aim for couples to be able to form civil partnerships before end of the year
Last year, the Government announced landmark plans to introduce opposite-sex civil partnerships.
Today (Wednesday 10 July) we have published our plans for extending civil partnerships to opposite sex couples by the end of this year. We are also launching a consultation on how to ensure couples in England and Wales can access the form of legal union that best suits them.
The consultation will seek public opinion on giving opposite-sex couples an opportunity to convert their marriage into a civil partnership, and then bringing all conversion rights to an end.
Providing a period for conversion will allow opposite-sex couples the opportunity to access the legal relationship that was not previously available to them.
Minister for Women and Equalities, Penny Mordaunt, said:
"There are all sorts of reasons why people may choose not to marry, but for a long time it has been the only option for many wanting the legal security it provides.
"Last year the Prime Minister announced government would support the extension of civil partnerships to opposite-sex couples. This is a fantastic step, providing an alternative to marriage for these couples.
"We must now consider those who didn't haven't had this as an option previously, that's why we're consulting on whether opposite-sex married couples can convert their marriages to civil partnerships."
The consultation will run for six weeks until 20 August and will inform how government legislates.
This follows the announcement by the Prime Minister that from December, civil partnerships that have been available to same-sex couples since 2005, will be extended to opposite-sex couples.
Further information:
By law, the Secretary of State is required to consult before making regulations relating to conversion rights.
/Public Release. View in full
here
.