Planned burning will close sections of the Grampians Peaks Trail and key visitor sites at short notice from March to June, 2022. It is important you consider this interruption when planning your trip.
Planned burning is a critical part of park management and reducing bushfire risk in the Grampians National Park. The right weather conditions are needed for a safe and effective burn- cool to warm temperatures, very little wind, no rain. These are the same great conditions for a trip to the park! Because planned burning is so dependent on the right weather conditions, we cannot give exact dates or times when they will occur.
The following burns are currently scheduled to be ignited Friday 25 March, if conditions are suitable, with some closures in place from Thursday night until Friday 1 April unless otherwise specified:
Grampians NP- Stony Creek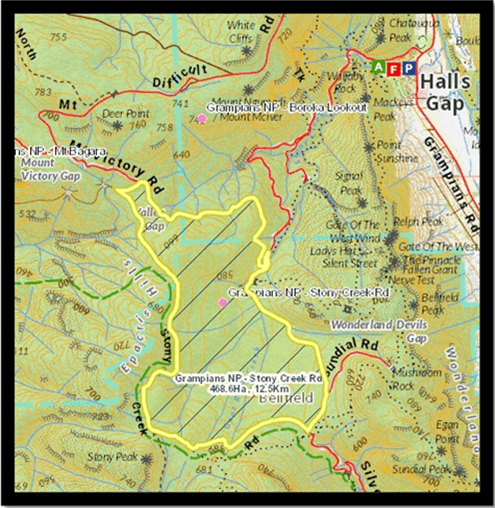 Grampians NP- Boroka Lookout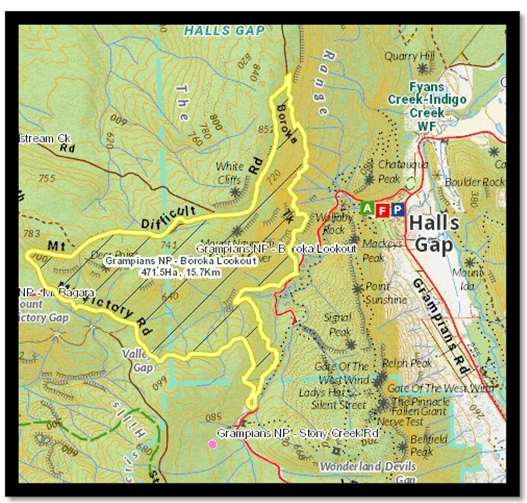 Closures:
Stony Creek Road Burn is scheduled for ignition on Friday 25th March. Some road and walking track closures will be in place from Thursday evening March 24th. Signs will be in place to notify visitors of closures. Some closures will have traffic management or staff available to assist with information.
Road closures:
Road access to the Wonderland Range, Boroka Lookout, Sundial Car Park, Mt Rosea, and all associated walking tracks, rock-climbing sites and Grampians Peaks Trail campgrounds (Bugiga and Stony Creek road) will be closed during ignition, and will reopen when declared safe.
Road access from the east (Halls Gap) via Mt Victory road to the Wonderland area, Reeds Lookout, Boroka Lookout and Mackenzie Falls will be closed at the Halls Gap oval.
2WD Visitor access to Mackenzie Falls, Lake Wartook and Smiths Mill Campground and Boroka Lookout areas will be available form the west (Wartook Valley). A detour will be in place from Halls Gap along the Halls Gap – Stawell road, Western Highway C222, Northern Grampians Road. Alternatively, 4X4 and high clearance vehicles can access these areas from Halls Gap via Mt Zero Road, Roses Gap road and Mt Victory Rd
Road access from Wartook Valley to Halls Gap will be closed on Mt Victory Road at the Rose Creek Rd Junction
Road access from Victoria Valley to Mt Victory Road will be closed on Glenelg River Road at Flat Rock Crossing
Road Access to Boreang Campground and Victoria Valley will be open via Northern Grampians Road (C222), Rose Creek Road and Glenelg River Road
Mt Difficult road will be closed north of Boroka Lookout. See additional advice about Mt Difficult Road conditions and closures via the park road report
Rosea 4X4 track will be closed including the Tower Hill walk.
Other road and track closures will be in place surrounding the burn.
Walking track closures:
Access to Venus Baths will be open from the Halls Gap Botanic gardens/Caravan Park, but a closure will be in place at the Wonderland Loop junction and Mackey's Peak junction. Lake Bellfield MVO track and Stony Creek Road will be closed.
Walks into the Wonderland Range including the Grampians Peak Trail and Wonderland Loop walk to the Pinnacle Lookout and Sundial area walks will be closed. Wonderland Car Park, Sundial and Rosea Car Parks closed
Boroka Lookout to Wonderland Car Park/Halls Gap walking track will be closed
Access to Wonderland Range via Bellfield/Sundial MVO track will be closed.
Mt Rosea Walking track from Borough Huts Closed.
**If the Boroka Lookout burn is ignited on Sunday 27th March, additional road closures into Reeds Lookout and Boroka Lookout will be in place.
Grampians Peaks Trail/overnight walking Closures
For the Stony Creek Road burn:
The Grampians Peaks Trail (GPT) from Halls Gap to Borough Huts campground (section C1 and C2) including Bugiga Hike in campground will be closed between Venus Baths and Borough Huts campground from Thursday 24th March.
Closures of the Stony Creek Group Camp and Stony Creek road Bush camps for schools and groups will also be closed.
**If the Boroka Lookout Burn is ignited on Sunday 27th March there will be an additional closure of the Grampians Peaks Trail between Mt Difficult Road Crossing south (south of Lake Wartook Lookout) and Halls Gap Recreation Oval (Section N4). A shuttle service will be in place to support GPT walkers to access Halls Gap. See shuttle service advice below.
Road access to Boroka Lookout and Reeds Lookout will also close from the west (Lake Wartook).
How will these Planned Burns impact my Grampians Peaks Trail Booking?
With closures in place, and potential smoke in the area, you may choose to cancel your GPT itinerary. Call Parks Victoria on 13 1963 for a full refund.
There are possible alternatives to avoid the closure of the Wonderland trail section, Bugiga Hike in campground, Stony Creek Group camp, Stony Creek bush camps and Mt Rosea trail Sections, depending on availability.
Option 1: You may choose to detour around Halls Gap via Terraces Fireline to camp at Borough Huts instead of Bugiga. Additional Bookings at Borough Huts will be required if sites are available.
Option 2: You may choose to book an additional night's accommodation in Halls Gap to replace Bugiga hike in campground (if available). Take a rest day in Halls Gap to undertake day walks in the Halls Gap area or enjoy sightseeing (such as Venus Baths, Boronia Peak, local shops and attractions). Take the free shuttle service to Borough Huts campground on day 2 of your central GPT itinerary and enjoy a short walk to Barri Yalug hike in campground, as per your original plan. A cancellation for Bugiga hike in campground will be available.
Option 3: You may choose to take the free shuttle service to camp an additional night at Borough Huts Campground (if available), to replace camping at Bugiga. Enjoy a rest day at camp or walk to Lake Bellfield. Pick up your central GPT itinerary with a very short walk to Barri Yalug hike in campground as per your usual day two Central GPT itinerary.
For the Boroka Lookout Burn, the inclusion of the Mt Difficult Rd to Halls Gap closure (N4):
A free shuttle service will be available to ferry walkers from Mt Difficult Road to the Halls Gap Visitor Information Centre, to complete the Day 4 section of the Northern GPT itinerary. The Boroka Lookout walking track to Wonderland Car Park and Halls Gap will also be closed, so no other walking detours are available in this area.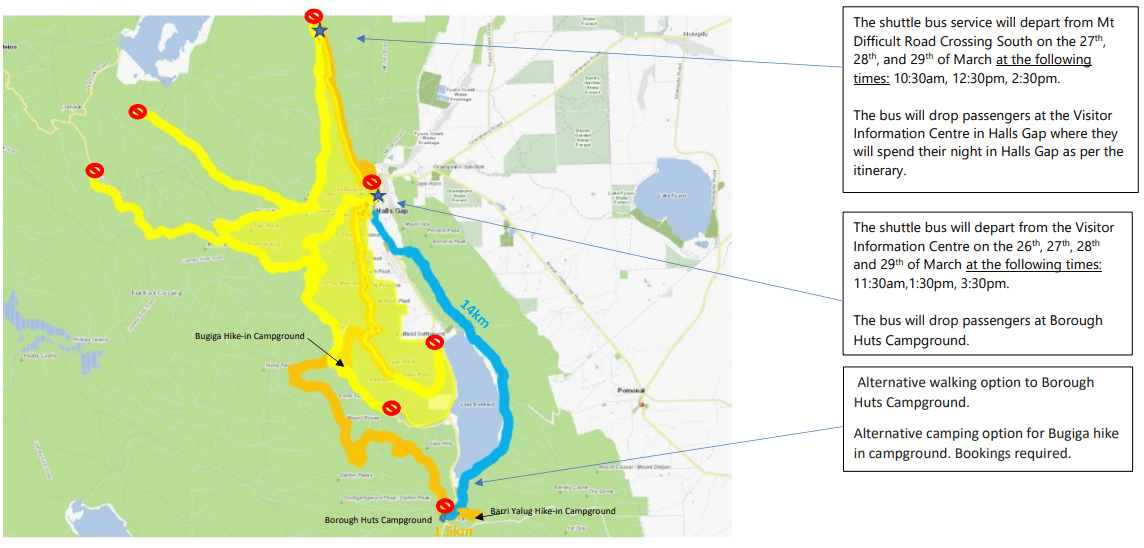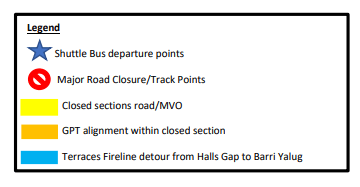 Free Shuttle Services
A free shuttle service will be available for Grampians Peaks Trail Walkers during these planned burns.
From Saturday 26th March:
For GPT walkers intending to continue their central GPT walk with modifications to bookings (if available), a free shuttle service will be available to ferry walkers between Halls Gap Visitor Information Centre and Borough Huts Campground.
Departure from Halls Gap VIC at 11:30pm, 1:30pm and 3:30pm. Sat, Sun, Mon, Tues and possibly further into the week if required.
From Sunday 27th March
A free shuttle service will depart Mt Difficult Road Lookout south, and travel via Mt Victory Road (under escort) to Halls Gap Visitor Information Centre.
Departure 10:30, 12:30 and 2:30pm. Sun, Mon, Tues, Wed and possibly further into the week if required.
A reminder that road closures will be in place along Mt Difficult Road so this service is for GPT overnight walkers only.
Parks Victoria and the Department of Environment, Land, Water and Planning (DELWP) apologise for the inconvenience this may cause.
If you have booked through a Licensed Tour Operator, they will have measures in place to limit the impact of closures on your visit.
Staying informed – How can I find out about a burn near me?
/Public Release. This material from the originating organization/author(s) may be of a point-in-time nature, edited for clarity, style and length. The views and opinions expressed are those of the author(s).View in full
here
.