By Tim Baker
When people occasionally ask me who my favourite interviewee has been over 35+ years of surf journalism, I don't even have to think about it.
Dorian "Doc" Paskowitz was in his late '80s when I was treated to an audience with surfing's most revered medico in the plush foyer of the Sheraton Waikiki Hotel.
Founder of the world's first surf school and patriarch of the much-loved Paskowitz surfing dynasty, Doc as he was universally known, was immortalised in a poignant 2007 documentary film, Surf-Wise. https://www.magpictures.com/surfwise/
Doc and his wife Juliette and their nine children (yes nine!) lived a nomadic life traversing the US and Mexican coasts in a camper van, running surf lessons as they went, like an aquatic, traveling, family circus.
Even though Doc barely practiced as a medical doctor after graduating, ("It didn't feel right to profit from sick people," he told me), he did write a self-published manifesto on human well-being called "Surfing and Health." His philosophy was best summed up in this succinct observation: "Health is more than the mere absence of disease. It's the presence of a state of vigour, vitality, pizzazz, that can be purposely come by, by working on it day after day."
That philosophy has greatly informed my own approach to cancer self-care, of which surfing has played a central and crucial role. When something makes you feel as good and as joyful as surfing does, reliably, unfailingly, without ever becoming old or stale, you just want to keep doing it as much as possible. Even though I still need to push past the fatigue of hormone therapy, once I'm in my wetsuit with board under arm it's as if old muscle memory kicks in and I'm just another surfer chasing a sweet ride.
Surfing neatly combines many of the things that are extremely good for a man managing a prostate cancer diagnosis and the travails of hormone therapy. Paddling out provides a brisk cardio work-out, duck-diving waves while sucking in deep lungfuls of oxygenated air, and resistance/strength training for the upper body. Sitting out the back of the break scanning the undulations of the vast blue horizon for signs of an incoming swell can be deeply meditative. Breaking waves generate negative ions which make us feel could via a biochemical process I can't begin to explain but experience profoundly. The sheer joy of flying shorewards on a pulse of pure energy. Vitamin D from the sun. Becoming absorbed into something greater than the self.
If you tried to design an activity to mitigate many of the side effects of hormone therapy and a prostate cancer diagnosis, you would probably come up with something that looked a lot like surfing.
Celebrated Australian author Tim Winton once described the ocean as "a vast salty poultice that sucks the poison right out of you." This was never truer for me than during chemotherapy, when regular immersion in the brine seemed to cleanse my ravaged body and soul from the toxicity of treatment.
In my 2007 book High Surf, I interviewed a surfer and cancer survivor from Waikiki, in Hawaii, long before my own diagnosis in 2015. When I included her words in my book, I could never have imagined that she would one day be speaking so eloquently for me:
"I'm 54, and just started surfing three years ago, but I surf almost every day. I was diagnosed with cancer seven years ago, and I believe surfing heals me and makes me strong (physically and spiritually) so I can bounce back from all the constant chemo. I believe in the mana (power) of the ocean. As many of the beach boys will tell you, it heals. Blue (well-known Waikiki beach boy) often tells me that that is what is keeping
me alive: I believe it is. Less than 20% with my particular cancer are alive after five years, and I'm still kicking after seven. Many days after chemo, I go surfing weak and with a terrible headache, but I come in clear-headed, refreshed and stronger. I don't know why it works, but I know it works. Physically, surfing keeps my muscles strong so I can bounce back after treatments. I will never lose 'my fight with cancer.' No matter what happens in the end, every day I go out surfing is a day I have beaten cancer – I have already won."
All of this got me thinking, while bobbing out among the waves on a glorious winter's morning on the NSW north coast – what if we ran surf lessons for men with prostate cancer as a wellness strategy? There are numerous groups using surfing as therapy for kids with autism, people with disabilities, refugees, military veterans, and all report astonishing results in addressing trauma and promoting well-being.
I'm curious to gauge the level of interest in this idea among my brethren living with prostate cancer. In gentle surf, with qualified instructors and soft beginner boards, this can be done extremely safely. There are plenty of hoops to jump through to make something like this a reality, but I would love to offer other men managing a prostate cancer diagnosis and its treatment the uplifting, joyful, therapeutic benefits of wave-riding.
Who's in?
This August, Tim will launch his latest book, Patting the Shark. This candid story documents his journey learning to live well with prostate cancer. To launch Patting the Shark, Tim will join Professor Suzanne Chambers at Brisbane Library on August 21, 2022 from 11am to 12pm to talk about his journey. To attend, click here.
---
About the Author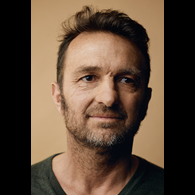 Tim Baker is an award-winning author, journalist and storyteller specialising in surfing history and culture, working across a wide variety of media from books and magazines to film, video, and theatre. Some of his most notable books include "Occy", a national bestseller and chosen by the Australia Council as one of "50 Books You can't Put Down" in 2008, and "The Rip Curl Story" which documents the rise of the iconic Australian surf brand to mark its 50th anniversary in 2019. Tim is a former editor of Tracks and Surfing Life magazines. He has twice won the Surfing Australia Hall of Fame Culture Award.
Tim was diagnosed with stage 4, metastatic prostate cancer in 2015 with a Gleason score 9. He was told he had just five years of reasonable health left, but seven years on, at 57, he's still surfing, writing, and enjoying being a dad. His latest book, Patting The Shark, also documents his cancer journey and will be published in August. Tim will be sharing weekly insights into his journey to help other men who have also been impacted by prostate cancer.
/Public Release. This material from the originating organization/author(s) may be of a point-in-time nature, edited for clarity, style and length. The views and opinions expressed are those of the author(s).View in full
here
.