When most people prepare to get their COVID-19 vaccine, they sit in a chair and roll up a sleeve. At the MUSC Children's Health R. Keith Summey Medical Pavilion, 5-year-old Nolan Rivers climbed off a bed where he'd been playing with a toy rocket and into his mother's lap.
"Nolan? Now you remember I told you you're getting that special shot so you'll be protected against COVID?" Lolanya Rivers asked gently.
"Yeah," he answered, sounding a little uncertain.
No kid wants to get a shot. But Nolan was willing because his mom wanted him to – plus, he knew it would earn him some chocolate mousse ice cream from Baskin Robbins on the way home.
"This will make you a big boy," his mother told him.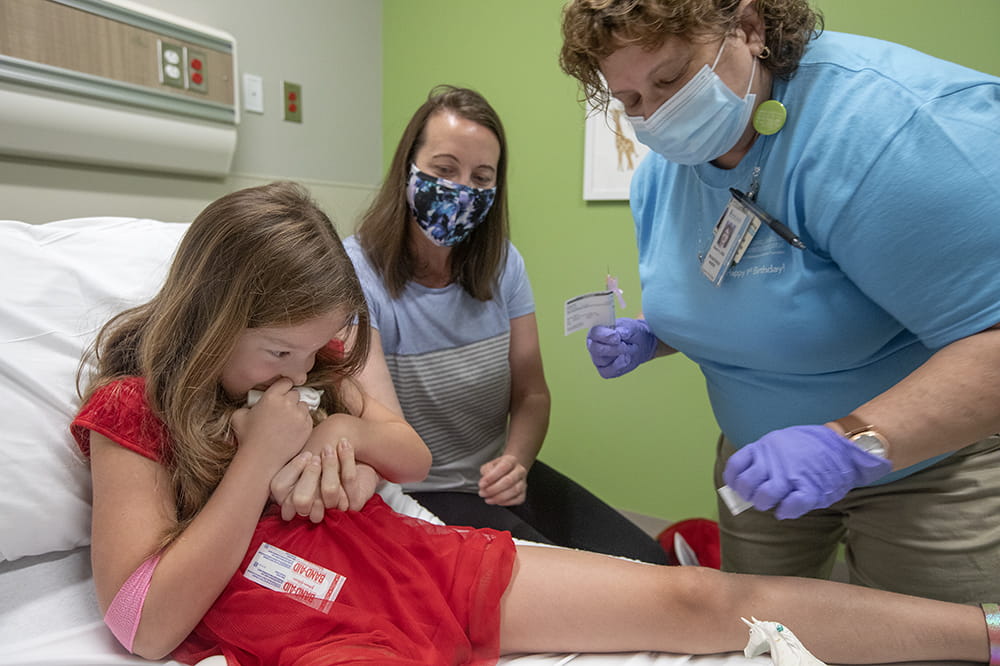 A nurse injected 50 micrograms of the Moderna vaccine into the North Charleston kindergartener's arm, half the amount an adult would get. "It's done," she said.
Nolan, who picked a Star Wars Band-Aid to protect the spot where the needle went in, is among the first children age 6 and under to get a COVID-19 vaccine. He's part of a clinical trial with sites across the country, including MUSC Children's Health. It's enrolling younger and younger children, building on previous research in older kids.
Nolan's mother, who works in a microbiology lab, signed him up for the trial because she thinks the science supporting COVID vaccines is solid. "I did the research on Moderna and Pfizer. I feel confident."
So does cardiologist Andrew Atz, M.D., chair of pediatrics at the Medical University of South Carolina. "I'm wicked super stoked," he said with a big smile on the day Nolan and a handful of other young vaccine trial volunteers got their first shots.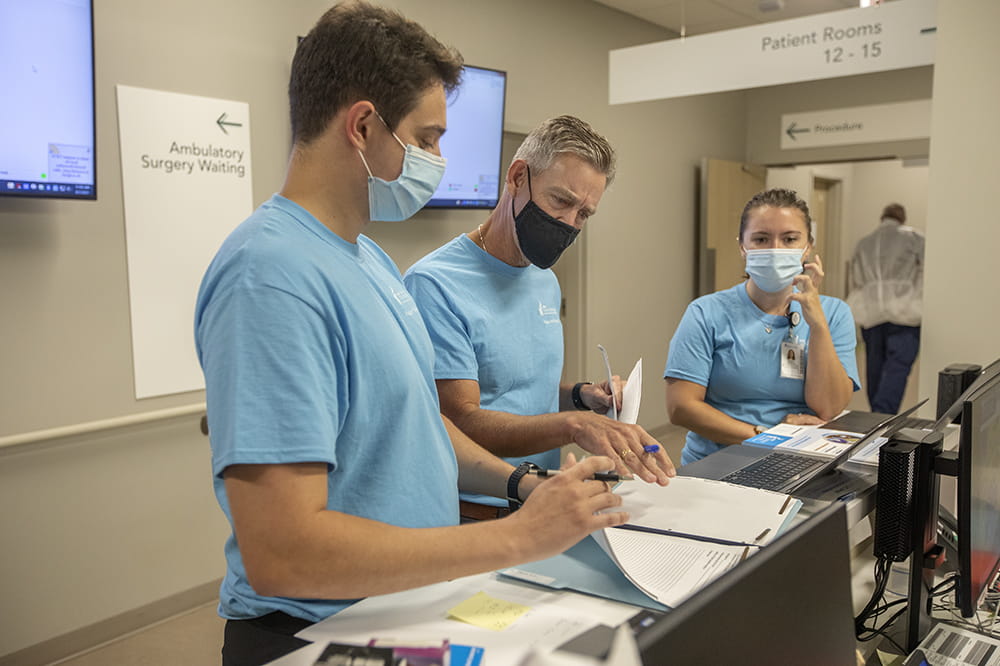 "I couldn't wait to email all the people I had meetings scheduled with today and tell them I have to cancel, because we're involved in this incredibly important study that's going to help eradicate the pandemic."
Right now, Moderna has emergency use authorization from the Food and Drug Administration to offer its COVID-19 vaccine to people 18 and up. It's asking the FDA to expand that to 12 to 17-year-olds, and ultimately hopes to offer it to people of all ages.
While the Centers for Disease Control and Prevention is monitoring reports of heart trouble in adolescents and young adults after COVID-19 vaccination, its experts say those reports are rare, and the known benefits of vaccines outweigh the unknown and potential risks.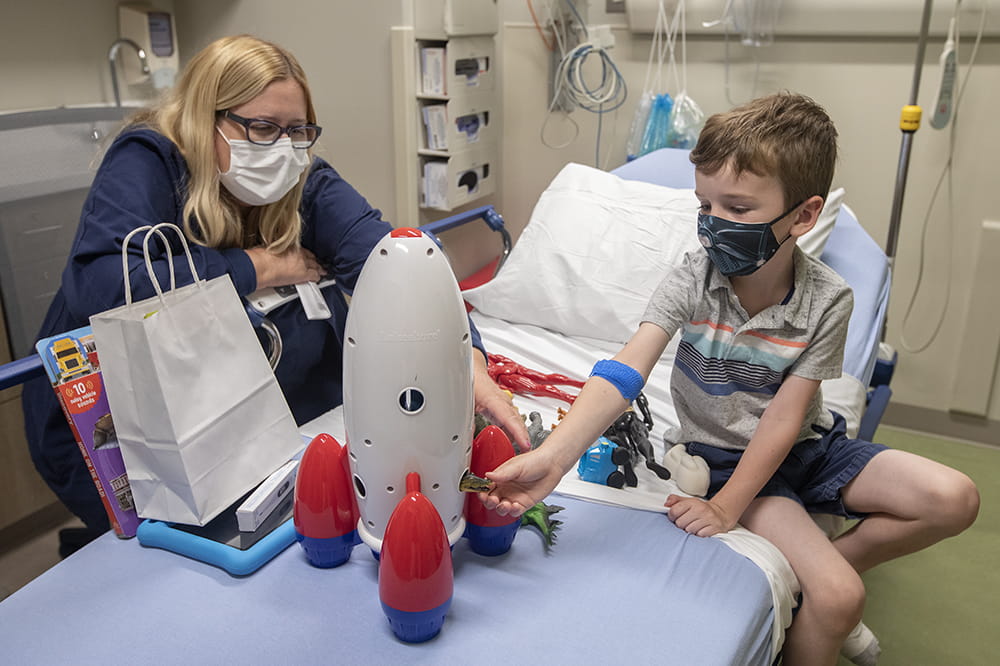 Atz and his research team have vaccinated 15 children ages 2 to 5 so far. Each will get two shots about a month apart. The doses are half of what adults get because the children are so much smaller. Older kids were vaccinated in earlier parts of the trial.
The kids' size isn't the only thing taken into account during the study. Their emotional needs are, too. Child Life specialist Jennifer Redfern, trained to children cope and sometimes even thrive in medical situations, brings in toys like the rocket Nolan played with to keep the kids as happy and comfortable as possible. And their parents stay with them throughout the visit.
Alice Zwolak, who will start kindergarten at Drayton Hall Elementary School next fall, settled right in during her appointment. She played with fairy toys while her mom, Pam Zwolak, sat beside her.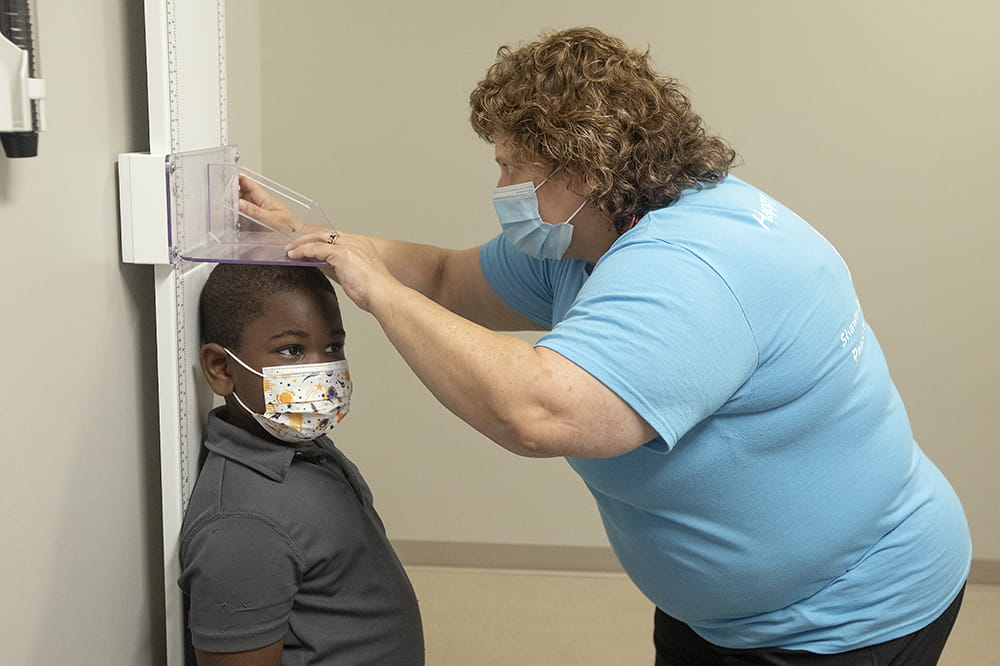 "My husband and I tried to get into the Novavax trial. We didn't get in, but we got a notification – I think I saw it online – about other trials. So we registered both of our children as being interested in that," Zwolak said.
"We were like, 'We're in.' No questions. We just really decided it was something that we wanted to be part of. I want to protect my children."
Scott Appleby, father of 5-year-old vaccine volunteer Ethan, was a little more hesitant. "My wife found out about it and she signed him up. I was worried about him getting COVID and also worried about getting the vaccine, but I figure the vaccine is much safer than COVID."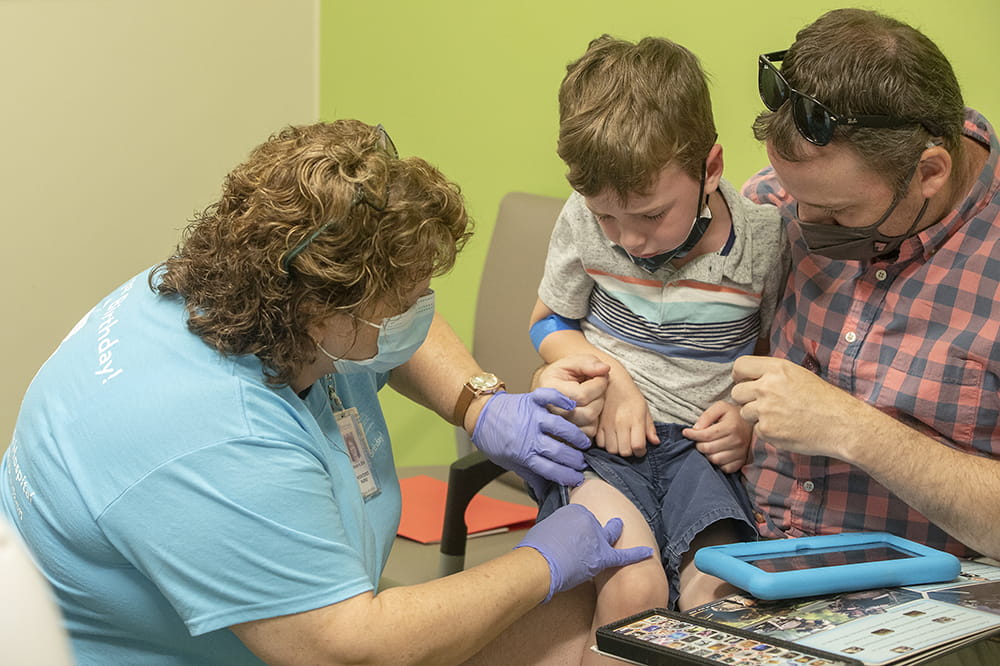 So when he got the call saying Ethan could be part of the trial, he was ready. "He was a little scared of getting the shots, but we told him we'd make it really special for him. Like ice cream for dinner or TV – he can do movies all day. That made him feel a little better. Mint chocolate chip. Right, buddy?" he said to Ethan as the Angel Oak Elementary student sat in his lap.
"My wife and I think it's important to get kids back to normal, get school back to what it used to be."
Atz thinks that's important, too. "We're getting to more vaccine resistance in adults, but the fact that we can sprinkle in kids is tremendous. I'm most excited about getting young school kids vaccinated. If we can get 100 or 200 in the local area vaccinated before the next school year, it will be amazing. Any amount is better than none."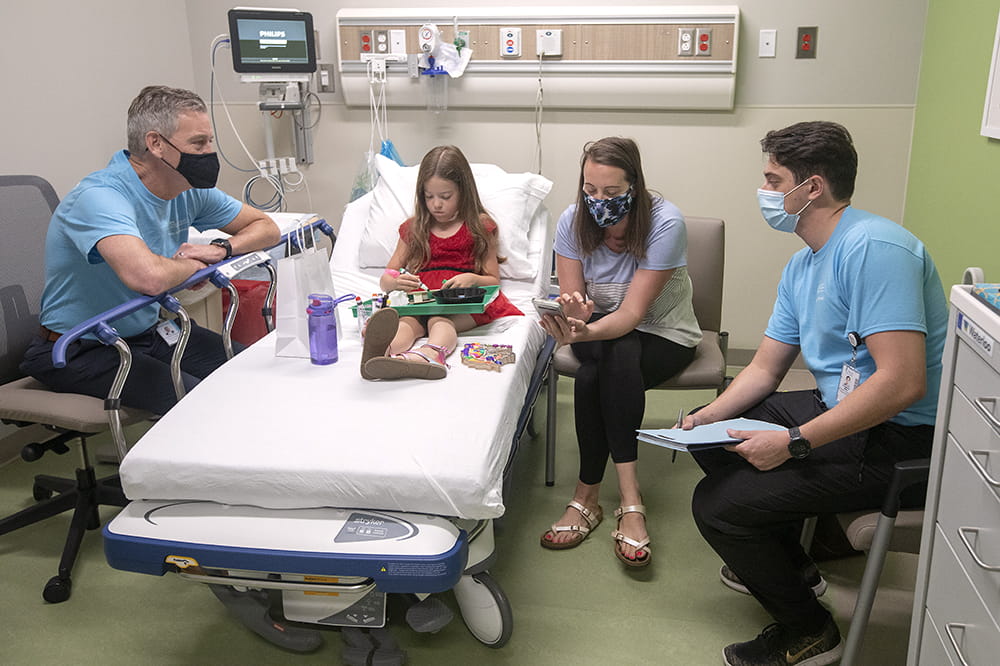 Nolan will be fully vaccinated when he starts first grade at Eagle Nest Elementary School this fall. His mother hopes that will do more than protect him from COVID-19. His example could also inspire other families.
"I know that after I got vaccinated, a lot of people reached out to me and asked about the side effects. Some said, 'Well, since you're doing this, I may consider doing it.' I think it makes a difference. There's unwillingness among some people in our community, but seeing this can have a positive impact."
/Uni Release. This material comes from the originating organization and may be of a point-in-time nature, edited for clarity, style and length. View in full
here
.