Why is it that in the 21st century, we love to reimagine 19th-century Victorians? Dr Kirstin Mills, a specialist in gothic literature, explores our fixation on a fascinating era.
Twenty-first-century television audiences can't get enough of the Victorian era.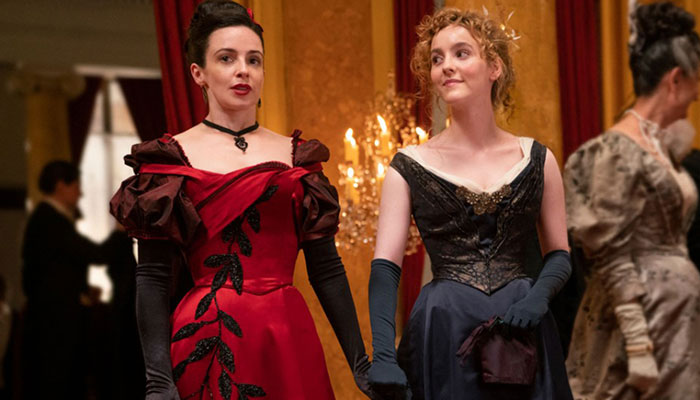 Frills meet fight scenes : Anne Skelly and Laura Donnelly star in a line up of heroic, super women with paranormal abilities in The Nevers. Image credit: HBO.
The age of Sherlock Holmes, Jekyll and Hyde, Dracula, Jack the Ripper, Penny Dreadfuls and Shilling Shockers, spiritualist séances and occult mania, the madhouse and the workhouse, it was also an age of rapid scientific, medical and technological advancements, and immense social and political upheaval.
Victorian London, especially, continues to weave its enchantment over modern minds. In 1777, 50 years before the advent of the Victorian era, Samuel Johnson wrote "when a man is tired of London, he is tired of life; for there is in London all that life can afford."
By the end of the Victorian era, on the dawn of a new modern age in the 20th century, London had certainly become a melting pot of global cultures and communities and a chaotic reflection of the class, race and gender wars threatening to challenge the iron rule of colonial British empire.
It was a place where obscene wealth and abject poverty collided, where the "new woman" dared to demand her right to equality and independence, where the electric telegraph, the steam train and the industrial revolution were threatening the old ways of life.
A crackling, simmering sense of potential bubbled beneath the cobblestone streets and stacked chimneys, threatening to rend the fabric of society by offering hope to those who dreamed of a better world, but it was met with equal resistance from the elite classes who violently clung to their control.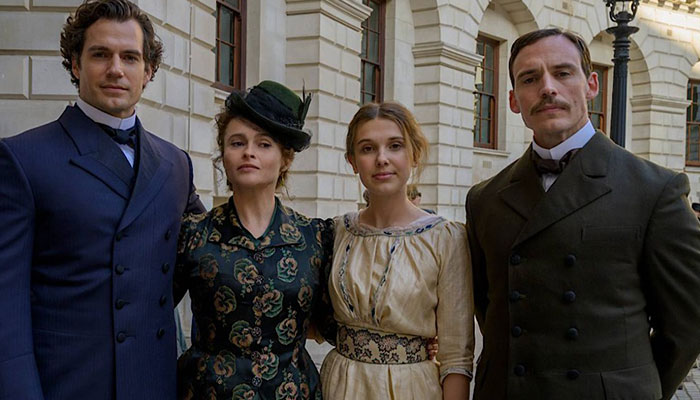 Detective hijinks: This popular, family-friendly romp through Victorian London – starrying Henry Cavill, Helena Bonham-Carter, Millie Bobby Brown and Sam Clafflin – has a sequal on the way in 2022. Image credit: Netflix.
Like the 19th century as a whole, which also encompassed the Regency period (think Jane Austen or the phenomenally successful Netflix hit Bridgerton), the Victorian era, which spanned 1837-1901, is constantly being reimagined for modern television. From more serious historical fiction like Victoria, which depicts the young Queen's reign, to series like Penny Dreadful and The Frankenstein Chronicles, which tap into the era's litany of iconic gothic literature, characters and authors, the era continues to haunt and fascinate us.
British export Sherlock made Benedict Cumberbatch an international star. The immortality of Sherlock Holmes as a kind of bastion of the Victorian era is particularly notable, and two of the three recent television shows I review here reimagine the late-Victorian London particular to this iconic detective.
But what makes the Victorian era so appealing for adaptation and reimagining? What makes us return to this era and transform it, often anachronistically, for a modern audience?
The first reason, I think, is its existing cultural cache – its curious mix of the fascinatingly strange and yet comfortingly familiar. We're all familiar with beloved Victorian classics like Charles Dickens (Oliver Twist), Charlotte Bronte (Jane Eyre) and H. G. Wells (War of the Worlds; The Time Machine), and late-Victorian London society is just familiar enough for us to understand easily how the world works.
There is a wealth of exciting, adventurous, gorgeously-produced television that reimagines the Victorian era.
At the same time, its historical distance, especially in terms of technology and science, and its fascination with things like the occult, dreams and nightmare, the asylum and experimental sciences, means that it is ripe for modern audiences to imagine their own fantastic elements into this world. A 21st century television series about time-travelling paranormal beings, like The Nevers, isn't far off classic Victorian literature by H. G. Wells.
Imagining a supernatural darkness threatening to consume Victorian London, as does Netflix's The Irregulars, is exactly what Victorian classics like Bram Stoker's Dracula do. This mix of the familiar and the strange allows modern television creators license to imagine a wide array of wonderful narratives.
It also means that modern shows can easily and safely address the social issues that dominate 21st century society from an easy distance.
In the age of the #MeToo movement, if you want to explore the empowering story of a young woman coming into her own, facing off against social and political pressures that wish to silence her, where better to place her than at the cusp of feminism amidst the patriarchal forces quaking at the 'new woman'?
In the era of Black Lives Matter and increased awareness of diverse representation, why not dive into the rich cultures colliding in Victorian London, and why not centre those voices who were vitally present at the time, but which have too often been left out of historical accounts?
There is a wealth of exciting, adventurous, gorgeously produced television that reimagines the Victorian era.
Read on for my top three recent TV shows where you can sink your teeth into the Victorians:
The Nevers (watch on Binge)
This slick, tightly scripted, visually stunning series vies with Enola Holmes for my top spot, possibly because both programs centre on brave, intelligent, kick-arse women as the underdogs who refuse to give up and will have you cheering along through fight scenes that seriously pack a punch.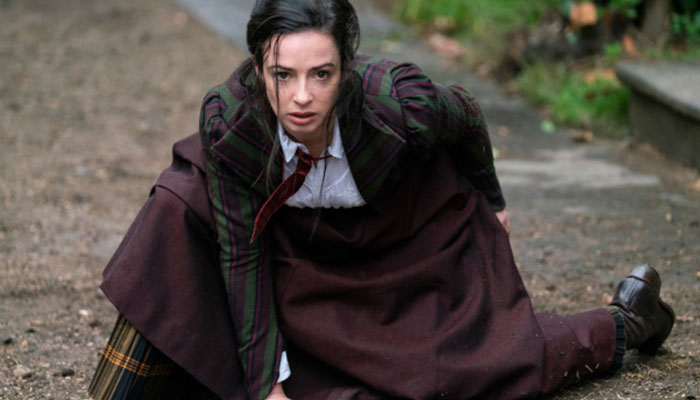 Super powers: Laura Donnelly stars in a tale of life for women in Victorian London with a science fiction twist. Image credit: HBO.
The Nevers creates a Victorian London in which strange, paranormal abilities are mysteriously gifted to "the Touched", who become socially vilified for their "afflictions" (read: power). Largely characterised as a women's issue, the Touched stand in for difference of any kind, which is reflected in the diverse array of abilities and people represented.
At their helm are two women who lead a refuge for the Touched, and who quickly become embroiled in a much larger race to discover the origin of their powers, and prevent the Touched from being abused by the elite classes who wish to eradicate them.
Science fiction more than the supernatural, the series is smart, sassy and often deeply moving. Highly recommended to all, Part 1 is available now, with Part 2 following in 2022.
The Irregulars (watch on Netflix)
If you like the paranormal element of The Nevers, but you prefer it laced with a good dose of gothic horror, then The Irregulars is worth a watch.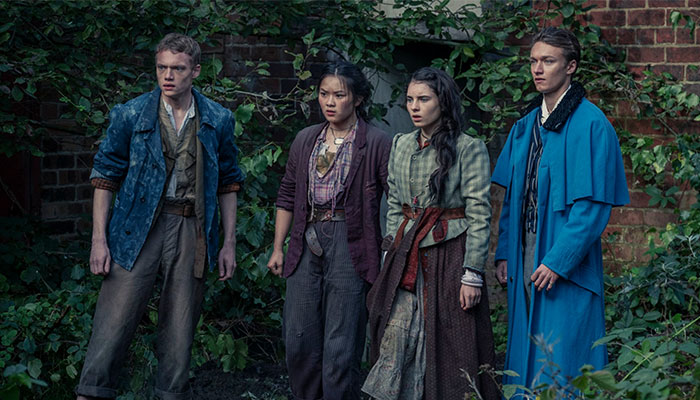 Gory story: horror meets mystery in this romp through Victorian London, in another tale inspired by Sherlock Holmes novels. Image credit: HBO.
Set in the final years of Victoria's reign, the show reimagines the 'Baker Street Boys' – a group of street children appearing in three original Holmes stories who provide Sherlock with information about the seedy Victorian underworld.
Reflecting its 21st-century character, these boys are now recast as a diverse group of five young teens, including a supernaturally gifted girl plagued by nightmares that just might be the key to the occult horrors threatening to destroy London.
Initially manipulated into helping solve strange mysteries by a sinister Dr Watson, the teens find their stories increasingly bound up with the secret pasts of Sherlock Holmes, Watson, and their own traumatic experiences. Heavy on the horror and gore at times, the series mixes humour and pathos for an enjoyable adolescent romp through Victorian London.
Enola Holmes (watch on Netflix)
If you like the Sherlock angle of The Irregulars and the uplifting, clever, adventurous heroines of The Nevers, then you'll love Netflix's Enola Holmes. Starring Millie Bobby Brown (of Stranger Things fame), and based on the book series by Nancy Springer, the show imagines a teenaged sister for Sherlock (played by Henry Cavill), who has been brought up away from the chaos of London by their mother and largely neglected by her two adult brothers (detection is not for ladies).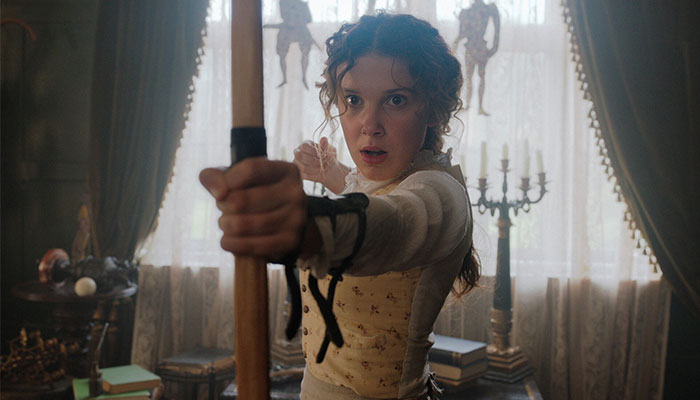 Hear me roar: Millie Bobby Brown plays Sherlock Holmes' sleuthing teen sister, who won't be silenced. Photo credit:
There's no supernatural mystery in this show: just good, old-fashioned detective work and swash-buckling Victorian London hijinks as Enola slips the net of her reclusive life and goes in search of her missing mother, drawing on her innate Holmes gift for deduction, her mother's training in the art of combat, and her indefatigable spirit.
With a rousing plot, intriguing characters that skilfully combine the familiar with the new, and some truly uplifting moments as Enola learns to assert herself as a young woman in Victorian London who refuses to be shut away, this show is a roaring success. A great choice for families to watch and enjoy together. And the best bit? Netflix has already confirmed a sequel is in the works.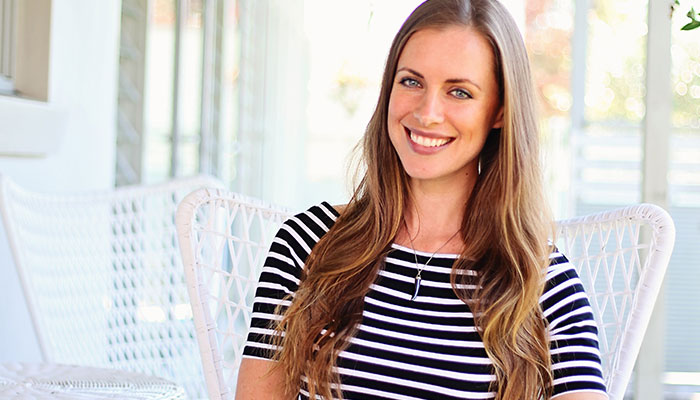 Dr Kirstin Mills (pictured) is a Lecturer in HDR Programs in the Faculty of Arts, and the Arts Master of Research Course Director. Her research investigates Gothic literature and media from the long nineteenth century to now.
/Public Release. This material from the originating organization/author(s) may be of a point-in-time nature, edited for clarity, style and length. The views and opinions expressed are those of the author(s).View in full
here
.