The shearing shed is as iconically Australian as a pair of thongs at Bondi Beach. And while there are plenty of sheds being built or renovated across the country, an alternative option for some woolgrowers might be to have their shearing done on a mobile shearing trailer.
Wool-growing properties come in all shapes and sizes. Some are tens of thousands of hectares, while others have just a small back paddock. Some woolgrowers have thousands of sheep, while hobby farmers have just a few. And some properties have been in the family for generations, while others have owners who are new to farming.
But one thing that all wool-growing properties have in common is that their sheep have to shorn. Most properties have a perfectly good shearing shed for this – be it a hundred years old or brand new.
However, there are properties that have a shed needing renovation or rebuilding, while other properties sometimes need extra capacity in their shed, and some smaller properties simply don't have a shed at all. An option for these woolgrowers might be mobile shearing.
There are several contractors across the country that have mobile shearing trailers that they can drive to a property for the shearing. They range from simple one-stand trailers suitable for small properties or for specialist ram shearing, through to large three-stand trailers that look more like a shearing shed on wheels.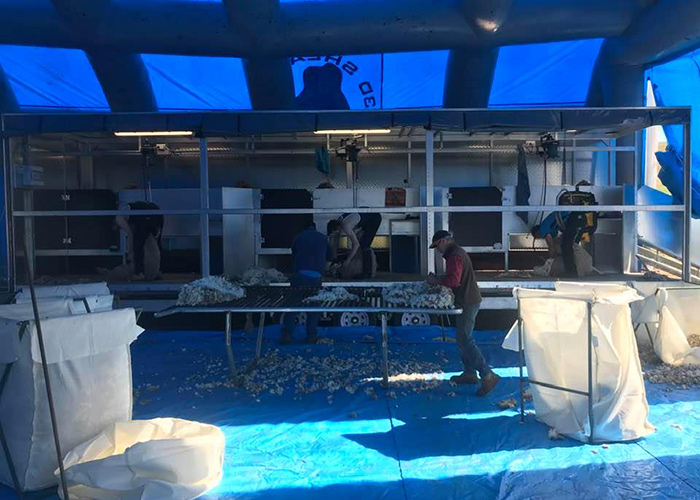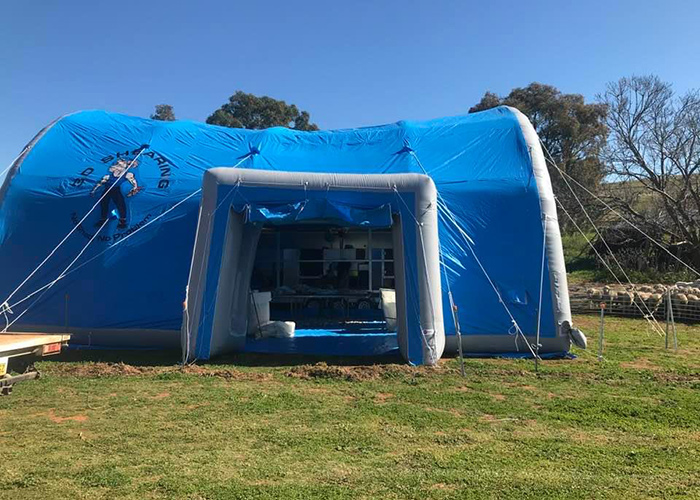 3D Shearing that services NSW has a modern three-stand trailer with a portable enclosed wool-room.
3D Shearing is a contractor, based at Dripstone near Dubbo in NSW, which last year invested into a custom-made three-stand mobile trailer. The business is run by Jim Murray, who has more than 40 years of experience in the wool industry, and his two sons Andrew and Nic. All three have represented NSW at National finals for competition shearing.
Not only do they supply a three-stand trailer on which to shear, there is also a portable blow-up shed that goes over the trailer with plenty of extra room to contain the wool table, wool press and bales. Once it is unrolled, the blow-up shed is up in five minutes to a size of 14m x 12m. It can even be set up in a machinery shed or hay shed, rather than outside.
Jim says the design of shearing facilities, whether in a shed or a mobile trailer, affects the efficiency of sheep work as well as the health and wellbeing of both people and sheep.
"Our trailer has been specially designed with a short drag system that minimises the chance of injury to the shearer and the sheep whilst also maximising productivity with reduced catch times," Jim said.
"I have been inside many sheds during the past 40 years and the facilities in many of the new ones are fantastic. But some other sheds are getting very dated and no longer suitable as a modern workplace. Some are not set up to minimise injuries or make the job of shearing as efficient as it could be. Working conditions in these types of sheds need to improve to attract shearers.
"By hiring a modern mobile wool harvesting facility like ours, you can be assured of a good night's sleep knowing that you have supplied a safe workplace for your team."
Jim says that the other major benefit of hiring a mobile set-up for those woolgrowers who are considering building a new shed is the relative cost.
"Let's say a new shed costs $350K, then you need to insure it and maintain it for its working life and buy a press and run power and you may only use it 10 days a year. That is a lot of money to tie up in an unproductive asset," Jim said.
"They could hire our mobile facility for only $1K a day complete with wool press and 23KVA generator and avoid the insurance and maintenance costs. They can put their money into improving their property's other assets such as water, fencing or genetics, and have the money working for them instead.
"Furthermore, there's a lot for woolgrowers to consider when designing and constructing a new shearing shed, whereas hiring a mobile service is easy."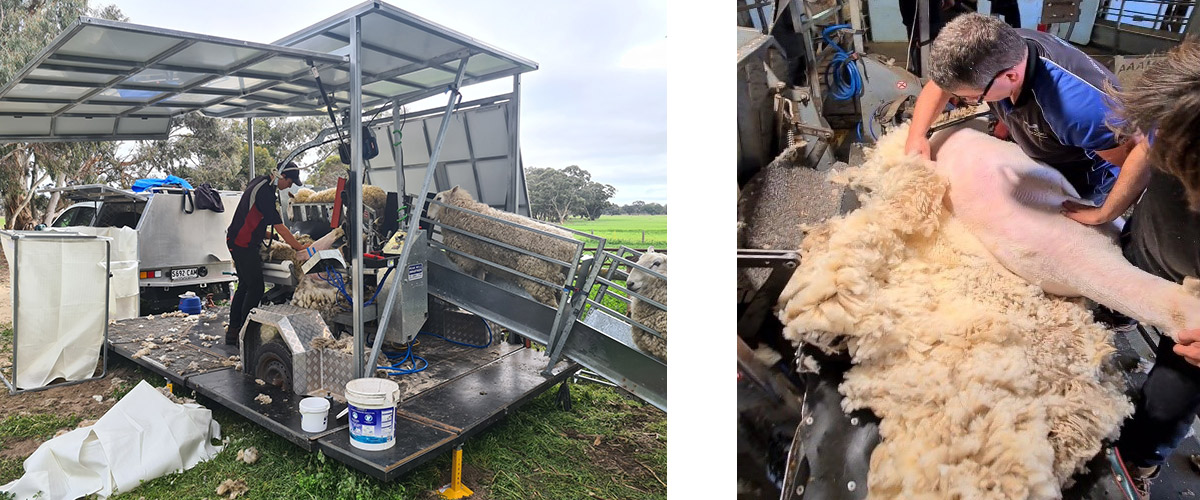 The Shearing World trailers are based in South Australia and incorporate the Peak Hill Industries ShearEzy upright posture shearing platforms.
Shearing World, owned and operated by Darren and Deborah Smith, specialises in the shearing of cross-bred rams. The company is based at Naracoorte in South Australia and services the south east of the state and the western district of Victoria with their three shearing trailers.
"We use the Peak Hill Industries ShearEzy unit which clamps the sheep and is able to roll the ram over into a cradle where the back legs are locked in leg restraints. Because the ram is restrained and our own designed pattern of shearing allows us to shear the rams with big flat areas, the quality of the job is second to none. Furthermore, no sedative is required saving time and money and the rams are not off feed for too long. It's a lot less stress for all involved," Darren said.
The ShearEzy unit is a result of AWI investment 15 years ago in the development of upright posture shearing platforms to provide reduced physical effort and strain during shearing.
"We designed the trailer to suit a lot of areas, be it out in the yards or inside a big shed. But there is no shed required, it's all self-sufficient. We just need a power outlet and a race to be supplied on the property. The trailer folds out so there is plenty of room to move around and for the rams to hop off safely," Darren said.
"The shearing trailer is proving extremely popular for its efficiency and flexibility. We do about 110-120 cross-bred rams a day, on average, and there are two of us on the trailer working at any one time. We do stud rams, sale rams and flock rams and the last couple years we have been getting a lot of work shearing big Dorset and white Suffolk ewes as well.
"We currently have three trailers to keep up with demand and have ordered our fourth machine to help us with what we have booked up for next year. In 2020, we shore more than 26,000 rams and 6,000 ewes so our trailers were very busy for six months of the year."
/Public Release. This material comes from the originating organization and may be of a point-in-time nature, edited for clarity, style and length. View in full
here
.