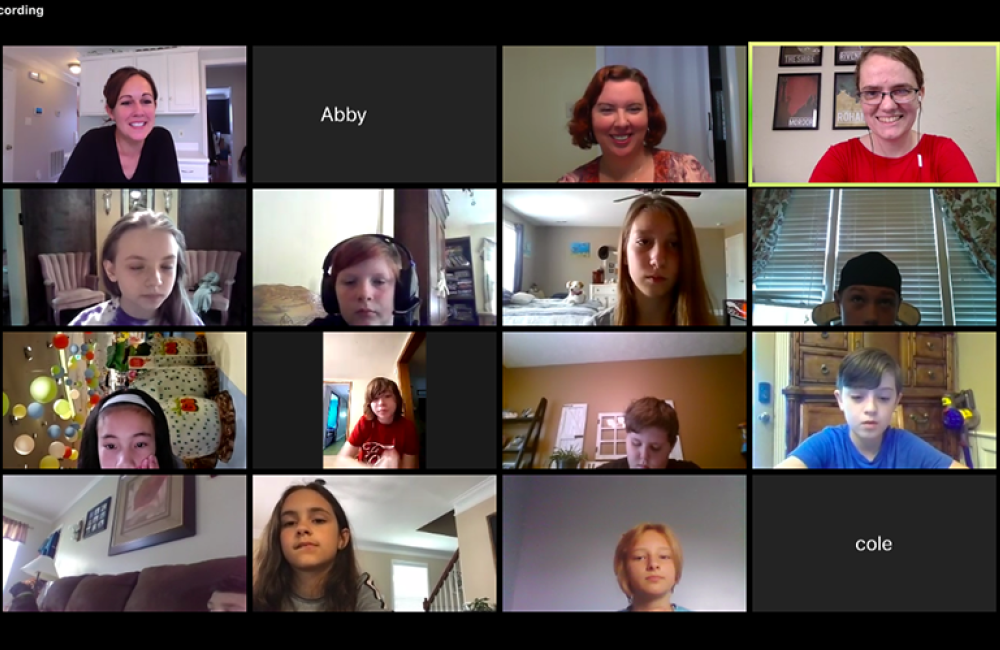 Catherine Schuman, top right, spoke to Copper Ridge Elementary School fifth graders about her job as an ORNL computer scientist as part of the lab's STEM outreach during the COVID-19 pandemic. Credit: Abby Bower/Oak Ridge National Laboratory, U.S. Dept. of Energy
May 6, 2020 – With Tennessee schools online for the rest of the school year, researchers at the Department of Energy's Oak Ridge National Laboratory are making remote learning more engaging by "Zooming" into virtual classrooms to tell students about their science and their work at a national laboratory.
Julie Ezold, of ORNL's Isotope and Fuel Cycle Technology Division, and Catherine Schuman, of the Computer Science and Mathematics Division, recently dropped in on two fifth grade classes.
It was all part of ORNL's STEM Source program. In normal times, the program promotes STEM education through initiatives like Hour of Code, Engineers Week and the ORNL Traveling Science Fair. During the COVID-19 pandemic, ORNL's community outreach team quickly adapted the program for our newly all-digital world by providing online resources for educators and arranging virtual classroom visits from researchers.
Ezold's presentation focused on teaching the students the very basics of nuclear fission and fusion, as well as giving them examples of locally produced nuclear power in their everyday lives.
"I wanted to show them that it's not scary," she said. "That fission and fusion are natural processes that they can see around us."
As a nuclear engineer and the californium-252 program manager at ORNL, Ezold has been recognized for her work in radioisotope production that led to the synthesis of new elements, including the homegrown element 117, tennessine.
Schuman studies neuromorphic computing, which seeks to apply the concepts that underlie the structure of the human brain to imagine the next generation of computing. She spoke to Natalie Quilliams' fifth graders about her path to becoming a scientist, her job, and her work using machine learning to help computers learn from data and help researchers in doing their science.
But one aspect of Schuman's work really grabbed the students: Robots.
At the topic, hands shyly shot up on the screen, streaming in from living rooms, bedrooms, kitchens and the occasional virtual background.
"How do you program the robots and computers?" a student asked. "How long does it take to make the robots?" "Is your job about the future?"
"It was great," Schuman said. "They were very engaged after they felt comfortable starting to ask questions in the chat and out loud."
Outreach during the "new normal"
Achieving that level of participation is a welcome opportunity for teachers and parents, who say that navigating remote education poses unique challenges.
"It's a whole new world," said Natalie Quilliams, a fifth-grade math and science teacher at Copper Ridge Elementary School in Powell, Tenn. Quilliams says that for a variety of reasons, she's been able to maintain regular contact with only a fraction of her students. Anything that can capture their interest is a big help, she says.
Nayasha Farrior, whose son Jordan is one of Quilliams' students, learned about ORNL's Stem Source program from her boss at the University of Tennessee. She passed the information along to her son's teacher.
"I thought it would be interesting and a break for the teachers from doing Zoom calls twice a week – kind of like a mini-field trip," Farrior said.
"I had been looking for ways to keep the students engaged in learning," Quilliams said, "so I kind of jumped at that chance."
Quilliams, Schuman and Ezold agree that the online platform makes it more difficult to tell how much students gather from the lessons in real time, but all were impressed by the quality of the students' questions.
From her decades of volunteering, Ezold knows how much creative approaches – such as the recent shift to Zoom outreach – can have an impact, even among younger audiences. "They get it," Ezold said. "If we can figure out how to tell it to them, tell it as a story, they'll get it."
Schuman's presentation, for example, inspired Jordan Farrior to start learning to code on his own.
"He was very excited," Nayasha Farrior said. "As soon as he came off the Zoom call, he came running into the room with us and he was like, 'It was so awesome and exciting. I want to be a computer scientist now!'"
For educational resources and information on how to get a scientist to virtually visit your child's classroom, visit ORNL's STEM Source website at https://stem.ornl.gov.
/Public Release. The material in this public release comes from the originating organization and may be of a point-in-time nature, edited for clarity, style and length. View in full
here
.