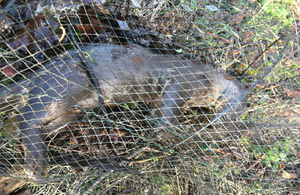 Authorities are urging people to report illegal activity on the rivers after an otter – a protected species – was killed in an illegal crayfish trap.
The appeal comes from the Environment Agency and Lincolnshire Police, who are investigating and have launched a witness appeal. Trapping, injuring or killing an otter – whether deliberately or through carelessness – is a serious offence under the Wildlife and Countryside Act 1981. Offenders face an unlimited fine and up to 6 months in prison.
Environment Agency officers found the trap while carrying out routine inspections on the River Witham in Grantham.
It was in the river at Wyndham Park – an award-winning park popular with local families, where the Environment Agency and partners have carried out extensive works to improve the health and habitat of the river.
The sad discovery comes just weeks after local volunteers reported seeing a pair of otters swimming in the same stretch of river. Their return signals just how much the river has improved in recent years.
Crayfish trapping is illegal unless consent has been granted by the Environment Agency. In Lincolnshire, only drop-nets or hand lines are allowed and these must never be left unsupervised.
The trap discovered at Wyndham Park was illegal as it was the wrong type and had not been permitted by the Environment Agency. Plus, crayfish trapping is banned on this stretch of the Witham as only the native, endangered and protected white-clawed crayfish are present there.
The illegal trap also risked introducing crayfish plague to the area, which has potential to wipe out this protected species.
Darren Randall, fisheries officer with the Environment Agency, said:
We all want to protect our precious and threatened wildlife, like otters, water voles and native crayfish, which is why it's so important that activities like fishing and crayfish-trapping are carried out responsibly.

This case is especially worrying because it threatens native, endangered species of crayfish, which are afforded the same protections under the law.

If you see suspicious fishing or trapping activity, please report it to us on
/Public Release. View in full
here
.