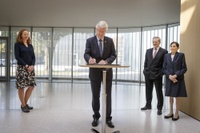 Daniela Kleinschmit, Hans-Jochen Schiewer, Robert Mayr and Eva Mayr-Stihl (from left to right) boost research and transfer activities on the theme of 'Environment and Sustainability'. Photo: Gottfried Stoppel/Eva Mayr-Stihl Foundation
In a major boost to a key strategic area at the University of Freiburg, the Eva Mayr-Stihl Foundation is providing in total more than 1.6 million euros for research and transfer activities on the theme of 'Environment and Sustainability' over the next five years. The overarching aim is to build up the substance of the strategic area and launch new joint research projects. "The University of Freiburg is a world-leading research institution in the field of environment and sustainability, with its special strength being that we have a variety of disciplines that can make significant contributions here," said the rector, Prof. Dr. Hans-Jochen Schiewer. "We are extremely thankful to the Eva Mayr-Stihl Foundation for opening up new opportunities to us with its generous support, so that we can make our sustainability research even more productive, visible and competitive internationally, and set new priorities." Eva Mayr-Stihl, the benefactor and chair of the foundation's advisory board, explained the motive for the support, "With this funding we want to reinforce the profile of the University of Freiburg in sustainability research by promoting networking and cooperation between various disciplines in this complex field."
The cooperation agreements establish four funding formats designed for scientists at all stages of their careers pursuing a variety of objectives. With 'Saltus!', the University of Freiburg has created a format for research groups from strategic areas and areas of potential – the Eva Mayr-Stihl Foundation will be supporting one such group that helps new joint projects in sustainability research to get off the ground and which will strengthen the content of this strategic area. The coordinators of the strategic area receive funding for their task of strengthening sustainability research by building up cooperations and further increasing the attractiveness of Freiburg as a location for international researchers – for instance by networking activities or new forms of science communication. The Faculty of Environment and Natural Resources will have a fellowship program allowing it to invite internationally-respected researchers to visit Freiburg for up to nine months. At the Freiburg Institute for Advanced Studies (FRIAS) there will be a Young Scholars Circle consisting of up to eighteen talented scientists with above-average qualifications, who completed their PhD no more than six years earlier. Circle members will have a budget to develop joint projects, work at the interfaces of science, industry, society and politics, organize conferences, invite guests from renowned institutions and publicly discuss their own findings with interested parties both within and outside the university. "This entire package provides us with numerous avenues and tools which will contribute significantly to our research interests," says Prof. Dr. Daniela Kleinschmit, Professor of Forest and Environmental Policy at the Faculty of Environment and Natural Resources and member of the coordinators' team for the Environment and Sustainability strategic area.
The Eva Mayr-Stihl Foundation was founded in 1986 by Eva Mayr-Stihl and her husband Robert Mayr. It focuses its work on the funding of science and research. Since the 1990s it has made significant contributions to strategic developments in the strategic area of Environment and Sustainability at the University of Freiburg – above all with endowed chairs and named professorships, awards and research funding, initially in the Faculty of Environment and Natural Resources, later also in the Department of Sustainable Systems Engineering (INATECH) of the Faculty of Engineering. The University of Freiburg has named Eva Mayr-Stihl and Robert Mayr honorary senators for their special contribution to the positive development of the university in the field of forward-looking environmental research.
/Public Release. The material in this public release comes from the originating organization and may be of a point-in-time nature, edited for clarity, style and length. View in full
here
.