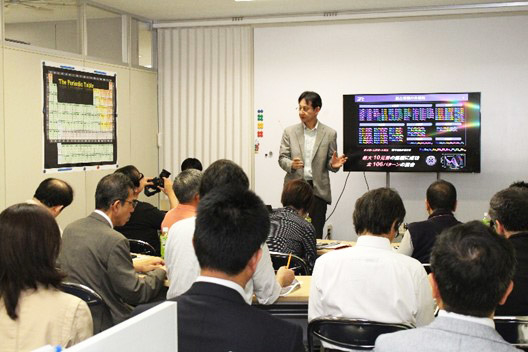 Press seminar
On May 22nd, Professor Kimihisa Yamamoto from the Institute of Innovation Research, Hybrid Materials Unit, and Assistant Professor Takamasa Tsukamoto of the same Institute, Laboratory for Chemistry and Life Science held a press seminar at Suzukakedai Campus about the "Yamamoto Atom Hybrid Project" of the Japan Science & Technology Agency (JST) Exploratory Research for Advanced Technology (ERATO). Five media attended the press seminar.
The Atom Hybridization method is a method for creating "sub-nano" size (about 1 nm) metallic clusters and multimetallic clusters by incorporating various combinations of multiple types of metal elements into cage-like molecules called "dendrimers (dendritic polymers)," making it possible to produce multimetallic clusters composed of various types of elements, which was difficult with existing techniques.
Professor Yamamoto explained the Atom Hybridization method in an easy-to-understand way using a model of multimetallic one-nanometer cluster and a dendrimer model made with a 3D printer.
Assistant Professor Tsukamoto explained that the Atom Hybridization method using dendrimers is a unique technology of the "Yamamoto Atom Hybrid Project" and that no other group is conducting similar research. They are making effort to devise a dendrimer structure for synthesizing sub-nanoparticles through the combining of several kinds of metals. Next, Associate Professor Takane Imaoka of the Institute of Innovative Research, Laboratory for Chemistry and Life Science demonstrated an observation of sub-nanoparticle using a transmission electron microscope.
Since alloys can be applied to various industrial fields, the media seemed to be very interested in the technique of creating new alloys, and a number of questions were raised.
Development background and points
It is known that as a material reduces in size to the nano level (10 to 100 nm), the specific surface area increases, which improves chemical activity. Because of this property, nanoparticles are used in various fields including catalysts. It is also known that material properties change drastically when they reach one-nanometer scale, which is smaller than nanoparticles.
For example, one-nanometer cluster consisting of 13 aluminum atoms come to have properties of halogen, but if there are 11 or 14 particles, the properties are different. If it is possible to create one-nanometer clusters by precisely controlling the numbers of such atoms, it would be possible to have base metal elements with the properties of precious metals or with completely new functions.
However, with conventional techniques, it was difficult to precisely control the number of atoms when creating one-nanometer clusters and to stably maintain the created clusters.
Professor Yamamoto and others focused on dendrimers, and developed a new dendrimer that incorporated many units called imines that form bonds with metal ions. As a result, this dendrimer has the ability to incorporate metal ions, and also has a mechanism for arranging metal ions in order starting from inside the dendrimer. Using this dendrimer made it possible to precisely control the type and number of atoms, and the compounding ratio of metal elements. It is then possible to produce the desired multimetallic one-nanometer clusters by reducing the metal ions accumulated in the dendrimer.
Currently, a total of 118 types of elements have been discovered, and 81 types of stable elements are known. Excluding noble gases and toxic materials, 70 types of these are targets of the Atom Hybridization method, and more than 50 types of elements have been successfully integrated into dendrimers.
They also succeeded in creating multimetallic clusters that combine six kinds of metal elements by integrating multiple types of metal elements into one dendrimer.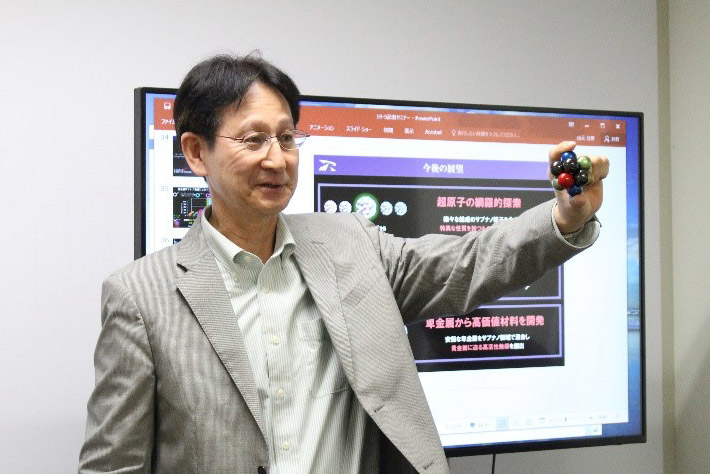 Professor Yamamoto explaining with a model of a one-nanometer clusters
Future prospects
When the alloys of the 70 types of elements are taken into consideration, infinite combinations of element types and composition ratios are possible. Assistant Professor Tsukamoto explained the future strategy for creating one-nanometer clusters with new functions including the development of high value-added materials from base metal elements.
In addition to comprehensively searching by actually synthesizing and searching for one-nanometer clusters with new functions, he also touched on their desire to use computer simulations to predict and synthesize one-nanometer clusters with high functions such as catalytic activity, optical properties, and magnetism.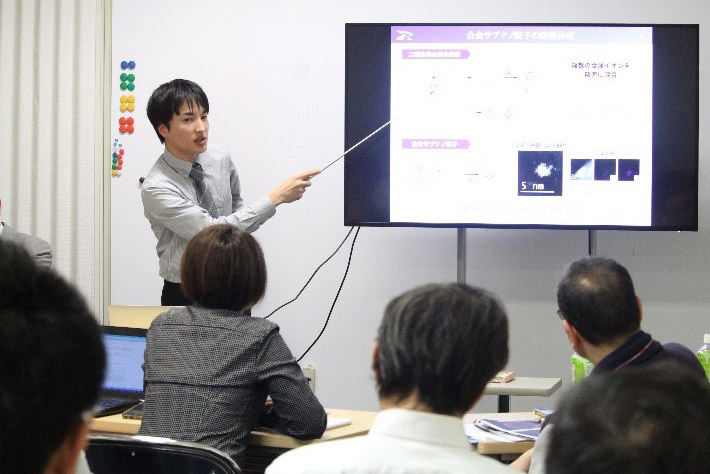 Assistant Professor Tsukamoto explaining the synthesis of highly functional one-nanometer clusters
Observation of one-nanometer clusters via transmission electron microscope
After the seminar was moved to the laboratory, in a demonstration using a transmission electron microscope, Associate Professor Imaoka presented an actual image of a platinum-gold-palladium trielement one-nanometer cluster on a carbon carrier. He also explained an atomic resolution real-time video and EDS analysis (element component analysis) data using computer images.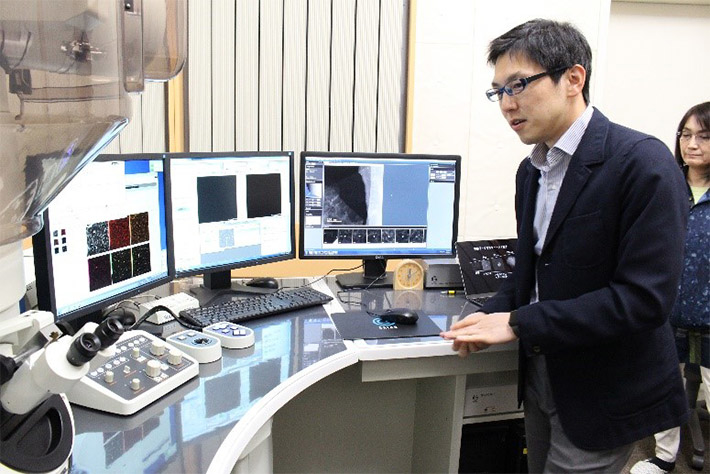 Associate Professor Imaoka explaining analytical data of one-nanometer clusters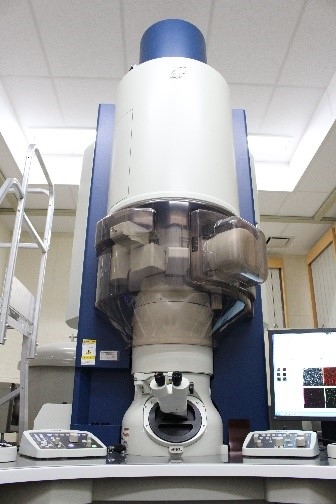 Transmission electron microscope
Comment by Professor Kimihisa Yamamoto
We have known for a long time that new functions can be obtained by combining multiple types of metallic elements, and can be used for things like catalysts, superconducting materials, and semiconductors. However, there were problems such as heterogeneity and phase separation when more than three elements were combined using existing techniques. With our Atom Hybridization method, we succeeded in precisely combining up to six types of metallic elements. It was also found that these synthesized one-nanometer clusters have new functions. The one-nanometer scale world has completely different features than at nano scale, making it very attractive for research and industrial applications. We will continue to explore this world and make effort to create useful substances.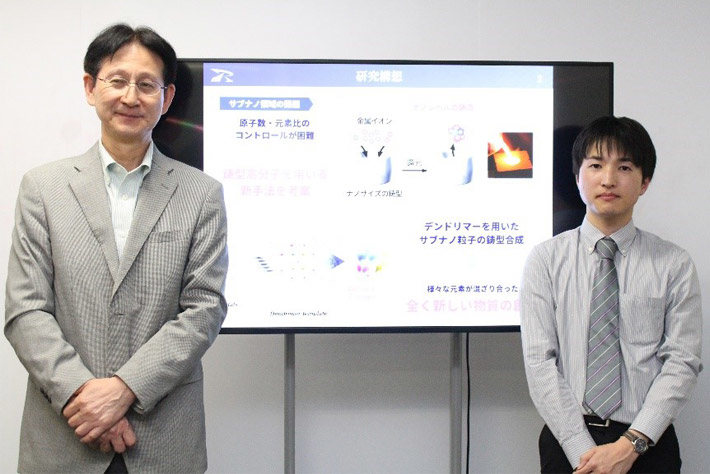 Professor Yamamoto (left) and Assistant Professor Tsukamoto (right) who held the press seminar
/Public Release. View in full
here
.