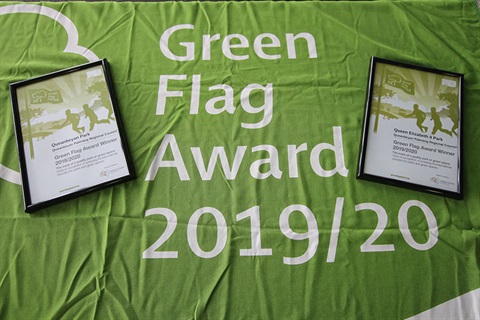 Queanbeyan-Palerang Regional Council's Urban Landscapes staff are celebrating after two Queanbeyan parks achieved national and international recognition at the recent Parks and Leisure Australia (PLA) National Awards of Excellence.
Queanbeyan Park and Queen Elizabeth II Park have joined only eight other parks from across Australia to have been awarded Green Flags.
The Green Flag Award is a non-profit international accreditation scheme that recognises and rewards well managed parks and green spaces. Originating in England in 1996, today the Green Flag Award proudly flies above more than 2,000 places in over 15 countries around the world.
Service Manager, Urban Landscapes Tim Geyer praised his staff for the magnificent work they do in developing, managing and maintaining parks and green spaces in Queanbeyan-Palerang.
"The Green Flag Award recognises and rewards the hard work of managers, staff and volunteers – the people behind the places.
"To achieve two of these prestigious awards in one city when there are a total of only eight others Australia wide, is a testament to the professionalism, hard work and dedication shown by all of our team," Mr Geyer said.
Mayor of Queanbeyan-Palerang Regional Council, Councillor Tim Overall expressed gratitude to the staff involved and his pleasure at how good the city's parks are looking at this time of the year.
"Spring is a fantastic time of the year when our parks are vibrant with people enjoying the shade of the trees, the soft grass to play on, and events and markets that bring people together.
"To be presented with the Green Flag Awards is a recognition that we have achieved a benchmark standard of recreational outdoor spaces across Australia.
"It demonstrates an excellent example of civic achievement and provides communities, and our staff, with a great sense of civic pride. We are very proud of the parks we provide for our community to use," said the Mayor.
The Green Flag Awards are judged against eight key criteria: a welcoming place; healthy, safe and secure; well maintained and clean; environmental management; biodiversity, landscape and heritage; community involvement; marketing and communication; management.
At the awards ceremony held in Perth, the description for Queen Elizabeth II Park was that the parklands flank both banks of the Queanbeyan River as it runs through the CBD and plays a vital role in linking the urban areas to the town centre. The park presents as a well maintained and clean park that offers events that are marketed to the community. The entrances to the park are open with good views and bright colours and signs encourage entry and identify the park.
Queanbeyan Park is an icon in a regional context and is well established, maintained and used. The site has many locally significant heritage elements and is a focal point for a diverse group of users and visitors. The Park is well managed and extensively visited and utilised for a wide variety of uses.
The Green Flag Awards for both of the parks were presented to Mayor Overall and QPRC staff by Mr Les Munn, President PLA NSW/ACT at an informal handover ceremony on 12 November after Mr Munn collected the awards on Council's behalf in Perth on 29 October 2019.
/Public Release. View in full
here
.