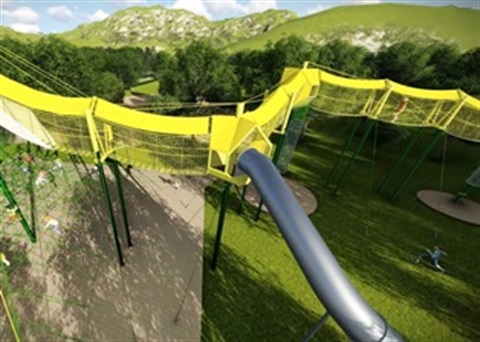 Riverbend Park will be officially opened on Saturday, August 17, with a free community event.
The new all-abilities park has transformed a former industrial precinct into a major new recreational area for Launceston, funded by the City of Launceston and the State and Federal Governments.
The park will be opened at 10am, with the public invited to walk across the pedestrian and cycle bridge from the Seaport, and activities include a free barbecue, live music, the Chilli FM breakfast team, basketball activities, face painting, and a visit from Hawker and Hawkette from the Hawthorn Football Club.
Riverbend Park is divided into four zones: The River Play area, Gorge Play area, Wild Core area, and Urban Plaza.
Each zone contains a range of play equipment and experiences, including swings, diggers, sand
pits, a wheelchair carousel, a water play area, musical instruments, outdoor table tennis, see-saws and a full size sports court.
The park's largest attractions are undoubtedly the Sky Walk and the 'confluence net', two of the largest pieces of play equipment in Australia.
It also boasts barbecue facilities, public toilets, a giant mural, and a fenced toddler play area.
Some garden and lawn areas will remain fenced off until the Spring.
Launceston Mayor Albert van Zetten said the opening of Riverbend Park would be an exciting day for families.
"Launceston will now have a fantastic recreational link all the way from the Cataract Gorge to Riverbend Park where families can run, play, cycle, or just take a walk," Mayor van Zetten said.
"The park itself is larger in area than even City Park, and I think children — and indeed adults — are going to have fantastic fun exploring all it has to offer.
"The City of Launceston has been very proud to work on this project on behalf of the city's residents, and we hope people will come to the open day to see it first-hand.
"I have already had the pleasure of climbing the Sky Walk, and while it may not be for the faint of heart, the views are spectacular.
"It has been a huge effort from Council crews and contractors to get this project to the opening stage, and I want to thank everyone that has worked on the park, including our partners in the State and Federal Governments.
"All of Launceston is invited to the official opening of the park.
"We expect it will be a busy day, so we encourage as many people as possible to take advantage of the pedestrian and cycling routes to the site.
"We'd especially like to thank the children of Launceston for being patient with us while we've worked through some pretty ordinary weather conditions, and we trust it lives up to their expectations."
/Public Release. View in full
here
.