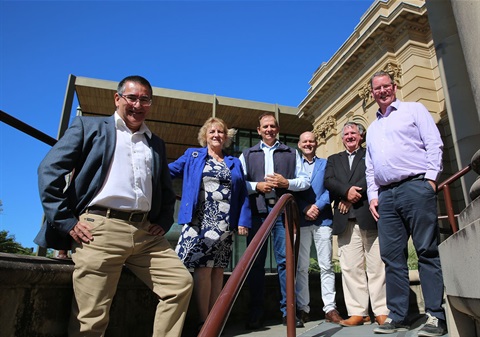 Local businesses have been big winners during the construction of Rockhampton Museum of Art, with around $15.4 million flowing their way.
Rockhampton Museum of Art has received funding from all levels of government, with the Australian Government, Queensland Government, and Rockhampton Regional Council coming together to turn the idea into a reality.
Federal Member for Capricornia Michelle Landry said the Australian Government's $10M investment in the development of a cutting-edge art gallery in Rockhampton epitomises the commitment to the regions.
"This wonderful new home of the Arts for Rockhampton will allow Rockhampton Regional Council to display a more diverse array of art pieces from the Local area and the entire country. The Federal Government has contributed over $10 million to this project through The Building Better Regions Fund.
"The Rockhampton Museum of Art has utilised the expertise of many local contractors and created many jobs for the workers of Central Queensland. It will be a ground-breaking addition to the city, something Central Queensland can be really proud of. It will stand as a fine example of what can be achieved when all levels of Government work together to benefit the region"
Queensland Premier Annastacia Palaszczuk said the Palaszczuk Government's commitment of $15 million for the new Rockhampton Museum of Art was an investment in the local economy and community.
"I was in Rockhampton just a few weeks ago and could see how far this incredible project has come," the Premier said.
"It's infrastructure projects like this which are critical to our economic recovery. They have continued despite the pandemic, which have kept locals in jobs.
"It's also going to drive tourism to the region for years to come."
Member for Rockhampton Barry O'Rourke said the Rockhampton Museum of Art project was part of Queensland's plan for economic recovery creating jobs and infrastructure for now and into the future.
"The Palaszczuk Government's total commitment of $15 million for the new Rockhampton Museum of Art is an investment into the local economy and community," Mr O'Rourke said.
"During construction, the focus for the gallery has been on supporting and investing in local tradespeople.
"It's great to see Rockhampton businesses take the lead in creating a venue of international standard, which will be one of the largest regional galleries in Australia.
"The benefits for the community will continue when the gallery is completed with the new space creating opportunities for local artists and audiences, and education and training opportunities for students.
Rockhampton Region Mayor, Tony Williams, said he was thrilled to see how much had been spent locally.
"First of all it's important to say that none of this money would be going to our local businesses without the funding support from the Australian and Queensland Governments, and we are incredibly grateful for them to their investment.
"The usual target for Local Industry Participation in major projects is 30% and we are well above that which is great news. It's especially impressive given how much specialised equipment and skills were needed that aren't available in our region, so there were quite a few things we had no choice but to go elsewhere for.
"However it's clear from these numbers that whenever we could stay local, we did. I am grateful to all of those businesses for contributing to what is going to be a world class gallery right here in Central Queensland.
"Whether it's Large's doing the joinery, Pierce Engineering providing the structural steel or even BFB providing the scaffolding – it's wonderful to see local businesses putting their stamp on this fantastic building and to know that the investment is going right back into the community."
Mark Pierce from Pierce Engineering said involving local businesses in major projects like the Rockhampton Museum of Art made a huge difference.
"As a local business, we really appreciate the support from all the funders of the project: The Australian Government, the Queensland Government and Rockhampton Regional Council.
"The Rockhampton Museum of Art has been a challenging project and it is fantastic to be a part of it and see the support for local tradies. This is a state-of-the-art project that has provided learning curves, but we've worked hard, and the results speak for themselves.
"My dad started our business 50 years ago and we have had some great times, but some difficult ones too. We have been involved in this project consistently for over a year which has helped us get through the challenges of the COVID 19 year by keeping local people employed. Here's to another 50 years."
Rockhampton Museum of Art is funded by the Australian Government through the Building Better Regions Fund; the Queensland Government through Arts Queensland and through the Building Our Regions program; and Rockhampton Regional Council.
Main contractor: Woollam Constructions.
Subcontractors:
Stanke Electrics – Electrical Services
AE Smith – Mechanical Services
Pierce Engineering – Structural Steel
Adnought – Metal Work
Large's – Joinery
Concrete Pumps, Concrete, Plant Hire / Crane hire
BFB – Scaffold
Stresscrete – Pre Cast Wall Panels
McAlister & Burford – Painting
Busby Demolition – Demolition Contractor
Capricorn Sandstone Quarries – Sand Stone
Concrete supply – Hanson Construction Materials
Mobile Cranes – CQ Cranes,
Concrete Pumps – CQ Concrete Pumping
Quay Lane Concrete – Boral Ashphalt
/Public Release. This material comes from the originating organization/author(s)and may be of a point-in-time nature, edited for clarity, style and length. The views and opinions expressed are those of the author(s).View in full
here
.