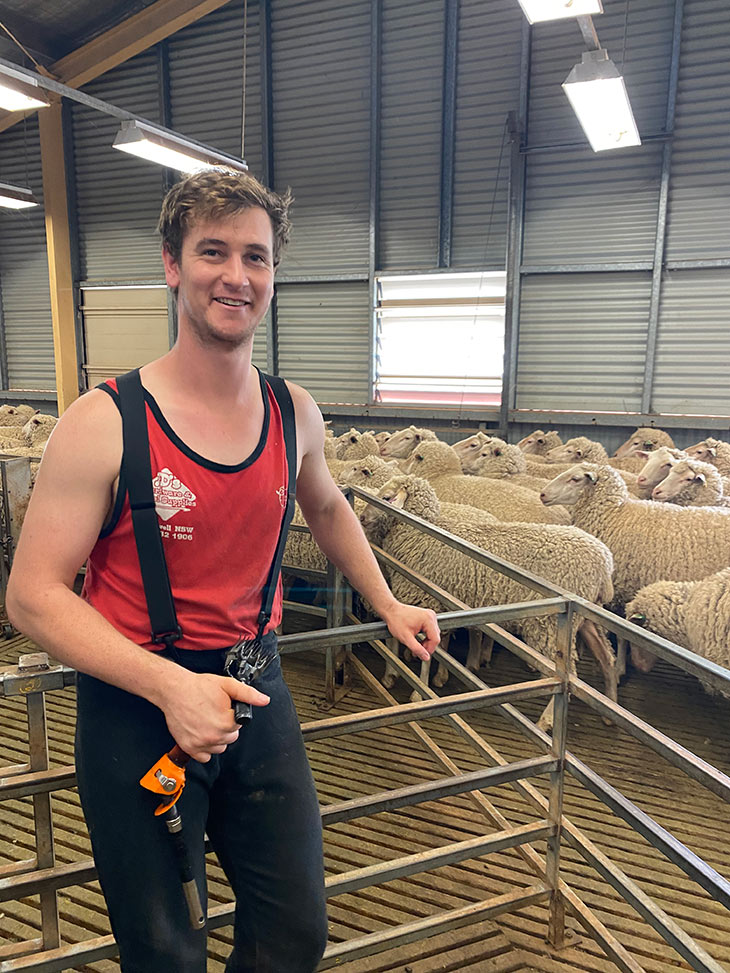 AWI-supported shearer training schools have been a key ingredient in helping Brent Hickey change his career from being a chef to being a shearer.
After working as a chef for nearly 10 years, Brent Hickey of Gunning in NSW has changed careers to become a shearer – and he has not looked back. He credits an AWI-funded novice shearing school at the start of last year as the key impetus that set him on his new career pathway.
Brent Hickey started work as a chef's apprentice while still at school in Yass and had been cooking for almost ten years when, in his late twenties, he decided to trade the kitchen knives for a shearing handpiece.
"Shearing was a profession that I had wanted to try for a few years before I actually gave it a real go. My brother, Leigh, is a shearer and I had often gone out to the sheds with him and another couple of mates, helping the wool handling team," Brent said.
"It was suggested that I could go cooking for them and, later, while I was the cook for the Emerald Shearing team on camp out, I spent a lot of my spare time over in the shed asking the shearers if I could try a last side.
"That was where the idea to become a shearer really started to take shape. I liked the fast pace and the workflow. I could see it was hard but honest and fair work, and that really appealed to me."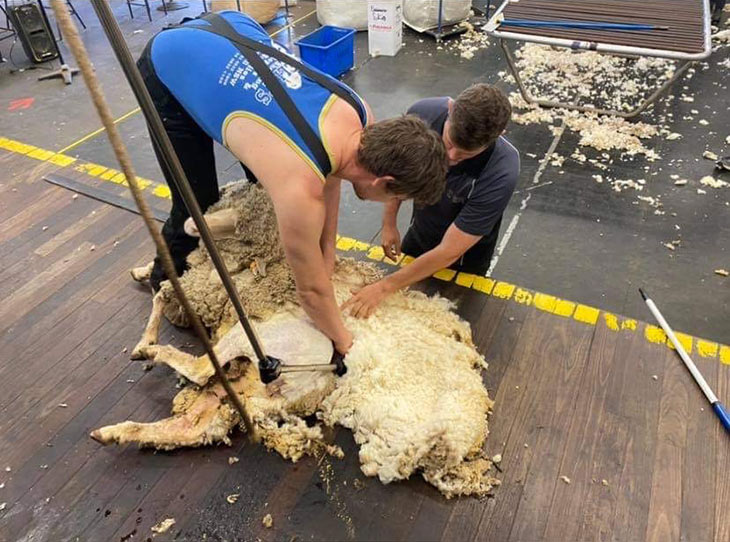 Novice training leads straight to a job
Two months later, in January 2021, Brent got a spot in the AWI novice shearing school at Cavan Station, Yass, and things really started moving for Brent.
"Taking that training at the Cavan Station shearing school really kicked everything into gear. The week with trainers Ian Elkins and Mike Pora showed me the way around the sheep and gave me some great industry insight," Brent said.
"They spoke a lot about what shearing could give us youngsters and really impressed upon us the importance of a quality job. They encouraged us to be prepared for our day by starting with well-maintained gear, to eat and recover well, to check our let-go pen – making sure we were doing a job we could be proud of – and to set goals to get ahead."
Brent was fortunate that a local shearing contractor was able to put him on as a learner shearer straight after the training, and Brent has not looked back.
"Peter Robinson of Fullerton Sheep Services visited the shed during my week at the school and offered me work starting the following week," Brent said.
"Their team has been awesome to work with. They have so many experienced staff who are always happy to come down the board and show you a thing or two. They are a motivated crew who, when it is work time, get stuck in and get the job done. It is easy to be motivated when you are part of a team of motivated people.
"The initial few months of employment can be tough and painful. You spend a lot of the time trying to figure out technique while your body is getting accustomed to positions it isn't used to being in for extended periods. Looking back now though, the discomfort of the transition was every bit worth it."
"I would definitely recommend shearing as a career. Moving into shearing is one of the better life choices I have made both for myself and my family.

– Brent Hickey, shearer
In December, Brent did another AWI-supported shearing course: an improver course at Dubbo TAFE.
"Going back and doing the improver school has given me a chance to reset, have a tune up and work out how I can be the best shearer I am able to be."
A career with many positives
Brent is currently shearing 150 sheep consistently and is loving his new career.
"I would definitely recommend shearing as a career – it ticks so many more boxes for me," he said.
"Moving into shearing is one of the better life choices I have made both for myself and my family. I get so much more quality time with family now than I have had before, which was a big motivator for me.
"In addition, I always love the atmosphere of the sheds. You meet and work with good people and I get to travel to places that I would never have got to before.
"Apart from being super satisfying when you start hitting goals like your first hundred and having a crew that really gets behind you, or looking out at your let-go pen and knowing you've done a good job for the grower, the monetary side is great too.
"So many other jobs have you working hard but not getting paid accordingly. But with shearing, if you want to walk into the pen fifty times or two hundred and fifty times then that's what goes into your pocket. In my first year, I have been able to achieve tallies that most weeks mean I am earning triple what I did in the kitchen.
"Shearing is also great for fitness; it is both physically challenging and mentally stimulating too. For me the physicality of the job is a good thing; I'm considerably fitter now than when I started."
"In my first year, I have been able to achieve tallies that most weeks mean I am earning triple what I did in the kitchen."

– Brent Hickey, shearer
Looking to the future
Brent says he has career goals of "hitting some big numbers" and maybe getting into competition shearing.
"But right now, I'm focused on building a solid foundation of knowledge and understanding to draw from so that I am able to continue shearing for as long as I continue to stay hungry for that next milestone," he said.
"Every time I learn something more or my best tally goes up, or maybe I find a way to do it a bit better and easier, I find myself more hungry to hit that next goal."
Brent says that, once he got through the initial tough month or two as a learner shearer, the only negative he sees in the shearing industry is that some sheds "aren't up to scratch".
"As part of the wool harvesting process, you see a world of difference that a well maintained and functional shed makes. Most people I have worked with have a desire to do their job to a really high standard and when you have a work environment that makes that difficult, it has a really negative impact on the team and quality of the clip harvested," he said.
"I would love to see investment in harvesting infrastructure to improve the quality of Australian wool overall and encourage more people to get into an industry that is exceptionally rewarding to be a part of."
Brent thanked AWI for the trainers that have helped him in his first year as a shearer.
"The trainers at both my learner and my more recent improver schools have greatly influenced me in my new career. They have so much to offer at these schools. I only wish the schools went for longer, so we can take full advantage of the knowledge and experience of these exceptional trainers."
This article appeared in the March 2022 edition of AWI's Beyond the Bale magazine. Reproduction of the article is encouraged.
/Public Release. This material from the originating organization/author(s) may be of a point-in-time nature, edited for clarity, style and length. The views and opinions expressed are those of the author(s).View in full
here
.