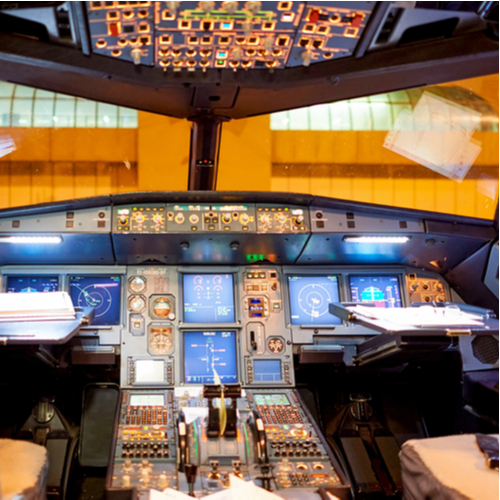 Aviation students at the University of South Australia will be flying high in 2022, training in cockpits of the two most popular jetliners in the world.
UniSA is due to take delivery of its second simulator this year – the Airbus A320 – giving budding pilots the opportunity to learn their way around a new cockpit, alongside the existing 737 flight simulator which is used for training undergraduate aviation students.
Bachelor of Aviation program director Dr Steve Leib says the state-of-the-art Airbus A320 simulator, manufactured by New Zealand firm PacSim, should be in place by mid-2022.
"For students to be able to train on both the Boeing 737 and Airbus 320 simulators is a very rare opportunity," Dr Leib says. "To my knowledge, we will be the only university in Australia offering both Boeing and Airbus based flight simulators as part of its undergraduate aviation experience."
Dr Leib says the exposure to two very different simulators will give UniSA's aviation graduates a competitive edge by aligning their competencies with the industry requirements.
"While flying these planes may only happen later in their career, the fact they have been trained in two different cockpit environments will give them a definite advantage."
Apart from training students to fly, the A320 Airbus simulator will also be used for research purposes, investigating how fatigue, lack of movement, and other aspects of human factors affect pilot performance.
UniSA also hopes to incorporate virtual and augmented reality into the simulator training.
The software components of the A320 simulator are similar to the Boeing 737, but the hardware is a fully enclosed shell structure with a 180-degree visual range.
Approximately 100 Bachelor of Aviation (Pilot) students use the simulator in their third year, putting into practice the theory they have learned up to that point in aircraft systems, flight plans, aerodynamics and navigation.
"The simulators give students the opportunity to work as a crew, giving them exposure to abnormal procedures, including engine failures, tricky weather conditions, and other scenarios that might not be suited for actual flight," Dr Leib says.
"We know that simulators save lives and training costs, and with the addition of a second simulator they will also give our students a broader range of aviation experience that will serve them well in the real world.
"The idea that 100 pilots a year could walk out of university at a much higher bar, is great for the Australian flying community."
And while COVID-19 has grounded many pilots temporarily, and forced some into early retirement, the airline crisis has a silver lining for new students, Dr Leib says.
Most pilots stood down or made redundant during the height of the pandemic will not return, he predicts, providing plenty of job opportunities for newly trained pilots in the next few years.
"The aviation industry recovery is going to be marked by a lot of entry level positions. Right now, pilot shortages are the talk of the industry, so the students graduating in coming years will be in high demand."
More information about UniSA's aviation courses is available at: https://study.unisa.edu.au/aviation/
/UniSA Release. This material from the originating organization/author(s) may be of a point-in-time nature, edited for clarity, style and length. The views and opinions expressed are those of the author(s).View in full
here
.