A group of researchers, led by the University of Wyoming, set out to determine whether stoneflies that live in extremely cold mountain streams could survive warming water temperatures. It turns out the insects, of which one of the species is listed under the U.S. Endangered Species Act, are more tolerant of warming water temperatures than first suspected.
Lusha Tronstad, lead invertebrate zoologist with the Wyoming Natural Diversity Database (WYNDD) at UW, led the research, which took place in summer 2018. The research team collected stonefly nymphs representing at least three species — Lednia tetonica, Lednia tumana and Zapada glacier — from six streams in Glacier National Park in Montana and Grand Teton National Park and the surrounding region in Wyoming. The meltwater stonefly, or Lednia tumana, which was recently listed under the U.S. Endangered Species Act, was the focal species studied.
"The main point of our paper is that Lednia tumana stoneflies — that were traditionally thought to only be able to survive in extremely cold water (just above freezing) — actually appear to be able to handle much warmer temperatures if exposed for short periods of time," says Alisha Shah, a National Science Foundation postdoctoral fellow at the University of Montana. "Surprisingly, they also express 'stress' genes (called heat shock proteins or HSPs) even when in their normal, cold stream water.
"This suggests that maybe they are not cold-water specialists after all, but they may be relegated or pushed up to high-elevation cold streams because they cannot compete with other insects at warmer, lower elevations. An alternative explanation for these results is that they can handle warm water only in the short term, but long-term exposure to high temperatures may be detrimental."
Shah and Scott Hotaling, a postdoctoral researcher at Washington State University, are co-authors of a paper, titled "Mountain Stoneflies May Tolerate Warming Streams: Evidence from Organismal Physiology and Gene Expression," that was published online July 24 in Global Change Biology. The journal covers research on the interface between biological systems and all aspects of environmental change.
The paper shows that high-elevation aquatic insects may not be physiologically threatened by short-term exposure to warm temperatures and that longer-term physiological responses or competition may better explain their extreme distributions.
Tronstad was the paper's fourth author and helped with fieldwork, fundraising and writing the paper. Michael Dillon, a UW associate professor of zoology and physiology, worked with Shah to build the CTmax experiment as well as help run the trials at the UW-National Park Service Research Station in Grand Teton National Park. Other contributors to the paper are from Missouri State University and the U.S. Geological Survey's Northern Rocky Mountain Science Center.
Long thought to live only in northwestern Montana, the western glacier stonefly, or Zapada glacier, was found in Grand Teton National Park the past five summers by Tronstad and her research team.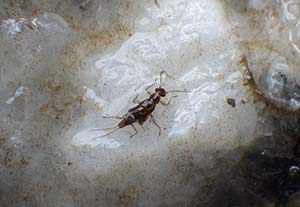 This stonefly, Lednia tetonica, is a species that only lives in the Teton Mountains. These stoneflies — that were traditionally thought to only be able to survive in extremely cold water (just above freezing) — actually appear to be able to handle much warmer temperatures if exposed for short periods of time, according to a research paper recently published in Global Change Biology. (Lusha Tronstad Photo)
Stoneflies are "shredders," meaning they break down plant material — that fills the glacier streams — into smaller pieces, Tronstad says. Stoneflies have long antennae, chewing mouthparts and two pairs of membranous wings. The insect ranges in size from one-quarter inch to .40 inches. Species are gray, black or brown. Stoneflies are important biological indicators of water quality.
Rapid glacier recession is altering the physical conditions of headwater streams, including in the Rocky Mountains. Stream temperatures are predicted to rise and become increasingly variable, which puts entire meltwater-associated biological communities at risk of extinction, the paper says.
Thus, there is a pressing need to understand how thermal stress affects mountain stream insects, particularly where glaciers are likely to vanish on contemporary timescales, according to the paper. In the study, researchers tested the critical thermal maximum, or CTmax, of multiple species of stonefly. CTmax is the measure of an animal's upper thermal tolerance limit. As an analogy, CTmax is the same as heat stroke in humans, Shah says.
The stoneflies that came from warmer streams had a higher CTmax, meaning they appeared to have an elevated capacity to handle higher temperatures, compared to stoneflies that came from cooler streams, Shah says.
"So, when we test thermal tolerance at the whole-organism level, we find a link between warmer streams and high CTmax," she says. "But this result does not translate to the cellular level."
Shah reiterates that the research team's expectation was that the stoneflies experiencing warmer streams should not produce a high HSP or stress response. Yet, the insects do. Regardless of which stream the insects came from, Lednia tumana stoneflies produce higher amounts of HSPs when exposed to warmer water. It came as a surprise to the research team that the stoneflies produce some HSPs, even in normal cold stream water.
"We actually don't know the exact mechanism by which they can deal with warmer water. We just know that they can," Shah explains. "Future studies with these insects will help us identify how they are able to cope with warm water and whether they can deal with it over long timescales, such as several days to months."
Hotaling studies ecological genomics, meaning he explores how animals live in extreme cold from the perspective of their genes and genomes. During this study, he collected the gene expression data and ran associated analyses. Shah studies ecological physiology, meaning she investigates how temperature affects where animals live through the lens of their physiological capacities. During this study, she conducted the CTmax experiments and analyzed the physiological data.
"I will add that we are only scratching the surface with our results of this study and, by no means, do we understand everything about meltwater stoneflies and their response to climate change," Shah says. "Each result is a piece of a very large puzzle and contributes a little bit more to the whole picture. Scott and I are now working on understanding how these stoneflies handle high temperatures over several weeks. Do they develop normally? Or, do they incur some physiological or developmental cost? Such studies are likely the only way we can reliably learn how species will respond to climate change."
The UW-National Park Service Research Station funded the research for this paper.
/Public Release. The material in this public release comes from the originating organization and may be of a point-in-time nature, edited for clarity, style and length. View in full
here
.