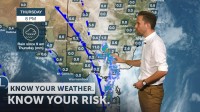 SENIOR METEOROLOGIST, ADAM MORGAN: Hello again. Well, as forecast the heavens opened over northeast Victoria and southern New South Wales during yesterday and overnight last night, we saw some really good rainfall numbers recorded. Through to 9 am yesterday, most of the rainfall on Wednesday had been through parts of southern South Australia and central Victoria, but during the day on Thursday the showers and storms really redeveloped north of the ranges in Victoria and southern New South Wales as well, becoming quite heavy with plenty of lightning.
We saw some flash flooding around the Wodonga region yesterday afternoon so those numbers really tick up as those showers and thunderstorms get going. So that rain became more widespread overnight and through to 9 am this morning we saw probably the heaviest rainfall in a band through central western New South Wales, particularly through northeast Victoria where we saw widespread falls above 50 mm.
So those numbers recorded 28.4 mm at Bourke, 32.6 mm at Griffith, 36 mm there at Wagga Wagga, and in Victoria 76mm at Bright, 59 mm at Rutherglen, and the highest we've seen to 9 am this morning has been 107 mm at Mongans Bridge in the Victorian High Country. Through the Kiewa catchment in the Victorian High Country we have seen a lot of rain so we do have a minor flood warning out for that catchment.
Over the next couple of days those showers and thunderstorms today move into the northern and eastern parts of New South Wales, potential still for some heavier falls particularly this morning about the southwest slopes.
Another trough moves through southern parts of Victoria and southern South Australia bringing another round of showery weather. Those showers will continue about southerly mountain areas on Saturday as the main weather system moves out into the Tasman Sea, leaving some showery and gusty conditions for the New South Wales coast. By the time we get through to Sunday another ridge of high pressure moves in so we'll see conditions begin to clear for South Australia, Victoria and Tasmania.
So over the next couple of days keep in touch with us onour website, app, and social media forall the latest forecasts and warnings.
/Bureau of Meteorology Public Release. View in full
here
.