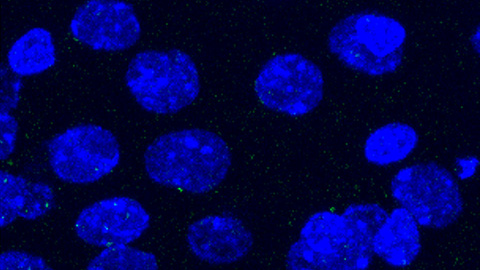 An international team of researchers have applied for the patent of 'H' peptide, which could promote the application of medicines derived from cannabis, which are highly effective but whose use is restricted due to their effects on the memory.
Medicines derived from cannabis are highly effective as analgesics to treat diseases such as multiple sclerosis and prevent vomiting in chemotherapy patients. Their use, however, is limited by their side effects in patients, particularly cognitive alterations and memory loss. Now, UPF, together with the UAB, the UB, the University of Lisbon and the João Lobo Antunes Institute of Molecular Medicine, Portugal, have applied for a patent for a molecule, 'H' peptide, which is capable of blocking the main adverse effects of tetrahydrocannabinol (THC), the most widely used active ingredient of cannabis, while preserving therapeutic capacity.
The researchers believe that the peptide could be used to develop a new drug that when administered with THC-based drugs, will prevent their side effects. According to Rafael Maldonado, head of the Neuropharmacology Laboratory at the Department of Experimental and Health Sciences (CEXS) at UPF, who led the research process into the molecule, the combination of compounds "would open up a huge field to seek new therapeutic applications for cannabinoids", beyond the current limits.
Why would achieving this be important? Today, two types of painkillers can be prescribed depending on the severity of pain: non-steroidal anti-inflammatory drugs (NSAIDs) such as ibuprofen or aspirin, to treat relatively minor pain, and opiates for severe pain. But, the scientist continues, "in the middle there is a series of chronic situations for which we have no treatment", such as neuropathic pain (e.g., caused by nerve damage in diabetes and herpes), for which none of the treatments currently available are effective enough.
THC-based medicaments are effective against these health problems that other families of analgesics cannot treat, but their side effects restrict their use. For this reason, a solution that prevents the unwanted effects of cannabinoids would potentially have a significant impact.
Useful in clinical contexts
"We decided to apply for the patent when we realized that it is possible to reach the clinic with this experimental strategy", says Maldonado. The researcher reveals that the compound has generated a great deal of interest in the pharmaceutical sector. In his view, this is due to the fact that "there is a very broad population that needs a solution" when conventional painkillers do not work.
This project is in line with previous research, published in 2015 in the journal PLoS Biology, which proposed a strategy to disassociate the benign effects of THC from the harmful ones. An article coordinated by the UPF Neuropharmacology Laboratory showed then that when THC molecules enter the body, they bind in two molecular complexes of the nervous system: one transmits the analgesic effect, while the other is responsible for cognitive impairment. Thus, the scientists concluded that by breaking the second complex, they would block the unwanted effects.
'H' peptide achieves this goal and also meets two fundamental requirements to prove useful in clinical settings: on the one hand it is stable when entering the body, unlike other peptides; and on the other, it is capable of crossing the blood-brain barrier, i.e., of reaching the brain.
This project is supported by the Caixaimpulse programme, an initiative of the La Caixa Banking Foundation and Caixa Capital Risc to promote knowledge transfer in the fields of health and biomedicine. They provide funding for projects arising from research that has the potential to reach the market and have an impact on society.
Reference work:
Xavier Viñals, Estefanía Moreno, Laurence Lanfumey, Arnau Cordomí, Antoni Pastor, Rafael de La Torre, Paola Gasperini, Gemma Navarro, Lesley A. Howell, Leonardo Pardo, Carmen Lluís, Enric I. Canela, Peter J. McCormick , Rafael Maldonado , Patricia Robledo (2015): Cognitive Impairment Induced by Delta9-tetrahydrocannabinol Occurs through Heteromers between Cannabinoid CB1 and Serotonin 5-HT2A Receptors. PLoS Biology 13(7): e1002194. doi:10.1371/journal.pbio.1002194.
/UAB Public Release. The material in this public release comes from the originating organization and may be of a point-in-time nature, edited for clarity, style and length. View in full
here
.