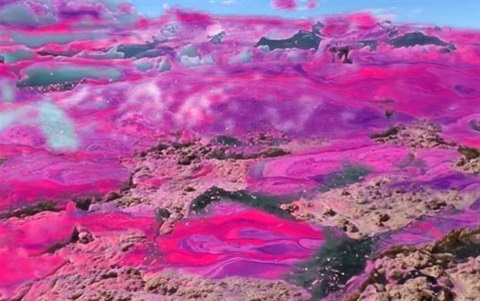 Rockhampton Art Gallery's permanent collection is set to be extended further, with the donation of two works by Australian artist, Kate Shaw.
The donation of The Spectator, (Video, 2008, 4 minutes, 1/7) and Fjall, (HD Video, 2013, 3 minutes, 2/7) add to her growing representation in the collection. Rockhampton Art Gallery already owns two Kate Shaw works: Silver morning a gift from the Friends of the Gallery in 2012 and Continuum,2012, a moving image work.
Chair of RRC's Community Services Committee, Cr Rose Swadling said that the donation of the works deepens the Gallery's collection holdings.
"The Rockhampton Art Gallery collection amounts to one of the most significant collections in regional Australia. The collection remains relevant through an active collecting program. Acquisitions in recent years of works by Del Kathryn Barton, Daniel Boyd, Sally Gabori, Imants Tillers and Ben Quilty represent the Gallery's continuing tradition of acquiring works by living artists," Cr Swadling said.
"Kate Shaw's video pieces are an important addition to the collection."
Rockhampton Art Gallery's permanent collection is of national significance. Through over 2,000 works the collection tracks Australia's modernist movement and with artworks by significant Australian artists such as Charles Blackman, Arthur Boyd, Sidney Nolan, Russell Drysdale, John Brack and Fred Williams.
Rockhampton Art Gallery's long standing relationship with Kate Shaw and her representing Gallery, Martin Browne Contemporary, has supported this gift to the collection.
Kate Shaw's practice deals with the tensions and dichotomies in the depiction of the natural world and our relationship to it. She explores the sublime in nature whilst imbuing a sense of toxicity and artificiality in her work. The intention is to reflect upon the contradiction between our inherent connection to the natural world and continual distancing from it.
"I'm delighted that Kate Shaw's donation to Rockhampton Art Gallery will expand the gallery's holdings of her work,' Martin Browne said.
"Through her distinctive artistic 'voice', her landscapes – both painted and, like these works, in moving image – bring a new vision to how we see the world around us."
Artist Kate Shaw said "It's so important for an artist's work to be part of museum collections. For me it's about the audience that otherwise may not see my work in 'the flesh'. As a teenager I saw so many Jackson Pollock images in books but it was only when I say Blue Poles at the NGV, I understood what all the fuss was about. I believe you have to be with the work to 'get it'"
"I love that Rockhampton Art Gallery have collected my video work – when I am primarily known as a painter in Australia. I am excited to say that Continuum is part of the summer program 2019 at the prestigious Museum of the Moving Image, NYC," said Kate Shaw.
Rockhampton Art Gallery would be happy to hear from anyone considering donating an artwork. Gifted works become part of a nationally significant Australian public art collection, where they will be expertly cared for and enjoyed by future generations.
Image | Kate Shaw (b. 1969) | Fjall 2013 | High definition video | Donated through the Australian Government's Cultural Gifts Program by Kate Shaw, 2018 | 2018.008
Rockhampton Art Gallery is owned and operated by Rockhampton Regional Council.
/Public Release. View in full
here
.