Adding coffee pulp to forest floors dramatically restored deteriorating tropical forests in Costa Rica. That's according to new research from the University of Hawaiʻi at Mānoa.
In 2018, Rebecca Cole, postdoctoral researcher in the Department of Natural Resources and Environmental Management in the College of Tropical Agriculture and Human Resources; and Rakan (Zak) Zahawi, School of Life Sciences faculty member and Lyon Arboretum director, delivered approximately 35 truck loads of coffee pulp and spread a 0.5-meter-thick layer onto a degraded pasture. They left an adjacent, similar-sized area as a control and observed both segments over the next two years. Zahawi said the results were dramatic.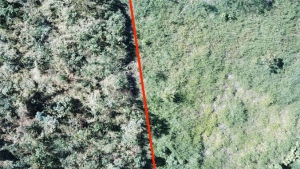 "The area treated with a thick layer of coffee pulp turned into a small forest in only two years while the control plot remained dominated by non-native pasture grasses. While much remains to be explored, this case study suggests that agricultural by-products (or non-market products) can be used to speed up forest recovery on degraded tropical lands. In situations where processing these by-products incurs a cost to agricultural industries, using them for restoration to meet global reforestation objectives can represent a 'win-win' scenario," said Zahawi, who has taken a leave from UH Mānoa to serve as the executive director of the Charles Darwin Foundation, based in the Galápagos Islands.
How it works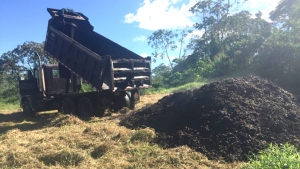 Coffee is rich in carbohydrates and crude protein and when processed, forms a valuable compost. It is also produced in vast quantities—up to 50% of the harvested weight of coffee cherries remains at processing sites as a waste product. Zahawi explained how coffee pulp eliminated the non-native grasses allowing the native forest to thrive.
"As the pulp begins to decompose, it generates a lot of heat which, combined with the deep layer, smothers (asphyxiates) the grass and kills the roots by essentially baking them," Zahawi said. "The key is that this is done during a dry period and not in the middle of the rainy season."
The researchers also added that the coffee pulp increased soil nutrients on degraded land, overcoming another major barrier to tropical forest recovery. The research findings were published in a recent Ecological Solutions and Evidence article.
Can it work in Hawaiʻi?
Zahawi said while this method could be used in Hawaiʻi, it may not be the most efficient as it would most likely just accelerate invasions of non-native species.
"The setback with Hawaiʻi is the invasive species," Zahawi said. "Certainly degraded pastures can be made grass free with this method but then you have a high probability of getting a bunch of invasive plants coming in, so that needs to be controlled. Another issue is that most native species are not really adapted for high nutrient environments (they don't necessarily take advantage of the nutrient pulse while invasive species would)."
Cole and other UH Mānoa researchers published a recent study in Restoration Ecology, confirming the acceleration of non-native species. The team tested how reducing or increasing soil nutrients affected native versus non-native invasive plant growth in a field study on Hawaiʻi Island and found that increased nutrients made weeds invade even faster.
This work is an example of UH Mānoa's goal of Excellence in Research: Advancing the Research and Creative Work Enterprise (PDF), one of four goals identified in the 2015–25 Strategic Plan (PDF), updated in December 2020.
—By Marc Arakaki
/Public Release. This material comes from the originating organization and may be of a point-in-time nature, edited for clarity, style and length. View in full
here
.