EMBL Teen reinforces the value of allyship in STEM as she develops app to identify grapevine diseases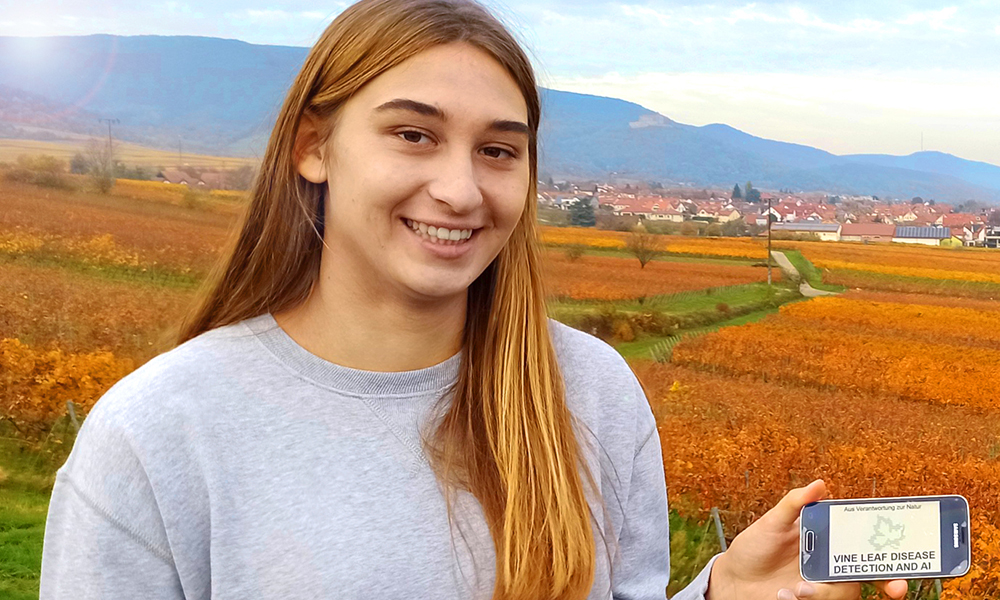 A member of the EMBL Teen community has made identifying leaf diseases on grapevines as easy as taking a picture with a smartphone, and it's why she's making news.
Now Maria-Theresa Licka's work with teen collaborator Mario Schweikert has them looking forward to March, when they'll present their app at the Bosch Center for Artificial Intelligence virtual AI Conference 2021. The two of them won the jury prize in Germany's national artificial intelligence competition for pupils last November, which was an improvement over the previous year when they did not qualify for the final round.
Maria-Theresa and Mario persevered through the disappointment of not reaching the final stages of the competition in 2019. For their entry in 2020 they harnessed AI, using smartphone pictures to detect and differentiate vine leaf diseases. They started with more than 5,000 pictures of leaves infested with algae and fungi during different seasons, classifying the photos with help from the Dienstleistungszentrum Ländlicher Raum: a centre for rural services. This enabled them to create a dataset to teach the AI system that they now use in their app.
"Each year in Germany, more than 3,000 tonnes of herbicides and pesticides are spread in vineyards. We want to reduce this," Maria-Theresa says, noting that their app allows a more targeted approach. "To detect and classify a vine leaf disease, you only have to open our app and take a photo of the leaf. The app provides updated information about the disease and shows current local spreads of different diseases for winemakers. This makes agriculture not only more sustainable but also more efficient."
And, just like the grapevines that need support to thrive, Maria-Theresa has found that support has been critical in her fledgling STEM experiences. She joined the EMBL Teen community – which is part of the Friends of EMBL Programme – in 2018, a year before her entrée into the AI competitions. From EMBL Science Movie Night and an EMBL Insight lecture to being an EMBL Teen reporter at European Researchers' Night, she had the opportunity to interact with scientists in various ways. Her most notable interaction came the following year when she met Malvika Sharan, then a computational biologist at EMBL Heidelberg; now a research associate and community manager at the Alan Turing Institute: the UK's national institute for data science and artificial intelligence. Malvika invited Maria-Theresa to her lab, providing mentorship in a variety of ways. It was a relationship that gave her both know-how and self-confidence.
"During these visits I got a good feel for her work as a Bio-IT community coordinator and computational biologist," Maria-Theresa recalls. "She introduced me to her EMBL team and community. She also taught me some coding and how to use GitHub [a software development tool that also facilitates collaboration] – both things that were very helpful to my follow-on projects in AI."
From Malvika's perspective, it's about supporting a new generation of female scientists.
"I feel humbled to know that I had any impact on her," Malvika says. "Maria-Theresa has always been curious to learn about new computational concepts, and next thing you know, she does something extremely amazing with it – like building a prize-winning app! What is even more striking is that she cares about using technology to bring a positive impact on society."
EMBL Teens have also created a wider web of other young STEM-interested girls like Maria-Theresa, combined with succesful women in science who are helping them build self-confidence and showing them ways to succeed.
"Malvika encouraged me to stay focused and not get discouraged by obstacles that can arise for women in science," says Maria-Theresa, recalling specifically that moment in 2019 when she and her partner just missed making the AI competition finals. "Malvika was a great mentor and teacher, but also an inspiration. She has gone from a childhood in India to working as community manager at the Alan Turing Institute in London. Malvika truly inspires me with her success."
Malvika also encouraged Maria-Theresa to create her own YouTube Channel, INFOrmAtIc Teens. Maria-Theresa's concept is to continue publishing small tutorials for other students who want to start coding, explaining some mathematics behind the code.
"We need diverse voices, ideas, and representations to bring real change and innovation in STEM," Malvika says. "So, dear girls, find ways to support, acknowledge, encourage, and promote each other for new opportunities."
The experience did encourage Maria-Theresa to 'pay it forward' in other ways, like a podcast interview she did recently about her experiences in science and her dreams for the future: one more voice to encourage other budding female scientists.
"As a child I was always interested in informatics and robotics – courses not 'typically' for girls, so I was often the only female. Even at a student trip in 2018 to Silicon Valley, there were only two girls and 17 boys," Maria-Theresa says. "The numbers continue to grow – even just within the past two years. Women are capable of doing informatics, data science, and AI, but society has a way of discouraging them. Thankfully, we have successful female researchers to show us the way, like my role models Marie Curie, Jennifer Doudna, and Emmanuelle Charpentier, who I personally look up to and who have enriched science so much. These women inspire and encourage me about the future of women in science."
This building of confidence and skills is exactly what the EMBL Teen programme hopes for, explains Barbara Solich, the programme manager leading this effort. The programme invites local teenagers interested in various aspects of molecular biology to participate in EMBL activities and to get to know EMBL scientists, enabling EMBL Teens to learn and start building a supportive network.
Likewise, members of the Friends of EMBL network provide crucial support to EMBL projects and initiatives. For example, because of their annual donations, EMBL recently launched the Leadership and Excellence for Aspiring Postdocs (LEAP) Mentorship Programme to foster the talent of women as they advance in their scientific careers towards leadership positions.
"As we celebrate International Day of Women and Girls in Science this year, I'm heartened by stories like Maria-Theresa's," Barbara says. "When we work together and support one another through mentoring and opportunities that bring us together, smart young female scientists get the chance to succeed that they deserve."
/Public Release. This material comes from the originating organization and may be of a point-in-time nature, edited for clarity, style and length. View in full
here
.