KANEOHE BAY, Hawaii – The Department of the Navy (DON) hosted a discussion on nature-based climate resilience with several key stakeholders in Hawaii September 29, 2022. This meeting, part of a broader collaboration with the Army Corps of Engineers' Engineering With Nature (EWN) Program, aimed to develop natural infrastructure projects and promote partnerships that enable the Department's mission, consistent with Climate Action 2030.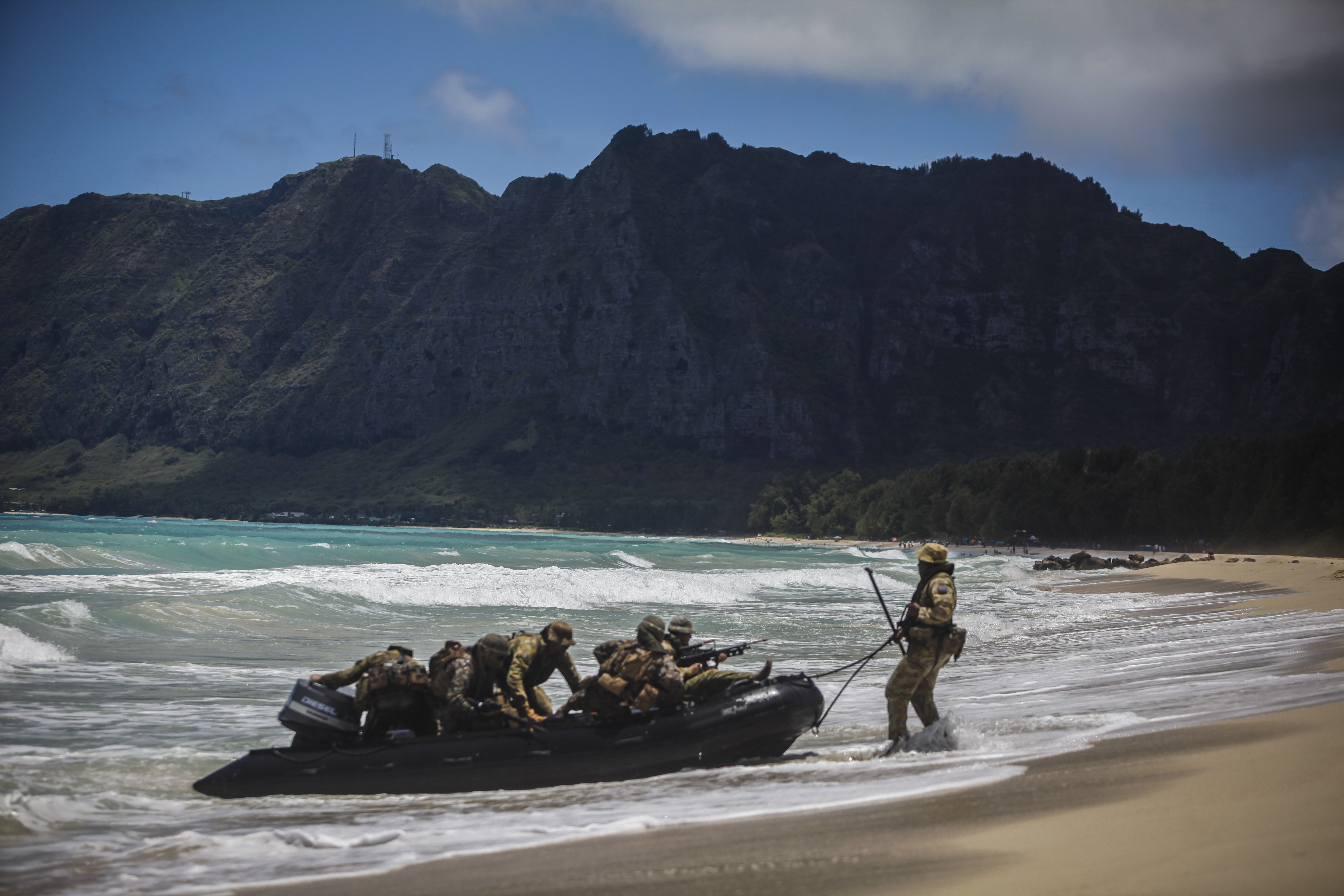 160730-M-CP369-1110 MARINE CORPS BASE HAWAII (July 30, 2016) – Australian, New Zealand, and U.S. Marines land on the beach using a rigid hull inflatable boat during an amphibious landing as part of Rim of the Pacific 2016 at Marine Corps Training Area Bellows, Hawaii, July 30. Troops from 2nd Battalion, Royal Australian Regiment, Provisional Marine Expeditionary Brigade-Hawaii came from HMAS Canberra to the beach during a coordinated amphibious assault with forces from Battalion Landing Team 2nd Battalion, 3rd Marines landing on Pyramid Rock Beach from USS San Diego. The landings are a part of the free-play scenario phase of RIMPAC 16. (U.S. Marine Corps photo by Sgt. William L. Holdaway)
Stakeholders included representatives from local, state, and federal organizations including the University of Hawaii, State of Hawaii Department of Land and Natural Resources, State of Hawaii Office of Planning and Sustainable Development, National Oceanic and Atmospheric Administration, U.S. Fish and Wildlife Service, and the Army Corps of Engineers, Honolulu District. Participants shared ongoing initiatives and opportunities to collaborate on implementing nature-based solutions to enhance resilience for Department of Navy installations, as well as neighboring communities and ecosystems in Hawaii.
"When we think about scaling up nature-based solutions – we must also consider scaling up our partnerships," said Dr. Todd Bridges, National Lead, EWN, and the U.S. Army's Senior Research Scientist for Environmental Science. "Collaboration is necessary to develop and implement innovative nature-based solutions that are more socially acceptable, viable, equitable, and ultimately support the resilience of installations and communities."
220926-N-LZ409-1030 KEKAHA, HI (Sept. 26, 2022) – Members of Pacific Missile Range Facility's (PMRF), Barking Sands, environmental team and visitors from Engineering With Nature (EWN) discuss possible solutions to shoreline erosion during a tour. EWN is the intentional alignment of natural and engineering processes to provide economic, environmental, and social benefits through collaboration. PMRF is the world's largest instrumented multi-environment range capable of supporting surface, subsurface, air and space operations simultaneously. (U.S. Navy photo by Mass Communication Specialist 2nd Class Bodie Estep)
Navy and Marine Corps installations are facing increasing challenges from natural hazards like extreme rainfall, drought, and coastal erosion, all of which are being exacerbated by climate change. To address these threats, the DON has partnered with EWN on a series of workshops and assessments covering eleven installations over the past year. Teams of scientists, engineers, landscape architects, and planners have visited installations experiencing diverse environmental stressors, such as Naval Air Station Key West, Florida and Marine Corps Air Station Yuma, Arizona, to meet with local staff and develop landscape-scale projects that address their resilience challenges.
From September 26-29th, a team visited sites at the Pacific Missile Range Facility, Joint Base Pearl Harbor-Hickam, and Marine Corps Base Hawaii where natural hazards directly threaten critical infrastructure. From mountain-based instrumentation to beach landing areas and subsurface ocean ranges, the DON relies on the health of Hawaii's diverse ecosystems, on and off military property, to support its mission.
"Nature-based resilience is critical to developing a climate-ready force," said Ms. Deborah Loomis, Senior Advisor to the Secretary of the Navy for Climate Change. "From the Pacific Missile Range Facility to Marine Corps Base Hawaii, we saw opportunities to deploy nature-based solutions that will better enable our mission and increase the resilience of surrounding ecosystems. We must work with, and learn from, our local partners to address climate threats across our installations and shared communities."
The DON and Department of Defense have a long history of engaging in large-scale conservation projects to support resilience. For example, the Department of Defense's Readiness and Environmental Protection Integration (REPI) Program recently awarded nearly $15M to the State of Hawaii, in partnership with the Navy, for the restoration and protection of the Waiawa Watershed. This project will improve 7,155 acres of native upland forests to support recharge of the Pearl Harbor aquifer and reduce downstream flooding from storm events.
/Public Release. This material from the originating organization/author(s) may be of a point-in-time nature, edited for clarity, style and length. The views and opinions expressed are those of the author(s).View in full
here
.