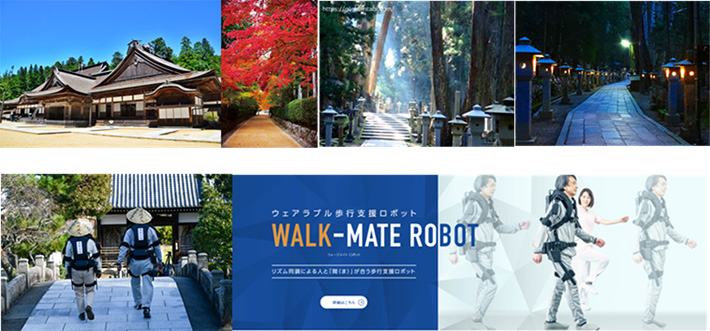 Tokyo Institute of Technology (Tokyo Tech) and ANA Group (ANA) conducted a field test for the WALK-MATE* walking support robot on October 12 at Koyasan, Wakayama Prefecture. WALK-MATE has been developed by the Miyake Laboratory of the School of Computing, Tokyo Tech, and commercialized by WALK-MATE LAB Co., Ltd., a Tokyo Tech venture company.
*

WALK-MATE: A wearable robot that supplements human power in accordance with a person's walking rhythm. Commercialized by WALK-MATE LAB Co., Ltd., Tokyo Tech's venture company. Unlike ordinary power suits, it not only assists with limb movements, but also detects a person's movement rhythm and assists with timing to improve a natural, active gait. WALK-MATE is recognized as a "dogyo ninin robot" by Chijun Suga, the head priest of the Zentsuji School of Shingon Buddhism.
Tokyo Tech has been collaborating with ANA since 2021 to create new travel style using a walking support robot. In 2021, WALK-MATE was used for a walking pilgrimage field test in Zentsuji City, Kagawa Prefecture. This test allowed Professor Yoshihiro Miyake to confirm that WALK-MATE can be effective in improving the walking function of elderly people. He also has discovered the possibility of a positive effect on the mind as well as the body for people using WALK-MATE.
Therefore, due to the fact that inner stability is important from a well-being perspective, an experiment was conducted as a part of ANA tour on Wednesday, October 12, 2022, at Mt. Koya in Wakayama Prefecture in order to verify that WALK-MATE can inspire inner stability on a walking pilgrimage. This was the first such test conducted anywhere in the world.
On Mt. Koya, six participants walked approximately 500 meters in crisp autumn weather along the path to the two holy sites of Danjo Garan and Oku-no-in wearing the WALK-MATE to experience the process of "mental conditioning". After the experience of walking with WALK-MATE, Miyake surveyed the participants to measure the positive effect of the WALK-MATE in terms of well-being. The participants commented that they "felt a sense of togetherness" and "felt included" by walking in synchrony with the robot. Based on data obtained from this field test, Miyake Lab will develop an AI system that can enable mental conditioning.
To go on this pilgrimage means walking with Kobo Daishi, the founder of Shingon Buddhism: in other words, a traveler walks together in spirit with Kobo Daishi. This is called "dogyo ninin" or "two journeying together" in Japanese. This field test aimed to verify that WALK-MATE can be a partner for a walking person by synchronizing their rhythm, and that the unity between the walker and WALK-MATE enables mental conditioning. In recent years, the culture and history of the walking pilgrimage in Japan have become of interest to many people around the world. At the same time, Miyake hopes that the robotic technology developed in Japan will also attract international attention and encourage more people to visit Japan.
Tokyo Tech and ANA are aiming to create a new style of travel by using the latest technology and providing a basic tool for elderly people in today's rapidly aging society to keep healthy, increasing their healthy life-span and expanding the scope of activities they can take part in. Miyake and his team will introduce a new walking journey to the world.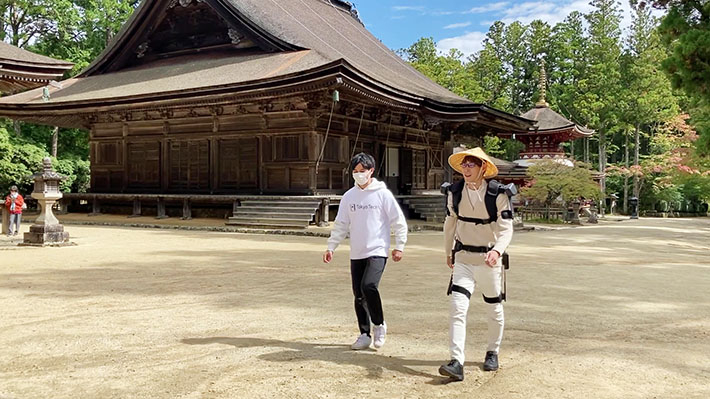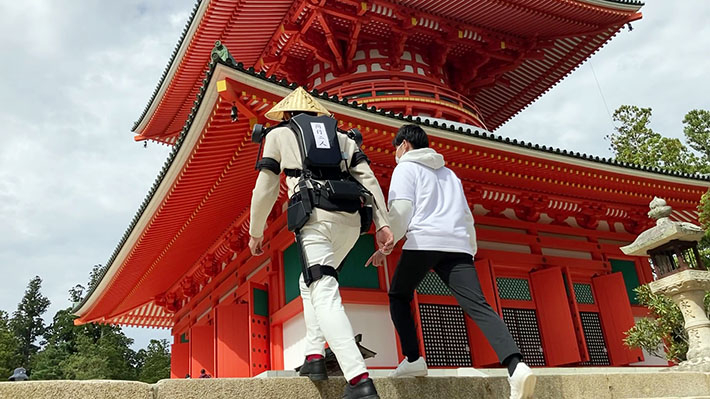 Comment from Professor Miyake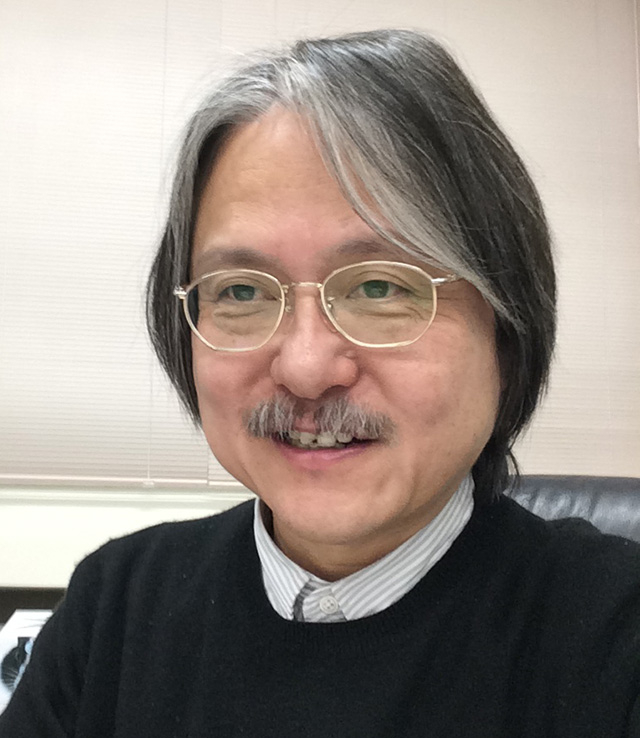 In this pilgrimage, the pilgrim's staff is said to be an incarnation of Kobo Daishi (Kukai). Therefore, to walk with a pilgrim's staff means to walk with Kobo Daishi, a concept expressed by the Japanese phrase "dogyo ninin" or "two journeying together". We developed the WALK-MATE robot, a walking support robot using the latest science and technology, to serve as an advanced pilgrim's staff. One of the difficulties in its development was the control technology to synchronize the pace between the robot and the human. The human walking pace changes from moment to moment, so a set walking pace cannot be input in advance into the robot. However, we have developed a technique to control the robot to synchronize with person's walking rhythm, which can lead to a feeling of unity. Many people may be surprised to see a robot being used on a pilgrimage. However, by integrating science and technology into Japanese culture in this way, we open up new possibilities.
/Public Release. This material from the originating organization/author(s) may be of a point-in-time nature, edited for clarity, style and length. The views and opinions expressed are those of the author(s).View in full
here
.