While the pandemic has triggered low moods, this is not always the same as mental illness – in crisis situations it's important to distinguish between the two, says Macquarie University Professor of Psychology Nick Titov.
Billions of people around the world have experienced distress, loss and a significant emotional toll from the health and societal impacts of the COVID-19 pandemic.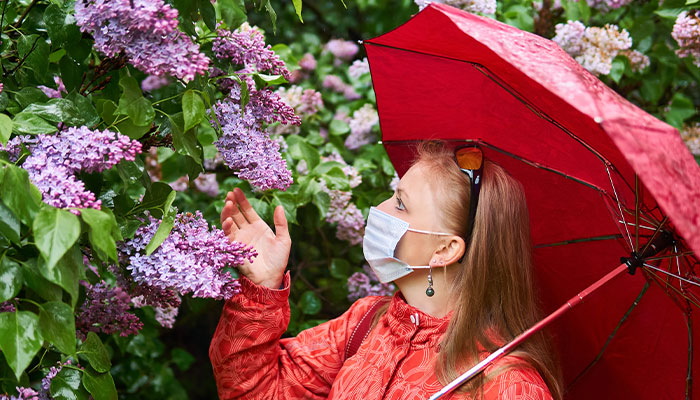 Take time out: There are basic steps you can take to reduce distress, from clearing your head to setting simple goals, such as taking a walk every day.
However, these reactions don't always indicate growing rates of serious psychological disorder, but rather are often normal responses to challenging situations, says Macquarie University Psychology Professor Nick Titov.
He says it's important to distinguish between normal reactions to ongoing crises, and the more serious ongoing challenge of mental illness such as clinical depression and anxiety.
"We can all take some basic steps to look after our mental health and reduce distress in times of crisis," he says.
One of the strongest lessons that we can take from the pandemic has been a stark reminder that we can't control every aspect of our lives.
Titov is Executive Director of MindSpot, the free national online mental health clinic established at Macquarie University in 2012 and funded by the Australian government, which has seen more than 30,000 Australians enrol to access their services between March 2020 and August 2021.
"One of the strongest lessons that we can take from the COVID-19 pandemic has been a stark reminder that we can't control every aspect of our lives, and that we all need to work on staying physically and psychologically healthy," says Titov.
How COVID-19 changed our moods
The MindSpot team introduced extra questions to their assessment at the beginning of the pandemic and has found that the types of concerns reported by respondents have changed as COVID-19 has continued.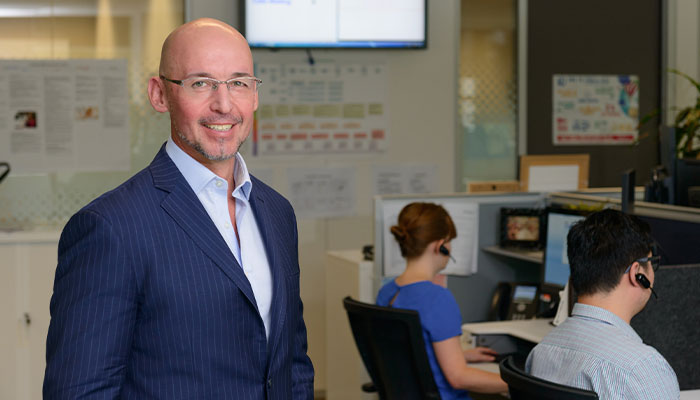 Good news: Professor Nick Titov (pictured) says there has not been a significant rise in symptoms or cases of mental illness among MindSpot clients.
"We found that MindSpot clients initially had high levels of anxiety and worry about personally contracting COVID in March and April 2020, but these worries were later overtaken by concern for family and friends in global hotspots and in hotel quarantine," he says.
Titov says that over the course of the pandemic, MindSpot clients have reported different stories and concerns depending on their situation, for example if they were undergoing extended outbreaks and long-term lockdowns or quarantine.
"There were some common themes, which included worrying about the world, about the future, about their family and friends and about their jobs – which really speaks to the unpredictability of the situation," he says.
"A lot of people also reported fatigue and sadness and generally feeling fed up, they reported frustration and boredom and a lack of joy or pleasure – we know those are circumstances which trigger symptoms of low mood, and anxiety and worry and stress and fatigue, but that's not the same as mental illness or clinical depression or anxiety.
"It's important to separate these normal responses to situations such as lockdowns from underlying conditions."
Distress can be misdiagnosed as depression
Titov says that over the course of the pandemic, many reports about increased rates of anxiety and depression have appeared in academic psychology publications and in the media.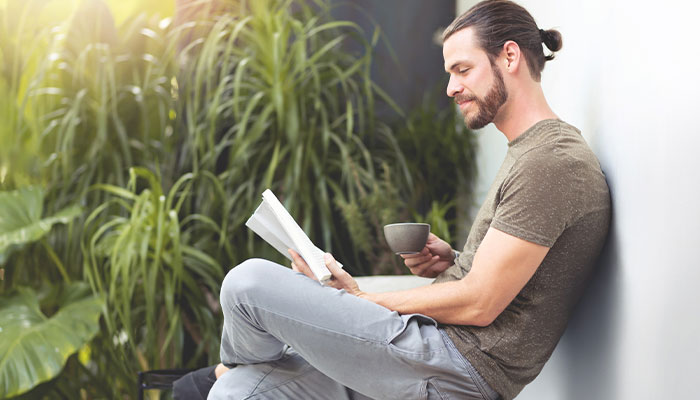 Treat yourself: Even 10 minutes a day spent reading a good book can bring some joy to your lockdown routine.
But Titov's research has found that many of these reports are based on the use of 'brief questionnaire measures of symptoms' and he questions whether 'brief measures' are suitable to diagnose growing rates of depression and anxiety during a global crisis.
"Although brief measures are useful tools, when used inappropriately they may lead to high false positive rates of cases, unnecessary treatment and may pathologise normal human distress," he says.
His recent work analysed more than 10,000 responses from people completing MindSpot assessments and found that relying on scores from brief measures indicated that around 72 per cent of MindSpot users would meet the criteria for depression. However, further screening revealed that the likely true incidence of a depression diagnosis was under 40 per cent of cases.
For most people, taking care of our mental health involves taking basic steps to reduce the impact of crisis situations.
However, much of the current research reporting rising instances of depression and anxiety worldwide is based on brief measures that aren't screened further to identify those people with transient moods.
"The good news is that while we are seeing more people use our services, there hasn't been a significant rise in symptoms or cases of mental illness among MindSpot clients," Titov says.
He says that people with underlying vulnerabilities can find crisis situations really tough – so he encourages people to reach out to friends, family and community to offer support before people are at a crisis point, which is the aim of the national mental health awareness campaign, R U OK? Day, on September 9.
"For most people, taking care of our mental health involves taking basic steps to reduce the impact of crisis situations," he says.
Back to Basics: Taking care of your mental health
Titov says these six 'back to basic' steps can help everyone look after their own mental and emotional health. "Most of us are aware of these simple psychological health principles, but it's easy to forget them when we feel overwhelmed and tired," he says. "Reminding ourselves and others of these key points can really help."
Clear your head

Turn off the noise, news and distractions – and breathe. It's hard to get on top of things and get perspective without a clear head. Try going to a quiet part of the house to practice controlled breathing for a few minutes, several times a day.

Respect yourself

Practice respectful 'self-talk' and have realistic expectations of yourself. Check that the standards you set for yourself, are not higher than those you set for people around you. Do you treat yourself with the level of compassion you offer your friends and family?

Take some time to recharge

When you feel overloaded, give yourself permission to relax, recover and regroup. Go for a walk, watch a show you enjoy or listen to some music. Be realistic and reduce your expectations about how much you can achieve in a day – and permit yourself to have some days where you are less productive than other days.

Set simple goals

Achieving goals helps you feel good about yourself. Set yourself realistic daily goals to meet, like making your bed each morning; going outside for 30 minutes every day; contacting two friends by SMS.

Treat yourself

Give yourself something to look forward to each day that is enjoyable and satisfying. Even ten minutes a day reading a good book, listening to a great piece of music or an engaging show can bring some joy to your day.

Establish routines

Your day doesn't have to be scheduled to the last minute or even to the hour. But a 'back to basics' framework is about creating virtuous cycles of small habits and routines that you do at different parts of the day. We can all fall into bad habits – but creating good habits and putting these together in a routine, can help you stay psychologically healthy.
For help on how to ask friends, family or colleagues R U OK? Go to ruok.org.au
MindSpot is a free service for Australian adults who are experiencing difficulties with anxiety, stress, depression and low mood, and provides assessment and treatment courses, or helps people find local mental health services that offer support.
Professor Nick Titov is Executive Director of MindSpot.
/Public Release. This material from the originating organization/author(s) might be of the point-in-time nature, and edited for clarity, style and length. Mirage.News does not take institutional positions or sides, and all views, positions, and conclusions expressed herein are solely those of the author(s).View in full
here
.