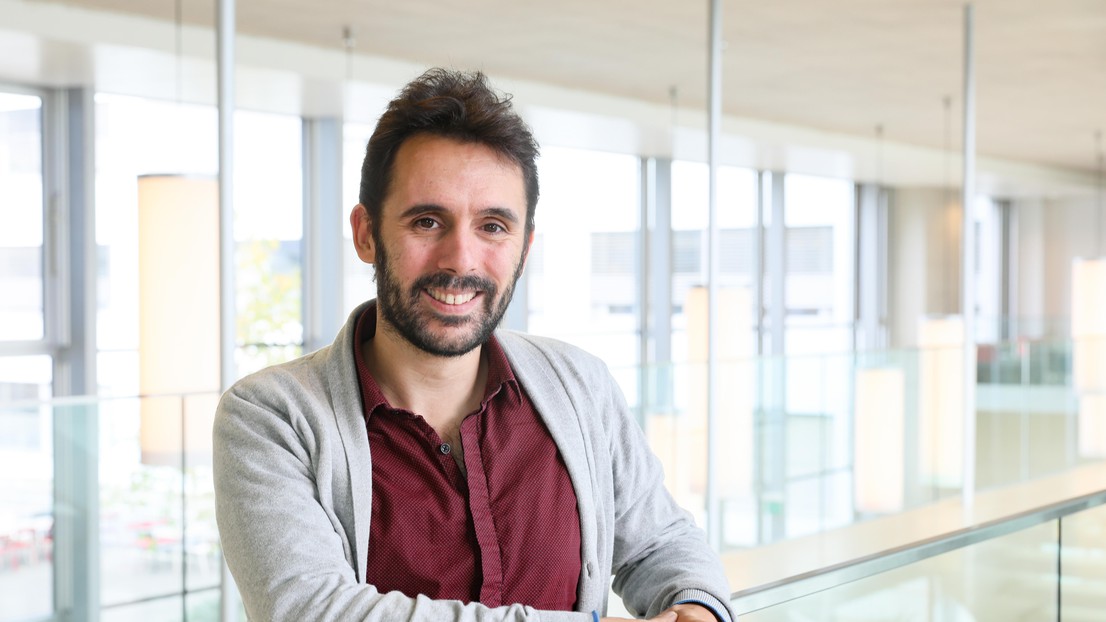 Bruno Correia, the head of EPFL's Laboratory of Protein Design and Immunoengineering, has been named the best teacher in the life sciences and technology section for 2019 – just four years after giving his first-ever class.
A single image changed the direction of Correia's career. The tenure track assistant professor remembers it as if it were yesterday. After finishing high school, Correia wasn't sure what he wanted to do, but as the son of two financial accounters, he was sure he didn't want to go into finance. "I wanted to help people and become a doctor, but my grades weren't good enough. So I settled for chemistry," he says. He studied the subject for three years without much enthusiasm, until the day a professor showed him a 3D image of a protein. That aroused his curiosity and made him want to learn more. "The structure was so beautiful, so perfect, to this day how these structures are formed remains a mystery. When I saw that image, I knew exactly what I wanted to study – and I haven't looked back. After my wife and daughters, it's the only thing I really care about," he adds with a laugh.
Claiming to have been "a bad student", Correia never imagined he'd go into academia and develop a passion for teaching. He joined EPFL only four years ago yet in 2019 was named best teacher in the life sciences and technology section. "When I taught my first class I was terrified, nervous. I lacked the pedagogical know-how. I could see by the students' expressions that they were frustrated. Giving a lesson can be extremely stressful for a professor. So I tried to improve – I listened carefully to their feedback and drew inspiration from other EPFL professors I worked with," says Correia. Today he co-teaches two Bachelor's classes and one Master's class, all related to his research field of biochemistry. Students learn about the chemical compounds that form the building blocks of life, with a particular focus on proteins and biomedical research.
At his lab at EPFL, Correia – who holds a PhD in computational biology – and his research team uses computational methods to develop and test artificial proteins for applications in immunotherapy, vaccinations and biosensors. They recently developed an algorithm that scientists can use to predict a protein's interactions and biochemical activities from its appearance.
Learning together
Correia encourages his students to adopt the perspective of a researcher from the very beginning of their studies. "I try not to be a professor that simply talks at his students. Instead, I try to foster dialogue and create a climate where we all learn together. Because the teaching process works much better when information is shared both ways and in-between students, something I was taught by the previous SV teaching section director John Mckinney" he says.
Fostering dialogue means asking frequent questions and delving into detail when needed – all with a touch of humor so the students feel at ease. "I ask for volunteers to answer questions, but if nobody raises his hand, then I'll call someone. But the atmosphere is really relaxed. I think it's important to discuss things because knowing something and teaching it are two very different things. As soon as you try to teach something, you realize there are some facts you don't know as well as you thought," says Correia. He also tries to get students to visualize the concepts so that they learn them better and can then associate them in different ways. "I want my students to understand the mechanisms at work, not just memorize them. That's why I don't ask multiple-choice questions in my exams but open questions and let the students use documentation if they wish."
Correia may not have become a doctor but he still achieved his goal of helping people. Besides the fact that his research is medical-related, he is training the next generation of scientists. "I didn't realize it until someone pointed it out, but it's true that as professors we give tomorrow's active players in society, a solid foundation and sharp analytical and critical skills. That will help them make sound decisions and contribute to improve the world we live in. And that's what really matters, right? Although sometimes I worry that the academic 'bubble' my colleagues and I live in, affects how we see the world," he says.
Correia has never regretted his career choice. "EPFL is a fantastic place with excellent facilities. I lived in the US for a long time, and even though here in Switzerland we have less of a 'go and do it' mentality, if you really want to do something, you can find the resources, it boils down to your willingness to go forward. And in Switzerland we have a better work-life balance," he says. A father of two girls aged four and seven, Correia feels he can be there more often for his family. Only one thing bothers him, the issue of gender equality. "I see how hard things can be for women, that's I try to be very attentive to gender equality issues even in my classes, as a lot of the equality problems start in class rooms " he says.
/Public Release. The material in this public release comes from the originating organization and may be of a point-in-time nature, edited for clarity, style and length. View in full
here
.