Key points:
Address the constraints to growing sub-clover and you reap the benefits of better animal production
Match sub-clover cultivar to soil conditions and water holding capacity
Grazing theory can be challenging to implement in some seasons but make amends when you do have the opportunity.
When the Venning family purchased their western Victorian property 20 years ago, they were faced with hard, acidic and nutrient-deficient soils.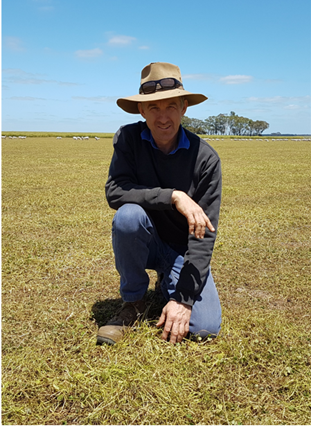 The poor soil conditions – along with flock fertility issues – were strong catalysts for brothers Brad and Todd Venning to assess their pastures and introduce a new system that would not only speed up the recovery of their soils, but also increase their flock's productivity.
For the Vennings, a major factor in this recovery has been the introduction of sub-clover due to its production and nitrogen-fixation benefits.
Quality over quantity
Brad said he aims for a high-quality pasture with sub-clover composition of 50% in the middle of spring to maximise weight gains.
"There could be twice as much dry matter in one paddock but the lambs aren't doing as well," Brad said.
"The lambs we've shorn off the two pure sub-clover stands are 10–15kg heavier than the ones that have come off the ryegrass/sub-clover mix (with a low sub-clover percentage).
"It's not how much dry matter you can produce, it's how much quality dry matter you can produce."
Selecting sub-clovers
Understanding their soil type has influenced the Vennings' choice of sub-clover cultivars. One of their favourite cultivars is Napier, a late flowering yannicum-type suited to waterlogged conditions, as it's the most appropriate for their soil.
"You need to match your clover flowering time to your soil type," Brad said.
"It's no use having an early sub-clover variety in these lower lying paddocks because I know it'll keep growing and last a lot longer than on the hilly country where the gravel bank is."
With average rainfall of 650—675mm, the growing season on their property extends into December – but the Vennings can get waterlogging issues during winter and early spring.
"Napier adds another two weeks to the end of the season and that's worth a fair bit to animal production," Brad said.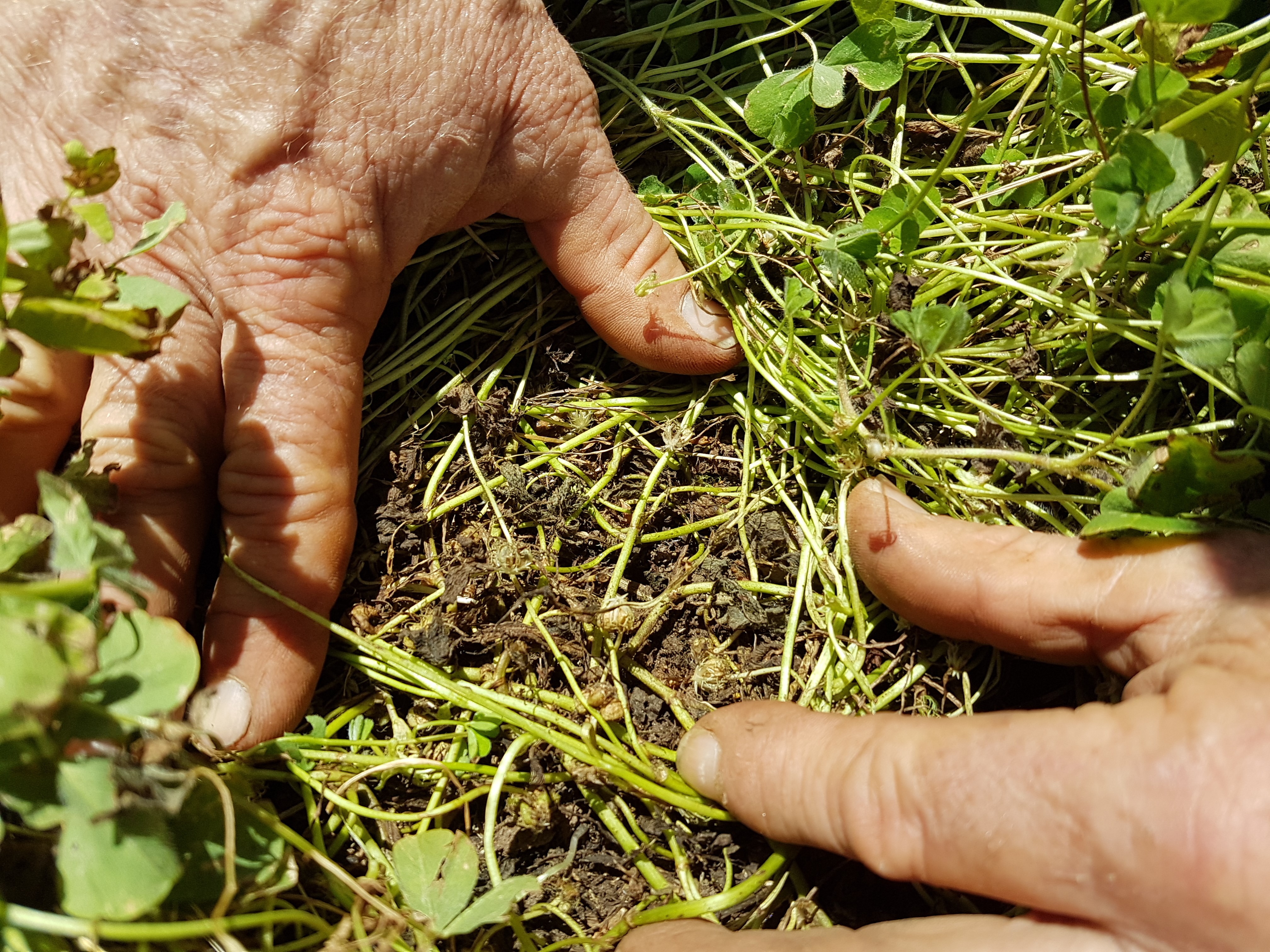 Sub-clover challenges
Despite the benefits sub-clover has provided to their production system, Brad said it also comes with a couple of challenges:
Weed control
"You've got barley grass and soft brome grass weeds that you have to contend with due to more nitrogen produced," Brad said.
"You really have to get your perennial grasses working properly, otherwise the annuals become competitive with a free kick of nitrogen."
Brad said they occasionally use chemical control to manage these weeds.
Pest management
The other challenge the Vennings face is insect pests, which also like to eat the sub-clover.
"Red-legged earth mite will kill a seedling clover plant, but once it gets a bit bigger and you've got sheep on the paddock, the sheep will eat a lot of the earth mite because the mites can't move on the leaf as freely as lucerne flea," Brad said.
"If it's a significant infestation, you have to spray for earth mite —but what really wreaks havoc on our clover is lucerne flea.
"We have to spray lucerne flea out of clover otherwise it will knock the production levels for six," Brad said.
Making the most of it
Brad said that sometimes seasons makes the grazing theory impractical to implement, but he tries to make amends where he can.
"It's good to have everything at a certain height, but because of a lack of rainfall some years, you can't get the clover to a certain height and you get paddocks too bare for perennial grasses.
"Then in years like this year, everything's just overgrown and the clover doesn't stand a chance to be as productive as it could be because it's been shaded out by annuals and ryegrass — and we haven't got enough stock to keep on top of it.
"Sometimes something's got to give, and you take the consequences of your decision and then hopefully fix it up the next year."
Soil condition for sub-clover
To maximise the benefits of sub-clover, the Vennings integrated an extensive liming program into their operation and participated in a recent trial with Southern Farming Systems (SFS). The trial tested responses to lime and molybdenum in a cropping rotation containing balansa and sub-clover.
Lisa Miller, SFS Research and Extension Officer, shares the results of the program.
Following the application of lime and molybdenum treatments, the dry matter produced on the trial site increased to be significantly higher than the amount of dry matter produced in areas not receiving treatment.
In mid-August, clover was visually denser and showier in the lime and molybdenum treatments compared to the nil treatment. Researchers measured an extra 0.5—0.8t/ha of dry matter.
By December, the different lime rate treatments had produced an extra 1–1.2t/ha more and the molybdenum plots a bit less at 0.8 t/ha – but they were all significantly different to the nil treatment.
/Public Release. This material from the originating organization/author(s) might be of the point-in-time nature, and edited for clarity, style and length. Mirage.News does not take institutional positions or sides, and all views, positions, and conclusions expressed herein are solely those of the author(s).View in full
here
.