When women's income and decision making power rises, the benefits are manifold, trickling from families to communities and society, from one generation to the next. Investing in women's economic empowerment affects many of the UN Sustainable Development Goals (SDGs), from ending poverty and reaching gender equality to promoting more inclusive economic growth. Nuclear technologies can also play a role in supporting the economic empowerment of women, including dairy farmers in Sri Lanka, who expect their income to rise by 150 per cent following an IAEA technical cooperation pilot project, delivered in cooperation with the Food and Agriculture Organization of the United Nations (FAO).
Quality calves for dairy production
In Sri Lanka, dairy cattle farming is one of the oldest occupations of women; however, it remains a challenge for farmers to acquire quality female calves with the capacity to produce large amounts of milk as adults. By harnessing biotechnologies and nuclear techniques, scientists are using artificial insemination and embryo transfer to produce more valuable calves to eventually boost dairy supply and, subsequently, increase the income of 100 women farmers. "In aggregate, an effective genetic improvement through selective breeding of stronger animals can be implemented faster using nuclear techniques than with conventional breeding techniques," said Mario Garcia Podesta, Technical Officer at the Joint FAO/IAEA Programme of Nuclear Techniques in Food and Agriculture.
With support of the IAEA and the FAO, and the Sri Lanka Ministry of Livestock and Rural Economy, scientists at the University of Peradeniya in Sri Lanka launched a four-year project in 2016 to provide genetically superior female calves to women dairy farmers in Sri Lanka's North Central Province.
"The project is important for Sri Lanka to improve the level of milk production and facilitate the improvement of livelihoods of rural Sri Lankan communities," said Mykola Kurylchyk, who manages the IAEA's projects in the country. "Empowering women farmers is crucial as they are primary caretakers of dairy cattle in small-scale farms and provide a significant contribution to dairy production and generally to the agricultural development and national economy."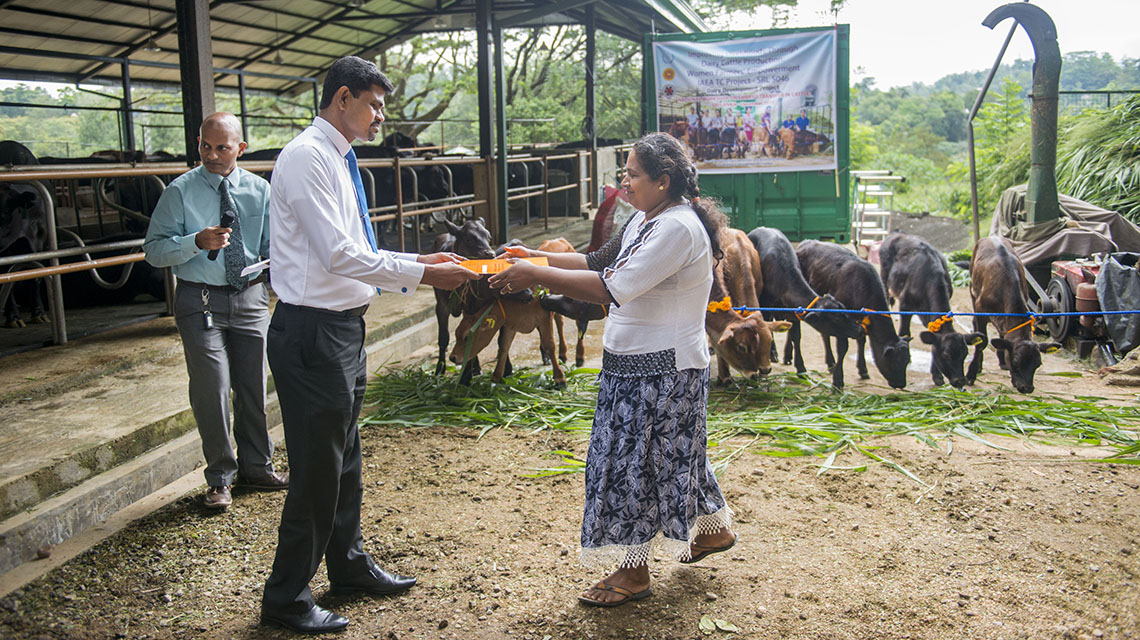 Scientists in Sri Lanka utilized reproductive biotechnologies bolstered by nuclear techniques to deliver superior female calves (see The Biotechnologies and Nuclear Techniques for Reproduction). By the end of 2020, the project team will have produced 500 quality calves for women in villages in Sri Lanka using embryo transfer and artificial insemination techniques, explained Basil Alexander, project team leader and Professor of Veterinary Reproduction and Reproductive Biotechnology at the University of Peradeniya. Patience and care will be key, as "it will take a few years for the calves to become adult cows, get pregnant, produce a calf and begin milk production," Alexander added. The first stage of the project culminated in December 2019 with Sri Lanka's livestock ministry donating 10 superior female dairy calves to women dairy farmers. The distribution ceremony coincided with a national workshop on cattle embryo production, preservation and transfer.
The project, fully funded by the IAEA, provided equipment, technical know-how and training to local scientists. Hundreds of cattle embryos were produced in three months and stored in liquid nitrogen at -196°C for future transplants. "The embryos can be stored for more than 200 years, theoretically," Alexander said. "They are stored as dormant-stage live embryos, and once transferred to a surrogate mother, an embryo can develop as a calf inside the uterus."
"We would like to continue with the project and expand the services for women dairy farmers in other provinces of the country," Alexander added. "Thanks to the IAEA and Australian partners, the University has acquired key equipment and know-how to continue the activities and expand the services to farmers at a national level."
/Public Release. The material in this public release comes from the originating organization and may be of a point-in-time nature, edited for clarity, style and length. View in full
here
.