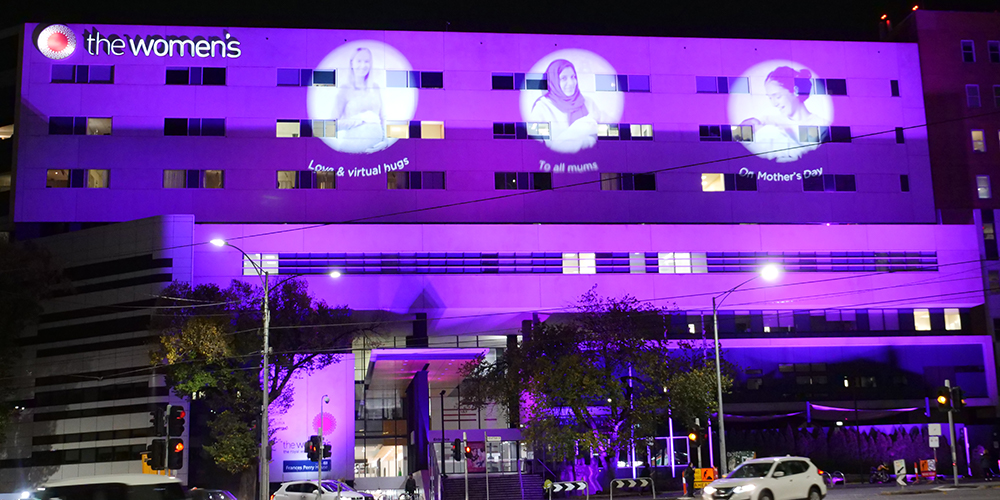 CLICK HERE FOR VIDEO & IMAGE PACKAGE
The Royal Women's Hospital has honoured mums across Australia and around the globe this evening (9 May) with an 80-foot light show on its Melbourne hospital to mark Mother's Day (10 May).
Eight current and recent patients of the hospital featured in the light show, along with a message of love and solidarity for mums celebrating a different kind of Mother's Day this year.
"Our hearts go out to all mums during this global pandemic, particularly new and expectant mums," said Dr Sue Matthews, CEO of the Women's.
"As one of Australia's leading maternity hospitals, we wanted to project this light show to share the love with mums and pregnant women all around the world ahead of Mother's Day.
"Motherhood can be challenging at the best of times, but during this pandemic we know a lot of mums are finding it difficult. We want these mums to know they are doing an incredible job, and they are not alone.
"While they may not be able to gather with family on Mother's Day, we hope they are showered with love and virtual hugs and know just how amazing they are."
More than 3000 babies have been born at the Women's hospitals in Parkville and Sandringham so far this year, and more than 1300 since the State of Emergency was declared in Victoria on 16 March.
One of the women in the projection is Jessica Moss who is mum to 11-year-old girl, Tyeisha, and is having her current pregnancy monitored by experts at the Women's, having been transferred from Nurmurkah.
"It is an amazing initiative to be part of! On any normal Mother's Day we would be having dinner with my beautiful mum, my sisters and nephews. This year it's going to be different, but I'm so looking forward to my baby boy coming. His dad and big sister can't wait," said Jessica.
I feel so lucky and blessed to be in the care of the Royal Women's Hospital. I want to thank the nurses, midwives and obstetricians for everything so far, they have all been amazing, caring and so supportive."
Dr Matthews also thanked the community for helping to flatten the curve in Victoria: "On behalf of all the women and newborns in our care, including the 60 babies currently in our Newborn Intensive Care Unit, we want to thank the Victorian community for continuing to comply with the State of Emergency restrictions. You are helping to keep us all safe."
This year, Mother's Day is celebrated on 10 May in more than 100 countries including the United States, Canada, Germany, Italy, Greece, Singapore and New Zealand.
/Public Release.