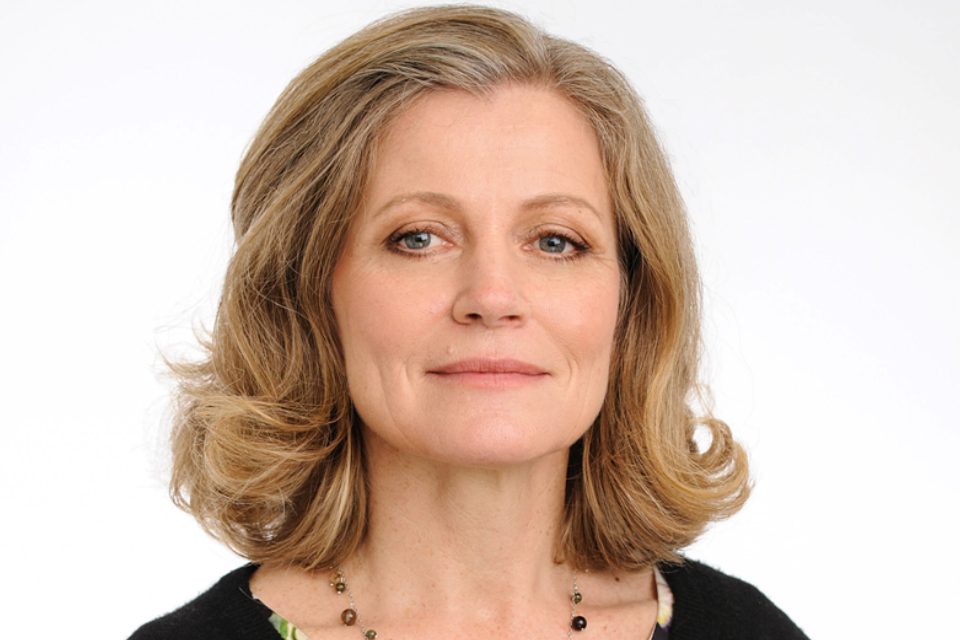 Thank you.
–
Your Royal Highness, ladies and gentlemen…
As it is Halloween, I will begin:
"It was a dark…
…and stormy night…"
–
As a category 1 emergency responder for flood incidents in England, dark and stormy nights are familiar to the Environment Agency.
Just this weekend, thousands of people were protected from severe flooding as a result of well targeted investment in flood schemes along the River Severn.
I visited on Monday and saw how my colleagues worked around the clock to help protect communities. They showed why we are the fourth emergency service during flood incidents.
–
The thesis of my speech tonight is that everyone in society…
…government, businesses, and individuals…
…needs to put the climate emergency at the heart of everything they do.
This work should not be in a box labelled "Environmental Issues"…
It should not be given a cursory 10 minutes at the Board meeting before everyone gets back to "the business of business"…
The climate crisis IS "the business of business".
It must become a default part of our thinking.
Otherwise, the dark and stormy nights of the coming decades will not only be much scarier…
…they will have an insurmountably damaging effect on communities, nature, and the economy.
–
But, I am not the Ghost of Christmas Yet to Come – here only to conjure a nightmarish apparition of the future.
I am positive about our prospects.
I'm the Chair of the agency that looks after the environment in the green and pleasant land of:
The Lake District.
The Norfolk Broads.
The Jurassic Coast.
And, the 2019 Rugby World Cup Finalists: England.
My message today is: there's still everything to play for.
–
Last week, on the northern Danish coast, a one hundred and twenty year old, seven hundred and twenty tonne lighthouse was put on skates – and moved seventy meters in land to save it from coastal erosion.
"The Lighthouse that was Rescued from the Sea" sounds like a children's book…
…but drone footage of the vast minaret-like structure gliding slowly across sand dunes made it a global news story.
–
The Rubjerg region of Denmark is popular with tourists.
It was decided that the cultural and aesthetic value of this non-operational lighthouse was worth securing for another forty years.
When it comes to coastal erosion and flood planning, the priority for authorities is to protect life.
But, saving this lighthouse was not that.
It says something about the way people want to live.
When we talk about the horrors of the climate emergency…
…and Extinction Rebellion are right that we must tell The Truth about this…
…we should also think about the resilience of what we value now.
–
The coastline has never been static. There has always been coastal erosion. Rivers change direction.
There have always been floods and droughts in the UK.
Just as there have always been typhoons in Japan.
So, when you read an article about the latest record-breaking climate event, it often comes with a sidebar of analysis titled: "Is this climate change?"
–
Last year, the Intergovernmental Panel on Climate Change said we have 12 years to hold global warming to 1.5°C above pre-industrial levels – and even if we do, the physical impacts – like storms and heatwaves – will increase.
The IPCC's report is not only momentous because of what it says…
It is a towering achievement because it managed to get scientists and government officials from forty different countries to agree on a single document.
–
Last month, the IPCC released a new report saying that once-a-century sea level events will be annual events by 2050.
So while we can agree that such things have always happened…
We must also agree that the multiplying effect of the climate emergency means we have new questions to answer.
A farmer might overcome a few dry summers with some tactical decisions about what to plant and where…
But a long term shift in climate means fundamental changes to the business – or running the risk of ruin.
We will be able to talk about that a bit more shortly, when Sir Ian Cheshire and Sue Pritchard join me.
Sir Ian chairs the RSA Food, Farming and Countryside Commission who – this summer – warned the climate emergency calls for a radical 10-year plan to transition to a sustainable food system, with more government support for healthy produce.
Adapting does not necessarily require new technology.
That humanity's response to the climate emergency will involve technological breakthroughs is not in doubt.
But, a business that pins all their hopes on the R&D department is a risky investment.
Global economic losses from climate disasters are already estimated at 520 billion dollars a year.
We already have the expertise and resources to overcome many of these.
So, it is an economic and moral failure that the international community is not looking at this effort as a strategic priority.
–
When Greta Thunberg talks about "cathedral thinking" to avoid climate breakdown, and says we must lay the first stone without knowing exactly how to construct the ceiling… she is right.
However, we are not working blind.
We already have a lot of the infrastructure and technical expertise that we need.
–
Take Typhoon Hagibis for example – which I know Your Royal Highness saw first-hand.
This was one of the worst typhoons in Japanese history.
The news here focussed on the rugby matches that had to be abandoned or postponed…
But, irritating though that was, it was small beer compared with a monumental triumph of modern civic planning that reduced loss of life and allowed Japanese society to quickly get back to normal.
My own son is a journalist working in Japan and he wrote:
"Hagibis comes in the wake of the category 4 Typhoon Faxai just a month ago, which knocked out power to 60,000 homes in Chiba Prefecture, and was considered one of the most severe storms to make a direct hit on the Tokyo area. Hagibis covers an area four times the size of Faxai and is a category above. It is Faxai's angrier cousin, and it comes for Tokyo full of rage… It is the first time in my life I've prepared for a weather event of this scale, but I don't think it'll be the last."
–
Last year, I visited Japan and walked in the vast underground flood silos 165 feet under Kasukabe.
Each silo holds 13 million gallons of water and clears 7,000 cubic feet of water a second, helping to keep Tokyo's flood risk down.
–
Obviously, not every country is as wealthy as Japan, but that doesn't mean they don't have a lot of expertise to share.
In Bangladesh, deaths from tropical cyclones declined more than 100-fold in 40 years, from 500,000 deaths in 1970 to just over 4,000 in 2007.
This was achieved by developments in early warning systems, cyclone shelters, evacuation plans, coastal embankments, reforestation schemes, increased awareness and communication.
–
As well as being the Chair of the Environment Agency, I am also the UK's Commissioner to the Global Commission on Adaptation.
Last month, the GCA released a report – Adapt Now: A Global Call for Leadership on Climate Resilience – suggesting that investing 1.9 trillion dollars in adaptation globally from 2020 to 2030, could guarantee 7 trillion dollars in net benefits.
The Commission says these benefits come in the form of a "triple dividend".
They:
• avoid future losses
• generate positive economic gains through innovation, and
• deliver social and environmental benefits.
–
At the Environment Agency, we take our role in realising these benefits for England seriously.
The costs of making the country more resilient to flooding is far smaller than repairing damage.
The National Audit Office says for every £1 spent on protecting communities, around £9 in property damages and wider impacts is avoided.
If it weren't for flood and coastal infrastructure in England, the January 2017 tidal surge alone could have caused £37 billion in economic damages.
–
Preparing for the impacts of climate change is necessary whatever climate scenario plays out over the coming decades…
But if we don't reduce humanity's contribution to the crisis, we will be fighting a losing battle.
As it stands, the world is not on course to meet 1.5 degrees by 2030.
Two weeks ago, Mark Carney said:
"We can observe where the market is in terms of pricing the transition. It's at least 3 degrees or 3.75 degrees, it's probably north of 4 degrees. That tells you something in terms of the sum of global climate policy."
To hear such a profound statement from the Governor of the Bank of England should do a couple of things.
Firstly, it should frighten you.
Secondly, it should focus your mind on what we need to do.
–
Climate change must become a default part of our thinking.
In every business and government decision, whether it relates to operational or capital expenditure, leaders need to be asking:
a. Is this course of action resilient to the physical impacts of climate change?
And,
b. Is it reducing our greenhouse gas emissions?
–
Two weeks ago, Jeremy Darroch, CEO of Sky and Chair of Business in the Community, said:
"When a business leader is frustrated at the disruption caused by Extinction Rebellion; or they find that extreme weather is making it hard for their business to operate… they shouldn't only look to government to solve the problem. Business survives and thrives because we are all part of a connected ecosystem. And that means it's not just the responsibility of other institutions to tackle climate change. It is our responsibility too. Indeed the future of our businesses and more importantly our planet depend upon it."
–
The UK Government must be applauded for being the first G7 country to set a net zero target by 2050.
Indeed this sort of action is infectious – the French were quick to follow.
And, this month, I was pleased to announce that the Environment Agency has set itself the goal of becoming a net zero organisation by 2030.
We will adopt a tough, internationally recognised definition of net zero that includes:
The carbon we produce (currently 44,000 tonnes a year). And, the carbon we consume through our supply chain (136,000 tonnes a year).
We will reduce our emissions 45 per cent by 2030, and offset what remains through activities including tree planting, restoring soil quality and peat bogs.
This does not mean that we will stop:
Building flood defences (currently 80,000 tonnes of carbon a year); pumping water out of people's homes if they flood, or around the country to alleviate drought (17,000 tonnes); travelling (12,000 tonnes); or heating our buildings (9,000 tonnes).
–
That we have chosen 2030 is important.
It won't be easy.
But, we will show how it can be done.
We will find the new technologies earlier.
More importantly, we will create an effective working model and the language needed to share best practice.
I have already spoken to businesses in our supply chain who are looking at their plans in light of our decision.
Last week, I was speaking at an event with the CEO of Sainsbury's who said that he could see many straightforward economic reasons for reducing carbon emissions, but one in particular struck me.
10 per cent of Sainsbury's energy use is through its fridges.
Reducing the carbon impact of that, by reducing the amount of electricity the supermarket uses, is an economic goal before you even consider the environmental benefits.
–
It seems obvious when it is articulated with a retailer's common sense.
But that's another one of the problems.
–
The climate emergency is not only complex… the different languages we use to talk about it muddy the waters further.
This creates unnecessary barriers between sectors and Government departments.
Which is nowhere more apparent than in my own industry: financial services.
–
Earlier this year I was on a panel with a financial journalist who said that every day, the news desk would receive more press releases than they could possibly cover – offering financial products that were "sustainable", "green", "ethical" and other such things.
However, the press releases were so full of jargon that working out the real world impact of these products was not compatible with a newspaper's deadlines.
–
Last month, the Department for International Development found that 68 per cent of UK savers want their investments to consider social and environmental impacts alongside financial performance.
It also found that many people aren't investing in this way because of a lack of clear and simple information, and common terminology on sustainability and impact in investment markets.
The incoming President of the European Central Bank, Christine Lagarde, puts it very simply.
She says the world could be "roasted, toasted, fried and grilled" by climate change…
The financial world not only needs to be paying closer attention to this, it needs to be communicating about it more clearly.
The film-maker Richard Curtis recently announced the launch of the Make My Money Matter campaign, which will help people choose sustainable investments that benefit people and the planet.
He said: "We are on the edge of a second consumer revolution – where the public realises just how powerful their own money can be."
–
This connection between people and the real-world impact of their savings will only grow as the climate emergency becomes more apparent.
Looking at the rise of Extinction Rebellion, Jem Bendell, Professor of Sustainability Leadership at the University of Cumbria, wrote:
"Executives in the private, government and charity sectors all face growing frustration at the clear net impotence of our actions on climate change. This 'stasis anxiety' will grow as the news on extreme weather and the latest science becomes more worrying."
Yesterday, a poll for the environmental lawyers ClientEarth suggested that more than half of people say climate change will influence the way they vote in the general election.
–
Unfortunately, the barriers to action are all too often political.
Looking at Donald Trump's reiteration of his plans to pull the US out of the Paris Agreement last week, it is easy to feel dejected…
A reminder that action is going to require political will and alliances, as well as scientific and economic arguments.
But, there are reasons for positivity.
Across North America, cities and States are putting in place resilience measures to protect against impacts like wildfires, floods, and hurricanes…
And they are also courting investment in clean technologies.
There are potential allies everywhere.
–
Over here, I was extremely pleased to see the Prime Minister's announcement that he will chair a new Cabinet Committee on Climate Change.
He said: "I want us to become the cleanest, greenest society on earth, and inspire countries around the world to follow our lead so that our children can breathe clean air and benefit from the wonderful flora and fauna of this earth."
–
It is positive that we saw signs of cross party support for aspects of the 25 Year Environment Plan relating to water and waste in the recent Parliamentary debate on the Environment Bill.
It is also good that the UK is part of the new Coalition of Finance Ministers for Climate Action, looking at revenue opportunities to tackle climate change.
–
The very fact that there is an international coalition of finance ministers for climate action is an indication of where we are.
The new Managing Director of the International Monetary Fund, Kristalina Georgieva, has said: "This Coalition… provides an important platform for Finance Ministers to share best practice."
–
Across the public and private sectors there is a lot of good work underway on climate change.
It is good to hear discussions about the resilience of infrastructure like prisons, hospitals and schools.
But, existing efforts must become more than the sum of their parts if they are going to inspire support beyond Whitehall.
In the National Security Capability Review, the Government launched the Fusion Doctrine.
This says that the Government will "take stock each year of the UK's positioning on national security in terms of resilience, threats and opportunities to take decisions about strategic prioritisation."
The central position of the Cabinet Committee on Climate Change makes it easier to coordinate and champion action across Government – and therefore create better join up with the private sector.
The Non-Executive Directors of Government Departments have the leverage to make those cross-sector connections too.
The COP in Glasgow in December 2020 is the perfect opportunity for businesses that have made commitments to show that they are delivering.
The climate emergency is now a fundamental threat to every area of modern life.
So our response must be a default part of everything we do.
One of the leaders I look to is the former President of Ireland Mary Robinson, who said to The Guardian last year:
"I don't think as a human race that we can be so stupid that we can't face an existential threat together and find a common humanity and solidarity to respond to it. Because we do have the capacity and the means to do it – if we have the political will."
–
So, I applaud David Attenborough, who said earlier this year: "The garden of Eden is no more"
Greta Thunberg, who said "I want you to panic."
And, Extinction Rebellion, who have appropriated Rabbi Hillel's famous quote: "If not now, when?"
Because bringing these issues to the front of people's minds gets us past debating whether or not the latest natural disaster is climate change…
And focusses minds on what action we must take to reduce the risks and prepare for new extremes.
–
We need to get better at clearly assessing climate risks and opportunities…
And better at pooling our expertise and resources across communities, sectors and international borders.
If people would rather put a lighthouse on skates than spoil the view, then humans have what it takes to overcome the climate emergency.
But, no one can wait for leadership tomorrow.
We must all get our own skates on today.
–
Thank you very much.
/Public Release. View in full
here
.