Macquarie University research shows that significant underreporting of osteoporosis in Australian residential aged care facilities points to an epidemic of underdiagnosis which is leading to increased risk of fractures and potential fatal falls.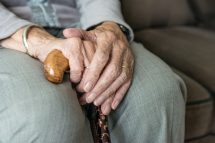 In the first large scale study of its kind, researchers at Macquarie University have found that osteoporosis is going undiagnosed within many residential aged care facilities in Australia, leading to greater risk of fracture which most residents will never fully recover from.
The study of over 10,000 residents from 68 facilities in New South Wales and the ACT over a period of three years, revealed that osteoporosis is drastically underreported, with only 30 per cent of residents having osteoporosis recorded on their electronic health record. This is inconsistent with international research that shows around 85 per cent of people living in residential aged care have osteoporosis.
Lead author, Dr Kim Lind, Research Fellow, Australian Institute of Health Innovation, says: "We believe that the lower than expected number of people with reported osteoporosis in NSW and ACT aged care facilities is due to underreporting in the health record, rather than lower rates of disease."
Just as the Royal Commission into Aged Care Quality and Safety has pointed to underperforming medication management as a leading concern, Dr Lind states that osteoporosis diagnosis and management is a prime example of where systematic monitoring of adherence to medication guidelines could quickly improve the care of our most vulnerable people.
Dr Lind commented, "We predict that the actual number of people in aged care facilities with osteoporosis is much higher and those missing out on a diagnosis are not being treated for what could lead to a serious life-threatening injury."
Researchers conclude that people in residential aged care facilities have so many other chronic health issues such as dementia, diabetes or heart disease, that their osteoporosis is not recognised or prioritised and therefore not treated, thus it is not reported on their health record.
Results from the study suggest that many people may not be receiving the PBS subsidised medication that would reduce their risk of fracture.
Even a minor bump for an older person with osteoporosis may result in a fracture as osteoporosis reduces the density of bones, weakening them significantly.
"Fractures in older people can severely affect their quality of life with pain, loss of independence and in some cases death," says Dr Lind.
Researchers believe greater attention to the diagnosis and treatment of osteoporosis among this high fracture-risk group is warranted.
The study was conducted by the Centre for Health Systems and Safety Research, Australian Institute of Health Innovation (AIHI), Macquarie University.
Kimberly E. Lind, Mikaela L. Jorgensen, Leonard C. Gray, Andrew Georgiou, Johanna I. Westbrook. Anti-osteoporosis medication use in a high fracture-risk population: contemporary trends in Australian residential aged care facilities Health Services Insights. https://journals.sagepub.com/doi/full/10.1177/1178632919852111
/Public Release. This material from the originating organization/author(s) may be of a point-in-time nature, edited for clarity, style and length. The views and opinions expressed are those of the author(s).View in full
here
.