COVID-19 affects everyone in some way, but it seems to affect cancer patients in particular, which is why Hollings Cancer Center researchers at the Medical University of South Carolina are joining a national and international consortium to explore the effects of the coronavirus disease on cancer patients.
Current evidence on COVID-19 and cancer found through the consortium's research shows that patients with cancer showed a higher risk of SARS-CoV-2 infection compared with the general population.
Oncologists Antonio Giordano, M.D., Ph.D., and Daniel Reuben, M.D., and colleagues Sara Matar, M.D., and Sarah Mushtaq, M.D., will be gathering data as part of this registry to inform clinical practice in real time. Giordano said he's glad Hollings Cancer Center can advance this important research initiative that will benefit the clinical management of cancer patients locally and worldwide.
In this Q&A, Giordano explains how the registry works.
1) What are your main duties as the principal investigator of this multi-institutional collaboration?
My role as a principal investigator is to identify the cancer patients infected with the novel coronavirus SARS-CoV-2 at our institution and to fill out their information in the survey forms for the COVID-19 and Cancer Consortium (CCC19) Registry. Drs. Sara Matar and Sarah Mushtaq, third- and first-year fellows in Hematology & Oncology, respectively, are co-investigators for this trial.
This is an international consortium with more than 100 participating institutions, and we are happy to have Hollings Cancer Center as one of the earliest collaborators to the consortium. As a principal investigator, I am actively involved in the weekly/biweekly meetings that the consortium holds where we discuss updates and future directions and suggest methods to use the data collected to serve our cancer patients better during the COVID-19 pandemic, especially those infected with the SARS-CoV-2 virus.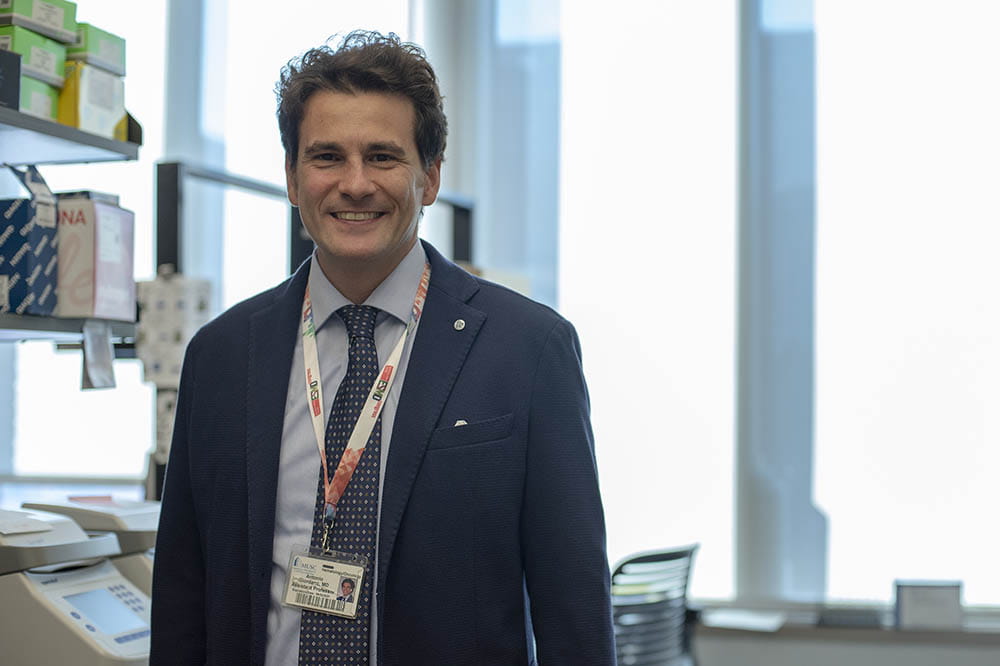 2) How are researchers collecting and disseminating information about the cancer patients who have been infected with COVID-19?
It is through collaborations like this consortium that we can better understand how this novel coronavirus SARS-CoV-2 affects our cancer patients. Each of the participating institutions is providing its data about cancer patients infected with COVID-19 through this consortium. Here at MUSC, we are keeping track of all the patients known to have cancer who have a confirmed diagnosis of SARS-CoV-2 infection and following their clinical courses closely. The information is disseminated to the CCC19 consortium through a HIPPA-compliant survey link that the investigators access to input the data.
Once the data from different institutions is collected and analyzed, it will be published to the public. Data from the first 1,000 patients were just analyzed and a manuscript is under review. Data from the first analysis will be presented to the upcoming American Society of Clinical Oncology's virtual annual meeting. A list of the publications can be found on the consortium's website.
3) What are the data showing so far?
It was shown in studies from China that patients with a history of cancer seem to have a higher incidence of COVID-19 infection than the general population. Cancer patients also seem to be at higher risk of severe events from COVID-19 than the general population. We are hoping that the data collected through the CCC19 consortium will help us to understand more fully the impact of this new and dynamic virus on our vulnerable population and help to optimize the way we care for our cancer patients in the setting of this pandemic.
The analysis will be published and available to the public as it comes out, and this might be in different phases and through different papers. There are two papers published so far, and we are looking forward to more in the future. The two publications thus far are "Crowdsourcing: a crisis response for COVID19 in Oncology" and "The COVID-19 & Cancer Consortium (CCC19): a collaborative effort to understand the effects of COVID-19 on patients with cancer."
4) Why do you feel it is important for Hollings Cancer Center researchers to be included in a registry such as this one?
I believe it is important to place Hollings Cancer Center on the map of the top cancer centers involved in the most recent research activities that help to advance research and the clinical management of cancer patients worldwide. There is still so much to be learned about this new and dynamic virus and its impact on our vulnerable patients. Being part of this consortium helps us to stay up to date with the most recent analysis and results that will help us to optimize our management of cancer patients infected with SARS-CoV-2 virus here at Hollings Cancer Center. This will help us to continue our mission to provide the best and most novel treatments for our patients based on cutting-edge research and evidence-based medicine.
5) How long is this trial planned to run?
This trial is planned to run for a year, but it might continue as long as more data is needed to answer questions addressed by this trial. Researchers are really worried about a second wave, which in some cases may bring a worse outcome than the first wave.
6) Is there anything else you would like for others to know about the COVID-19 and Cancer Consortium?
I would encourage everyone to check the updates from the CCC19, as it will affect how we treat cancer patients during this pandemic. I also encourage cancer patients with COVID-19 to be part of this trial, as this will help research progress and provide knowledge about this new virus that will help us to treat current and future cancer patients more effectively. Each provider at MUSC can reach out to the investigators of this trial to report cancer patients diagnosed with SARS-CoV-2.
/Uni Release. This material comes from the originating organization and may be of a point-in-time nature, edited for clarity, style and length. View in full
here
.