Key points:
Incentive for restockers to sell to feedlots or processors differs based on season
Restocker profits on slight incline despite turbulent climate
Cost of grain mirrors difference of profit between choosing to sell to feeders or processors
The climate and seasonal conditions are primary drivers of market dynamics, and have differing effects on profit margins throughout the supply chain. Analysis of gross profit margins (excluding costs) within the supply chain highlight how price has performed for steers depending on seasonality vs processors. Drier times (2015, 18, 19) create more of an incentive to sell to processors. Ironically, these times are generally when grass and water are scarce, so producers rely on fodder and grain to feed out to processor weights, increasing costs of production. At the peak of the drought in 2019, cost of grain was at its highest point in the last five years (see second graph), further disincentivising producers from carrying stock.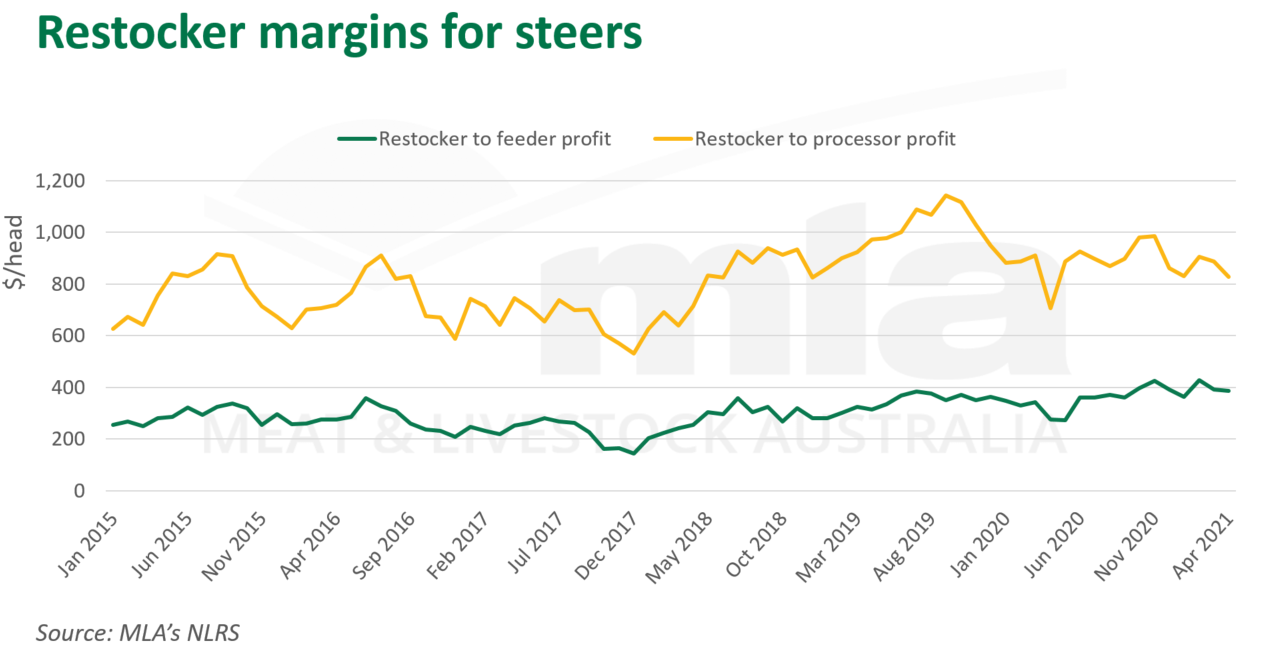 Alternatively, in wetter periods, restockers have been paying more for young cattle due to heightened demand. Ironically, improved conditions would naturally encourage producers to fatten to heavier weights, however, the restocker to processor profit margin is trending downwards, indicating less incentive to feed out, despite there being cheaper feed costs and more grass. This creates a tough decision for some producers – to sell lighter to feedlot or maximise grass and sell heavier.
Recent La Niña rain in 2020 and 2021, along with in 2016 and 2017, demonstrates this downward trend. The main difference between the two periods is the supply and demand dynamic is more opposing in 2019–20, due to a heavier liquidation phase during severe drought and a rapid bounce back in season, as shown by significant shifts in margins.
A key factor to consider is the cost of feed and the impact it has on margins. The below graph shows the difference in profit when a restocker chooses to sell to a feeder vs a processor (the difference between the previous two lines in the first graph) and the Darling Downs Queensland barley price. The price of barley, while used as an example, does trend quite closely to the difference in margins symbolic of the relationship that feed prices have on cattle margins and therefore the decision-making process. The relationship tells us that the cost of feed assists to balance out the shifts in price, allowing margins to move up or down to a certain degree. Generally, the higher cost of grain correlates with a lesser season, reducing incentive for producers to feed out, and pushing costs of production up across the supply chain. On the other hand, in a good season, generally lower feed prices offset tighter margins, levelling out the gap in where to sell.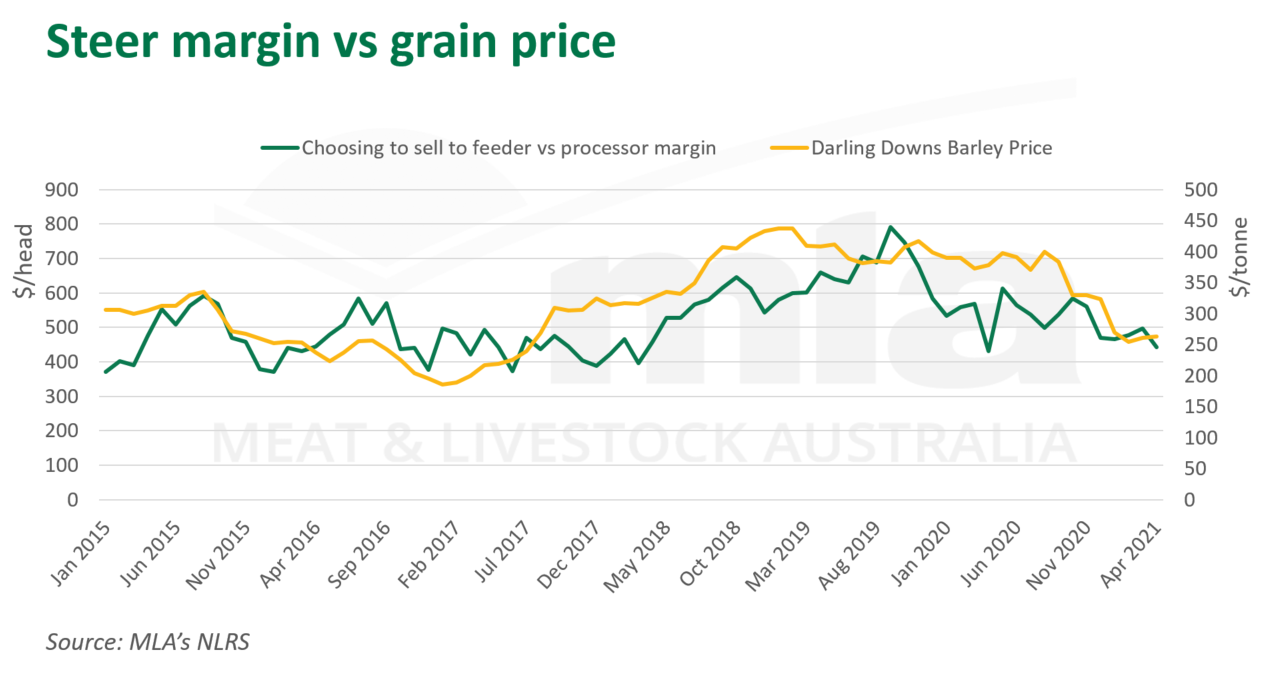 © Meat & Livestock Australia Limited, 2021
To build your own custom report with MLA's market information tool click here.
To view the specification of the indicators reported by MLA's National Livestock Reporting Service click here.
/Public Release. This material comes from the originating organization and may be of a point-in-time nature, edited for clarity, style and length. View in full
here
.