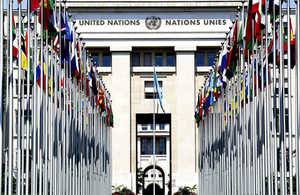 The United Kingdom welcomes Côte d'Ivoire's engagement with the UPR process and determination for progress on human rights since their last review.
The UK welcomes Côte d'Ivoire's acceptance of two of our recommendations, namely: to implement the recommendations of the National Committee for Monitoring Actions against Trafficking, Exploitation and Child Labour to end child labour and trafficking; and to protect the right to freedom of expression, in line with the Constitution, so that all individuals, including journalists, may speak and write openly without fear of reprisal or arrest. The latter is particularly important ahead of the 2020 Presidential elections.
We encourage the government to maintain a dialogue with journalists of all platforms and to articulate the government's position by responding to, rather than sanctioning, journalists.
We also urge Côte d'Ivoire to ensure the 2020 Presidential elections are free, fair, peaceful, and in line with international best practice, so all individuals can freely exercise their rights. A free press is essential in creating the necessary environment for credible elections, and should be upheld to the fullest extent possible.
We regret that Côte d'Ivoire did not accept our recommendation to adopt an open, merit-based process when selecting national candidates for UN Treaty Body elections. We are open to discuss this and hope Côte d'Ivoire will consider this process in future elections.
/Public Release. View in full
here
.