Piper was a healthy baby. Born at 10 pounds, she was well above average in birth weight. But as Piper approached her first birthday, her parents became concerned. Every time their daughter ate, food went right through her and she was not gaining weight.
"Piper was so sick," said Piper's mom, Courtney. "After soiling her diapers repeatedly during the day, she'd wake up two or three times a night and her crib would be a wet swamp. She was vomiting at least once a day. She would have night terrors almost every night."
Piper's parents took their daughter to her pediatrician multiple times and even to another children's hospital, but still had no answers. Piper's condition was worsening, and her parents were starting to panic.
"Piper's stomach was extremely distended, but you could see her ribs and spine. Everything was swollen and she was so lethargic," recalled Piper's mom. "By this time, she was only eating red and purple popsicles and drinking milk, and she was too weak to walk."
The night before they took her to UC Davis Children's Hospital, her mom feared the worst.
"I thought we were losing her," Courtney said. "But we were not going to give up. We had to find the right medical providers."
Getting answers
Determined to save their daughter's life, Piper's parents brought her to the Pediatric Emergency Department at UC Davis Children's Hospital. They quickly determined that the care team was not going to give up either.
"Piper was immediately admitted, and they began running lab work. We were finally going to get answers," Courtney said. "Once the care team reached a probable diagnosis, the team continued to run tests to rule everything else out. The team wanted to be sure it had the correct diagnosis and that there weren't multiple causes for her symptoms."
Piper was ultimately diagnosed with celiac disease and was in celiac crisis.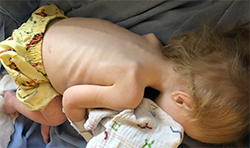 "Common symptoms of celiac disease include diarrhea, vomiting, poor weight gain, abdominal pain or rashes. Left untreated, it can cause long-term issues, including cancers of the intestinal tract," said UC Davis pediatric gastroenterologist, Kelly Haas. "Plus, as was the case with Piper, there is a severe, life-threatening type of celiac disease. Although quite rare, this requires more intensive treatment and nutritional support."
Although relieved to finally have an answer, the family was shocked the signs had been missed by other medical providers.
"Even though Piper showed all the classic symptoms of celiac disease, she had never been tested for celiac, despite being seen by multiple other medical providers. We could not get any answers until we came to UC Davis," Courtney said. "The care team ran every possible test to figure out what was wrong."
Collaboration was key to recovery
Piper is now a healthy, happy 3-year-old who enjoys spending time with her sisters and jumps for joy when she discovers new, gluten-free treats.
It took 18 days in the hospital to nurse Piper back to health. During this time, Piper's family witnessed the collaboration of the care team and it became even more obvious to them they were in the right place. In addition to the medical treatments for Piper's condition, the family had access to the additional services their daughter needed, plus the family support that made this traumatic journey a little easier.
From physical therapy and speech therapy, to nutrition, sleep assistance, sibling support, more toys and activities than one could imagine, and a very accommodating cafeteria, Courtney says the UC Davis Children's Hospital team went above and beyond.
"The UC Davis team saved Piper's life, but it didn't stop there. The aftercare we received was fabulous. It's the best medical experience we've ever had," Courtney said. "Piper made a full recovery and has grown accustomed to a gluten-free lifestyle. At 3 years old, she has learned to ask if a food contains gluten before she eats it. Piper is happy, affectionate, observant and surprisingly, she is the tallest child in her preschool class. We are so thankful for UC Davis Children's Hospital!"
/Public Release. This material comes from the originating organization/author(s)and may be of a point-in-time nature, edited for clarity, style and length. The views and opinions expressed are those of the author(s).View in full
here
.