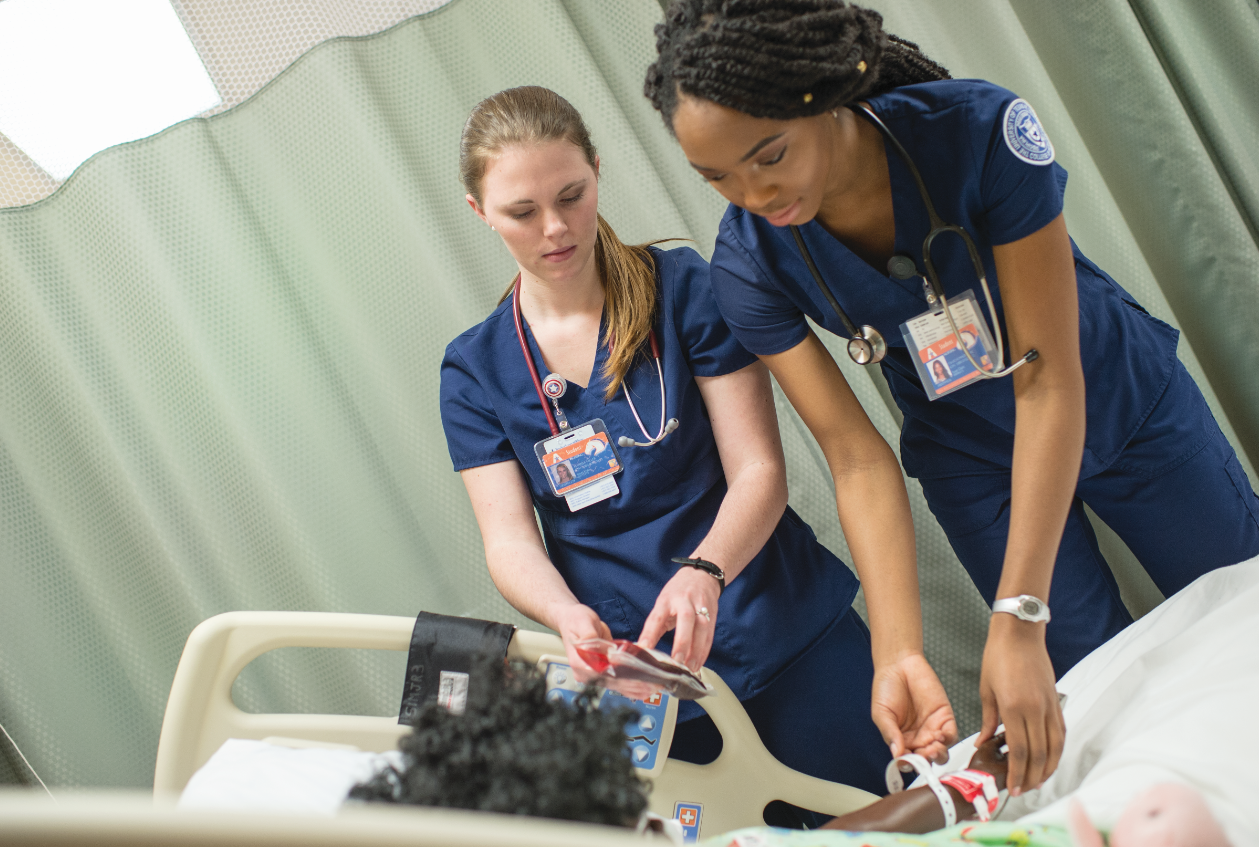 Amid a nationwide nursing shortage, The University of Texas at Arlington is on the front lines educating the next generation of nurses to alleviate deficits in the field.
UTA's College of Nursing and Health Innovation (CoNHI), designated a 2019 Center of Excellence in Nursing Education by the National League for Nursing, is the No. 1 producer of baccalaureate-degreed nurses in Texas and the largest nursing program of any public institution in the country. Its online RN-to-BSN program, launched a decade ago, has graduated more than 19,000 students.
UTA's efforts are critical. By 2030, the state will have a shortage of approximately 60,000 nurses, according to data from Texas Department of State Health Services.
"Over the years, CoNHI has responded to the state's need for expanded capacity in schools of nursing with our innovative accelerated online nursing programs for both undergraduate and graduate students," said Beth Mancini, professor emeritus. "Our enrollment has significantly increased, and we maintain a high progression to graduation and licensure rates."
A decade ago, UTA was enrolling approximately 200 news students each year into its pre-licensure program; today, it averages 700.
The program continues to grow in size and reputation. In 2019, UTA's online accelerated Bachelor of Science in Nursing degree program was ranked as the best in the U.S. by both Nursing Process and College Rank, while its online Master of Science in Nursing degree program was ranked second in Texas and seventh nationally by Best Health Degrees.
The U.S. Census Bureau estimates that in less than two decades, older adults will outnumber children for the first time in U.S. history. This rapidly aging population contributes to the growing need for health care professionals, especially nurses.
"It is vital to prepare the future nurse workforce to care for the rapidly growing older adult population," said Kathryn Daniel, associate professor of nursing and director of the Adult and Gerontologic Nurse Practitioner Programs. "Older adults are valued members of society and deserve the best care that we can give them."
Both Mancini and Daniel agree that the current and projected shortages could lead to strong job prospects for future nurses. The limited supply and high demand across the country makes it a great time to enter the field.
"Nursing is a profession that is in high demand and generally enjoys job security, a respectable salary and flexible work hours," Mancini said. "The Texas nursing shortage, in particular, creates many opportunities for prospective nursing students looking to enter UTA's accelerated RN program, where they can earn a Bachelor of Science in Nursing and take advantage of the growing number of nursing jobs across the state."
The impact of UTA's graduates in the workforce is reflected across the nation, but especially in North Texas. UTA partners with many area hospitals—such as Medical City Arlington, Texas Health Resources, UT Southwestern Medical Center and Children's Health—to fulfill patient care needs in surrounding communities and beyond.
The University has partnered with 38 hospitals and health care systems across Texas that serve as sponsoring sites, providing clinical experiences that transform UTA students into better nurses who are well-acclimated and ready to work in a partner's facility, Mancini said.
"UTA provides students with a broad education and employable skills that empower graduates not only to be learned citizens but also be assured of gainful employment in a constantly changing world," Daniel said.
Nurses compose the largest component of the health care workforce, are the primary providers of hospital patient care, and deliver most of the nation's long-term care.
"Nurses' roles range from direct patient care and case management to establishing nursing practice standards, developing quality assurance procedures and directing complex nursing care systems," Mancini said. "They are vital health care providers who play an important role in the future health of our populations."
/Public Release. View in full
here
.