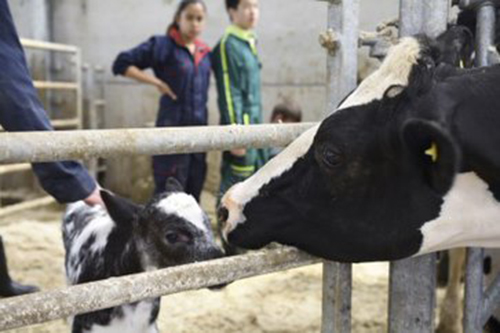 Wales will soon be leading the way in promoting best practice prescribing of antimicrobials, thanks to a nationwide project launched today [Monday 18 November] on European Antibiotic Awareness Day and the start of World Antibiotic Awareness Week [18-24 November].
The two-year project called Arwain Vet Cymru, is led by the University of Bristol in collaboration with Welsh Lamb and Beef Producers Ltd (WLBP) and Iechyd Da with delivery support from Menter a Busnes and MGC and funded by the Rural Development Programme.
Dr Gwen Rees, Research Fellow at Bristol Veterinary School and project lead, said: "With this project, Wales has a unique opportunity to become world-leading in the responsible use of veterinary medicines in beef, sheep and dairy production. With antimicrobial resistance an increasing global threat, and market forces requiring farmers and veterinary surgeons to seek new ways to move forward, Arwain Vet Cymru has the potential to be a real game-changer for the whole of Wales."
The project will see a network of trained 'Prescribing Champions' undergo 12 months of training, headed by Dr Gwen Rees, a Welsh-speaking vet and a member of the University of Bristol's AMR Force. The 'Prescribing Champions' and their practices will receive practical support to encourage improved communication and promote behaviour change. They will also be educated in the background and detail on antimicrobial resistance mechanisms, medicine pharmacokinetics and pathways of resistance.
The trained 'Prescribing Champions' will then be established at veterinary surgeries to encourage best practice when prescribing antibiotics and the responsible use of veterinary medicines with focus on the use of prescription veterinary medicines for sheep and cattle in Wales.
As part of the project, participating veterinary practices will receive two days free continuous professional development [offered in both English and Welsh], which will put them at the forefront of this important area of livestock production which is coming increasingly under the spotlight. In addition, the project hopes to collect veterinary practice antimicrobial purchase data from 2017-21; which will be delivered by Paul Rogers of Iechyd Da in collaboration with the University of Bristol.
The Arwain Vet Cymru project fits within the Welsh Government's wider five-year AMR in Animals and the Environment Implementation Plan (2019-2024) and is supported by the Welsh Government and the Office of the Chief Veterinary Officer, which is led by, Dr Christianne Glossop.
Robert Smith of Iechyd Da said: "This is an exciting new project which will greatly assist practising veterinary surgeons in maintaining their crucial role as gatekeepers of antimicrobial use in the livestock industry in Wales. I am confident that this ground-breaking scheme will lead to more responsible use amongst the veterinary profession and their farming clients in Wales for the long-term benefit of welsh farmers, their animals and for the general public."
Dr Christianne Glossop, Chief Veterinary Officer for Wales, added: "I am extremely excited about the launch of Arwain Vet Cymru. It will be great to see vets in Wales leading the way with regards to the prudent use of antibiotics in the veterinary sector. I'm looking forward to meeting the 'Prescribing Champions' and I'd encourage anyone who's interested in taking up this key role to put themselves forward, knowing that they'll have my full support behind them and this project."
Lesley Griffiths Minister for Environment, Energy and Rural Affairs, explained: "We all have a role to play to combat antimicrobial resistance in animals and the environment. The effects of AMR can be hugely disruptive, posing a serious threat to the ability to control infections in healthcare settings, in the wider community and in animals. The establishment of the Arwain Vet Cymru project is, therefore, good news for everyone – not just livestock owners. I'm pleased our Rural Development Programme, part funded by the European Union, has made this important project possible."
The project will liaise with other organisations involved with this type of work in Wales to ensure consistency of message to vets and livestock farmers.
Antimicrobial resistance – or AMR – is a global threat, with an estimated 700,000 people dying from resistant infections every year. This week [18-24 November] is World Antibiotic Awareness Week.
/Public Release. This material from the originating organization/author(s) may be of a point-in-time nature, edited for clarity, style and length. The views and opinions expressed are those of the author(s).View in full
here
.