A documentary co-written and directed by Macquarie University Indigenous film specialist Dr Alec Morgan sheds new light on an unsung hero of Australia's black rights movement. It premieres on August 10 at the Melbourne International Film Festival.
Aboriginal and Torres Strait Islander people should be aware that this story contains images and names of deceased persons.
William (Bill) Onus was artistic, political, uncompromising. He was an impresario and an entrepreneur – a real leader, way ahead of his time. I had always admired him. He was different from other Aboriginal activists, particularly in the way he used theatre to deliver his message.
Bill, a Wiradjuri and Yorta Yorta man, born in 1906 on the Cummeragunja reserve by the Murray River, seemed in his lifetime to be central to so many events unfolding in Australia: World War II, the lot of Indigenous POWs, atomic bomb tests, Communism, surveillance, the civil rights movement, the stolen generations, Aboriginal slavery, the decimation of Indigenous culture.
For filmmaking, he seemed the perfect vehicle for telling a broader story about Australia.
In 2013, I was contacted by a curator working at the National Film and Sound Archive in Canberra. He'd come across a piece of silent film marked "Aborigines in the Community". He wondered if I knew anything about it.
The 9½ minutes of footage contained scenes of a theatre production, Indigenous soldiers, and boys painted for ceremony. I recognised some of the people in it, including Bill throwing a boomerang (he was famous for that and travelled widely demonstrating). But it was the play that piqued my interest. It looked really political. And it seemed to have Bill's prints all over it.
Secrets of the suitcase
Around the same time, Tiriki Onus, Bill's grandson and the son of acclaimed artist Lin Onus, had discovered an old, monogrammed suitcase. In it were many photos including one of three young boys on location in Heidelberg, examining a hand-cranked Bell and Howell 35mm movie camera. The same boys who were in the film footage.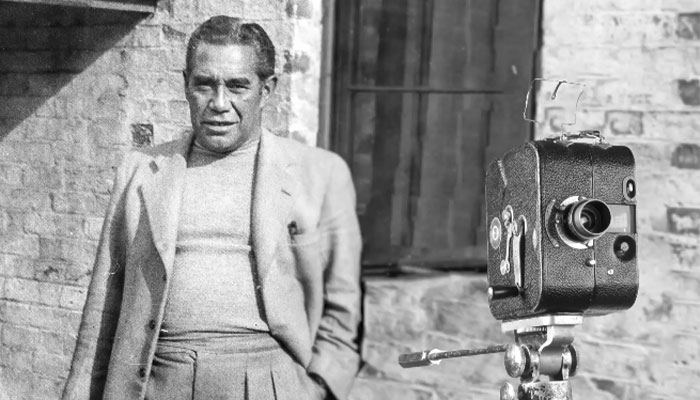 Ahead of his time: Bill Onus in Fitzroy in 1946, in a picture taken by his brother Eric.
Tiriki's grandfather died in 1968, 12 years before Tiriki was born, but he knew that Bill made movies. He had heard stories from Lin about a caravan fire that had destroyed all of Bill's films. Details were sketchy, but there were rumours a lost film might still exist.
I went to Melbourne to show Tiriki the footage. Ablaze grew from that meeting. Tiriki, who co-wrote and co-directed the film, is a Yorta Yorta/Dja Dja Wurrung man and Head of the Wilin Centre for Indigenous Arts and Cultural Development at the Victorian College of the Arts. A bass baritone, his first operatic role in 2010 was as Bill Onus in the Mooroopna premiere of Deborah Cheetham's Pecan Summer.
From a 10-minute piece of film with no title and no knowledge of where it came from, it's become a record chock-full of important historical events.
Ablaze opens with Tiriki, the narrator, wrapping his newborn daughter in a possum-skin cloak. Traditionally, these were given to a child at birth and added to, pelt by pelt, over time. In the film, you see the practice is banned, the furs of Australian animals keeping society women warm while Indigenous people make do with white masters' threadbare blankets.
Making the film wasn't so much a question of discovering whether Bill was the first Indigenous filmmaker – although the evidence points to it – but what exactly the material we found could be pinned to, historically. Luckily, Tiriki and I share a passion for detective work. From a 10-minute piece of film with no title and no knowledge of where it came from, it's become a record chock full of important historical events.
Exit stage left
The theatre production of the lost footage turned out to be a play called White Justice (Bill's brother Eric Onus and his wife Wynne danced in it), based on the 1946 strike in the Pilbara, jointly produced by Melbourne's New Theatre and the Australian Aboriginal League.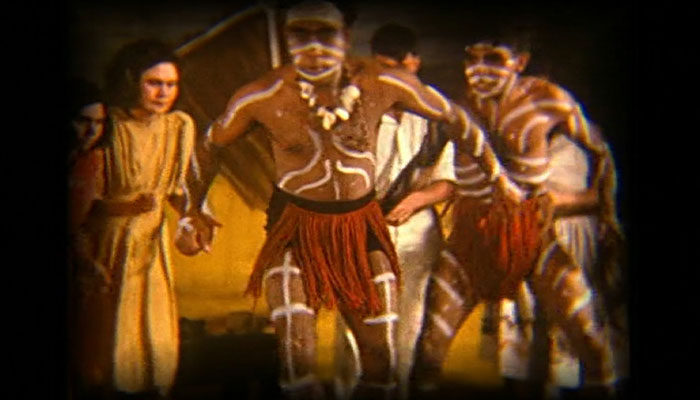 Lost footage: A still from White Justice, based on the 1946 strike in the Pilbara, but never shown.
In May of that year, 800 Aboriginal pastoral workers from 27 stations in Western Australia walked off the job for better pay and conditions. The strike lasted three years. The newspapers in the west published little about it: the pastoralists didn't want the story to get out.
The fact that White Justice was shot on a 35mm camera suggests it was being filmed for a cinema audience. But it was never shown.
Who was behind the camera? We can only speculate. The reason why there's no documentation lies in its time. In 1946, if you were known to be left wing or aligned with a trade union, you didn't put your name on credits because you could get sacked.
In 1961, Bill became a household name as narrator for the ABC's 12-part television children's series Alcheringa.
Also in the lost footage we spotted Reg Saunders, the first Aboriginal Australian to be commissioned as an officer in the Australian Army, eventually serving as a platoon commander in New Guinea in 1944–1945. He came home to work as a tram conductor which is where Bill filmed him.
Bill had long recognised the potential of film and television in spreading the equal rights message. He played several minor parts in films such as Uncivilised (1936), Lovers and Luggers (1937) and The Overlanders (1946).
Actions and words
In a letter that we unearthed, written to Labor heavyweight Arthur Calwell in 1946, Bill seeks permission to visit northern Australia with a 16mm camera to document the dreadful living conditions and chaining of Aboriginal stock workers. He was refused, and we don't know what happened to that particular camera or what else he had filmed with it.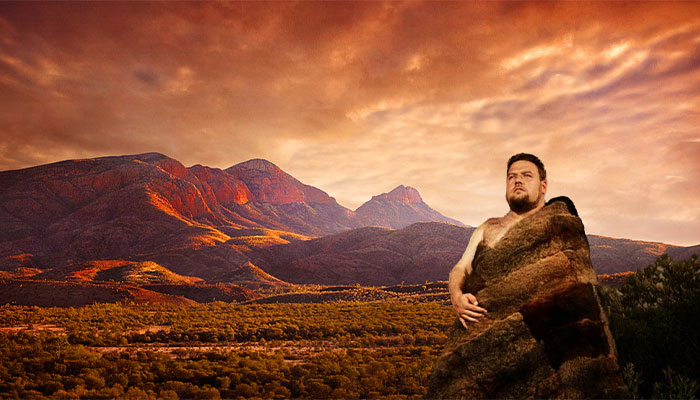 Detective work: Bill's grandson Tiriki Onus against a Pilbara background, wrapped in a possum skin cloak that he made based on traditional designs. Photo credit: Murray Vanderveer
He took to 8mm film in the 1950s and '60s, documenting local tourism, his family and empathetic visiting celebrities. In 1961, Bill became a household name as narrator for the ABC's 12-part television children's series Alcheringa, aimed at fostering Indigenous cultural heritage.
Bill was a prolific campaigner, pushing for better living conditions, civil liberties, and citizenship, and protesting government decisions on Woomera and atomic bomb tests. As the president of the Victorian branch of the Aborigines Advancement League, he pushed for the Yes vote in the 1967 referendum, which sought the right of Aborigines to be included in the Census.
There is much intrigue about why Bill has not been acknowledged to the degree activists such as Faith Bandler, Charles Perkins, Noel Pearson, Oodgeroo Noonuccal and Margaret Tucker have been. Was it his connections to the Communist party and trade unions? His wife, Mary McLintock Kelly, daughter of a wealthy white educated family dead against their marriage, was a Communist.
I have always been interested in Australian visual history, especially as it relates to Aboriginal history, and the way it fills the silences and gaps. Bill Onus left an indelible impression – and the makings of a film that I hope will put him back in the picture.
Dr Alec Morgan is an Honorary Associate Lecturer in the Department of Media, Communications, Creative Arts, Language and Literature. Ablaze premiers at the Melbourne International Film Festival on Tuesday, August 10, 6.30pm at the Capitol Cinema. Tickets from the MIFF website. It will also screen at the Antenna Documentary Festival in Sydney mid-October.
/Public Release. This material comes from the originating organization/author(s)and may be of a point-in-time nature, edited for clarity, style and length. The views and opinions expressed are those of the author(s).View in full
here
.