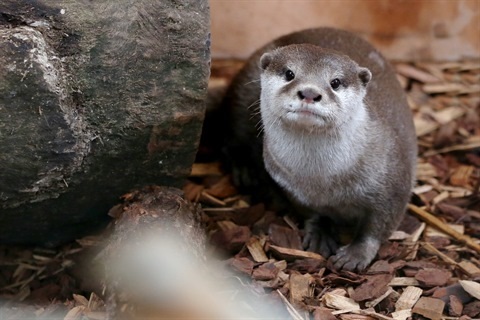 We all know that our local zoo is home to some incredibly playful and adorable animals, and it seems the world agrees.
A Facebook post of two of Rockhampton Zoo's Asiatic small-clawed otters, Tomio and Misumi, has been drawing international attention – receiving interest from more than 20 countries and over 1.87 million people.
Parks Chair Councillor Cherie Rutherford said the reach of the post, which features the cheeky pair playing slip and slide as their enclosure is being cleaned, has been astonishing.
"Our zoo's facebook page has around 18,000 fans," said Cr Rutherford.
"Our keepers do a fantastic job of giving the zoo's facebook followers a fun and educational behind the scenes look and we often get fantastic facebook stats, especially when our baby chimps were born.
"They are all well received and have a good following however the otters post has just blown the others out of the water – it has been seen by nearly 1.9 million people and there are more than 85,000 reactions, comments, and shares.
"What is really remarkable is where some of the comments are coming from. They are from all across Queensland and Australia, including Sydney, Adelaide, Melbourne, Canberra and Perth. We've got comments on there from our Kiwi neighbours as well.
"But there are also comments from across Europe including the UK, France, Germany, the Netherlands, Sweden, Italy, Poland, Turkey and Norway. So far we have counted over 14 US states including Texas, Arizona, Florida, California and Nevada, and Mexico and Canada have got in on the action too.
"We are seeing so many different languages: Vietnamese, Chinese, Thai, Russian, Hebrew to name a few."
Cr Rutherford said she loved the video but she would never have picked it out as the one to capture the world's imagination.
"There are so many adorable videos on the zoo's facebook page of all of our animals: yes our cheeky chimps and otters but also our macaws, kangaroos, emus, koalas, wombats, reptiles and more.
"Out of all of them I wouldn't have said this would be the one to be shared so many times but it just goes to show how cute our otters Tomio and Misumi are!"
Rockhampton Zoo is owned and operated by Rockhampton Regional Council.
See the otter video here.
/Public Release. View in full
here
.