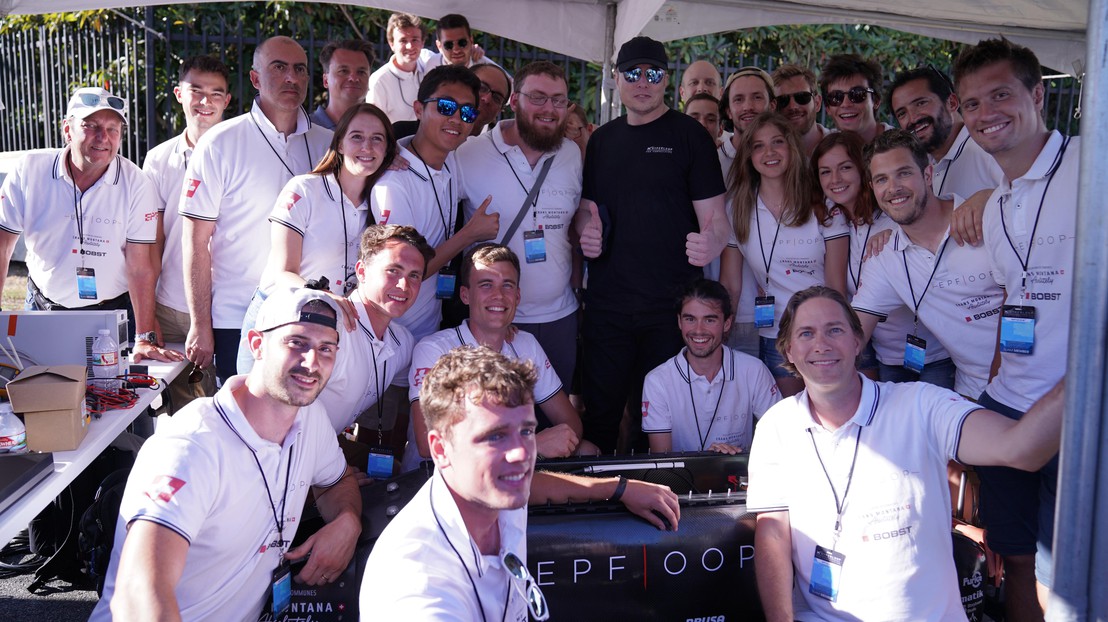 Les capsules Hyperloop des ingénieurs suisses brillent à Los Angeles. Les deux pod suisses d'EPFLoop et de Swissloop ont atteint respectivement la vitesse de 238 km/h et 259km/h dans le tube sous vide de SpaceX avec une technologie similaire. L'Université technique de Munich a explosé le record avec 463km/h. Mais aussi sa capsule.
Durant des mois, les 21 équipes d'étudiants sélectionnées pour la SpaceX Hyperloop Pod Competition ont travaillé dans le secret. Avec des idées géniales parfois, de l'audace et de la créativité, elles ont développé des solutions uniques pour ce qui pourrait un jour constituer un nouveau moyen de transport. Puis, est venu le moment de révéler son prototype: EPFLoop, l'équipe de l'EPFL, et celle de Swissloop (ETH Zurich et EMPA) ont indépendamment pensé au même mode de propulsion, un moteur à induction linéaire. Elles sont les seules. Elles ont vu juste. Car même si au terme de la quatrième édition de l'Hyperloop Pod Competition, le moteur classique de l'Université technique de Munich (TUM) a fait mieux en termes de vitesse, 463km/h, la technologie des équipes suisses n'a pas failli. Contrairement à la capsule de TUM, celles des Suisses sont revenues intactes après une pointe à 238km/h pour EPFLoop et 259 km/h pour Swissloop.
"Bien sûr, nous sommes déçus du résultat, admet Martin Seydoux, capitaine de l'équipe EPFLoop. Mais nous sommes surtout contents que notre prototype ait fonctionné exactement comme prévu. Tous les tests que nous avons effectués durant la semaine écoulée jusqu'au dernier moment ont été exactement conformes aux prédictions."
Qu'est-ce qui a cloché ?
Dimanche, à 9 heures les quatre équipes retenues pour la finale sont aux taquets. Prêtes à propulser leur capsule dans le tube sous vide de 1,6 kilomètre. EPFLoop passe en deuxième, après l'Université de Delft, à 11h30. Les batteries sont chargées à bloc, délicatement chauffées même pour leur donner plus de puissance. Suivant des procédures très strictes, la capsule est introduite dans le tube, puis la porte scellée pour permettre la mise sous vide. Sur un écran géant, huit caméras, postées tous les 250 mètres dans le tunnel, révèlent le rail éclairé par un série de néons en noir et blanc. Tel le démarrage d'une fusée spatiale, un protocole précis rappelle les buts de la mission donnée à la capsule: vitesse maximale, distance, freinage. Puis, les pilotes lui délèguent l'autonomie de la gestion de son voyage et c'est parti: "Ready to go!, 5, 4, 3, 2, 1, Launch!"
Au fil de secondes, on voit Bella Lui traverser les écrans des caméras l'un après l'autre alors qu'une courbe corrèle la distance et la vitesse. 100km/h, 150km/h, 200km/h. La tension monte, on voit filer le pod sur le sixième cadran. Chacun retient son souffle. Il apparaît dans le septième et soudain, la capsule s'arrête. Les freins à air comprimé sont infaillibles. Verdict: 238km/h. Seulement. La communication entre le poste de contrôle et la capsule a été malheureusement interrompue. Même autonome, le pod ne peut poursuivre sa route en solo pour des questions de sécurité. Il a donc avorté sa course. Reste à déterminer pourquoi la communication a été interrompue.
"EPFLoop, c'est surtout un groupe d'étudiants qui partagent des valeurs fondamentales pour les futures générations en cherchant des systèmes qui vont réduire notre impact environnemental au-delà des résultats d'aujourd'hui, conclut Mario Paolone, le principal conseiller de l'équipe. Nous avons fait des progrès énormes par rapport à l'an dernier en proposant pour la première fois un système de propulsion à l'aide d'un moteur à induction linéaire à haute vitesse et des batteries à haute température, sur une structure en fibre de carbone et un autopilote résistant à des défaillances de capteurs."
Il n'en reste pas moins qu'un certain sentiment de frustration et d'incompréhension régnait au sein des deux équipes suisses après la victoire de TUM. L'impressionnant record de vitesse des Allemands est incontestable mais leur capsule a terminé sa course en morceaux, partiellement désintégrée au freinage. N'était-ce pas une cause de disqualification ? Après plus d'une heure d'attente, les organisateurs ont conclu que non.
Elon Musk, le propriétaire de SpaceX était aussi attendu. Il est venu en personne féliciter les équipes sélectionnées pour la finale. Imagine-t-il appliquer d'autres critères que la vitesse à cette compétition telle que la fiabilité? lui a demandé Martin Seydoux. Sa réponse est restée imprécise, mais le milliardaire rêve en tout cas d'un tube plus long, si possible en tunnel, qui pourrait être prêt pour l'édition 2021.
Quoiqu'il en soit, "la participation de l'EPFL à cette compétition montre que l'EPFL est un des leaders mondiaux de l'innovation. Nous nous sommes confrontés à des équipes du monde entier et terminons dans le trio de tête. Au même titre que la recherche se mesure dans les publications, les concours d'étudiant sont une autre manifestation de notre excellence au niveau mondial", résume Marc Gruber, vice-président pour l'innovation, venu soutenir l'équipe lausannoise à Los Angeles.
/Public Release. The material in this public release comes from the originating organization and may be of a point-in-time nature, edited for clarity, style and length. View in full
here
.