Researchers teach a 3-day online course on COVID-19, leading to invitation to update members of Cabinet Office COVID taskforce.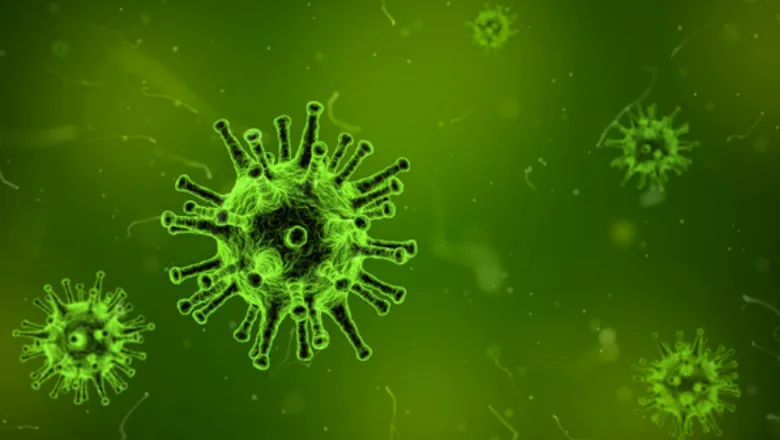 In January 2021, a team of leading King's academics from the School of Immunology & Microbial Sciences taught a comprehensive 3-day online course on COVID-19. This led to an invitation for the team to update members of the UK Cabinet Office COVID-19 taskforce on the virus variants circulating globally, as well as their impact on vaccines and therapies.
This course involved 14 members of staff across the Faculty of Life Sciences & Medicine, all experts in their various fields of COVID-19 virology, immunology, disease pathogenesis, diagnostics including track and trace, and therapies. There were 46 participants from five countries (UK, India, Bangladesh, UAE, Hongkong and Belgium) and this course received outstanding reviews.
A delegate from the Cabinet Office COVID-19 task force was so impressed by the content of the course that they asked four key lecturers to speak to the wider cabinet office and convey their expert opinions on the latest data relating to the SARS CoV-2 variants, vaccine landscape and therapeutics.
Professor Stuart Neil, Head of the Department of Infectious Disease, described how sequencing of the SARS CoV-2 virus and in particular the spike protein has identified emergence of virus variants that were of concern due to improved transmission or more effective avoidance of the immune response.
As a new virus spreads into humans it adapts to replicate more efficiently in us. We are beginning to see variants SARS CoV-2 that show signs of such adaptation. While we don't think that any of the variants are yet sufficiently 'vaccine resistant' to make most healthy vaccinated or previously infected people seriously ill, they pose a real threat to vaccine efficacy in at risk individuals. It is therefore vital to monitor genetic variations in the virus in real time to understand the likelihood of escape from vaccine-induced immune responses and to use that information to periodically update current and new vaccines for boosting responses in people likely to suffer from severe COVID-19.– Professor Stuart Neil, School of Immunology & Microbial Sciences
The impact of the SARS CoV-2 variants on efficacy of the current vaccines and how vaccine developers are re-tooling their vaccines to meet the challenge of the variants was discussed by Linda Klavinskis, Professor of Viral Immunology. She described the diverse vaccine technologies in use and explained how effective the approved vaccines (Pfizer-BioNtech, Moderna, Astra-Zeneca-Oxford, JNJ and Novavax) were in generating antibodies sensitive to the prevailing variants of concern.
The global scientific community was able to rapidly develop COVID-19 vaccines leveraged by deep knowledge gained from previous research on pathogenic coronaviruses. Maintaining research on the wider group of emerging infectious disease pathogens is critical to be able to rapidly respond with vaccines against future pandemics .I hope my insights into the challenges posed by the SARS CoV-2 variants and future emerging disease pathogens will be a small step in influencing policy makers in government.– Professor Linda Klavinskis, School of Immunology & Microbial Sciences
Picking up on the theme of future pandemics, Dr Anna Vyakarnam, Reader of Microbial Immunology, described how Bacillus Calmette–Guérin (BCG) immunisation could bridge the gap as an interim strategy to mitigate against future pandemics whilst pathogen specific vaccines are developed.
BCG is a 100-year old vaccine undergoing a major revival both in terms of inducing protection from tuberculosis based on non-human primate live challenge studies as well as for its ability to enhance innate trained immunity and thereby potentially provide heterologous protection against a range of pathogens, including viral infections. This in turn underpins why there are now over 20 global clinical trials underway to test if BCG may reduce disease severity against SARS-CoV-2.– Dr Anna Vyakarnam, School of Immunology & Microbial Sciences
Professor Manu Shankar Hari, Professor in Critical Care Medicine and NIHR Clinician Scientist, gave an overview of the clinical features of COVID-19, how the NHS adapted by increasing its capacity to rapidly generate high quality evidence for managing COVID-19 patients not only for the UK, but globally by leading Phase-III Trials such as RECOVERY and delivering international platform trials such as REMAP-CAP.
As a new viral illness, COVID-19 was a clarion call for generating such high-quality evidence at pace. At the heart of this problem is one of the oldest dilemmas in human organizations: how to learn safely by doing randomised clinical trials whilst providing 'best' possible clinical care in the context of limited baseline knowledge and unvetted information overload. The NHS and the NIHR linkage make the United Kingdom uniquely placed to do exactly that. We illustrated this by generating new knowledge that has formed standard of care globally for COVID-19 patients, exemplified by Corticosteroids therapy for COVID-19 amongst other medications.– Professor Manu Shankar Hari, School of Immunology & Microbial Sciences
Overall, the COVID-19 course highlighted to a global audience the breadth of COVID-19 research being undertaken at King's College London.
Locally, it has attracted the attention of the UK Government Cabinet Office, who have requested longer term interactions with King's COVID-19 experts placing the team in a unique position to help dispel misinformation about COVID-19 and contribute to the public engagement of science.
/Public Release. This material comes from the originating organization and may be of a point-in-time nature, edited for clarity, style and length. View in full
here
.