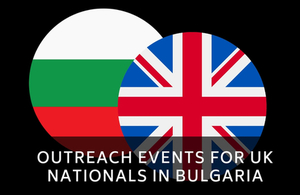 The British Embassy in Sofia has been holding meetings across Bulgaria to update UK nationals working and living in the country and answering their questions regarding UK's departure from the European Union.
If you are unclear about current residency requirements in Bulgaria, or how the UK's exit from the EU might affect you, come along to one of our upcoming events to ask the questions that most concern you.
the meetings are free and open to all interested UK nationals

please note that you must register in advance in order to attend this event and bring your ticket and a photo ID with you. You can find more information about the event on your ticket after registering

if you know any UK nationals who might be interested in attending, please share this page with them

the meetings will start with a short introduction to update you on the progress made so far in the negotiations and will be followed by a Q&A session
In our team's continuous effort to reach as many UK expats in Bulgaria as possible, we will be announcing further outreach meetings on this page.
Upcoming events
Past events
Haskovo – 5 February 2019
Vratsa – 29 January 2019
Vidin – 28 January 2019
Bansko – 28 January 2019
Samokov – 16 January 2019
Sofia – 10 December 2018
Yambol – 5 December 2018
Burgas – 4 December 2018
Varna – 29 November 2018
Veliko Tarnovo – 15 November 2018
Sofia – 12 July 2018
Varna – 22 May 2018
Ruse – 23 April 2018
Bansko – 14 March 2018
Veliko Tarnovo – 21 February 2018
Burgas – 9 February 2018
If you have attended one of the abovementioned events but have not already done so, we would appreciate your feedback here.
/Public Release. View in full
here
.