EMBL and Portugal are bringing together leading scientists to highlight the role of fundamental research in tackling infectious diseases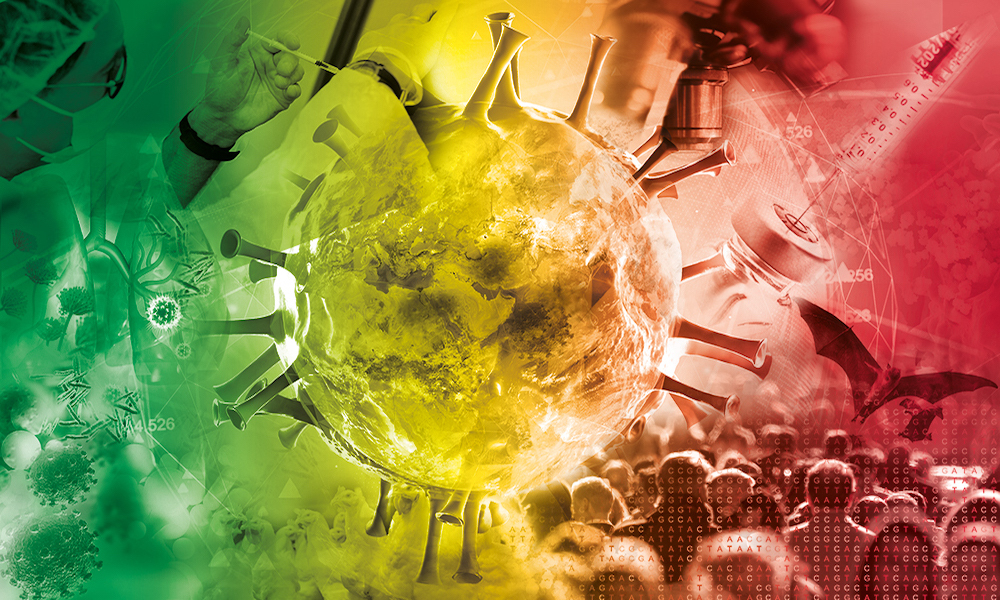 Has any event in modern times highlighted the impact of infectious diseases as starkly as the COVID-19 pandemic? After more than 12 months, it's hard to remember a moment when issues surrounding infectious diseases have felt more central to all aspects of life.
Scientific infrastructure and sustained research funding play key roles in the global fight against emerging infectious diseases. As part of an initiative implemented by Portugal during its presidency of the Council of the EU, EMBL and Portugal are collaborating to bring together key international experts to address topics such as infectious diseases, immunology, and the molecular biology of viruses. The conference, 'Emerging Infectious Diseases and related environmental, clinical and translational challenges', is hosted by the University of Coimbra and takes place on 27 April.
EMBL Director General Edith Heard will be speaking at the event, and believes it underlines Europe's strong collaboration in the face of the COVID-19 emergency. "I am very happy that EMBL and the Portuguese Ministry of Research have been able to join forces and make this conference happen in the context of the pandemic," she says. "It's a great illustration of how important European cooperation is when dealing with such crises."
Leading specialists from around the world are participating, including Özlem Türeci, co-founder and Chief Medical Officer of BioNTech; Sylvie Brian, Director of the Department of Global Infectious Hazard Preparedness at the World Health Organization; Jeremy Farrar, Director of the Wellcome Trust; and EMBL Deputy Director General Ewan Birney. The varied programme includes sessions on epidemiology, the cell biology of infection, and vaccine development. The discussion on this last area will not only cover recent successes, but will also address the salient issue of public trust.
Commenting on his participation in the conference, Ewan Birney says: "COVID-19 is an awful disease caused by a highly transmissible virus: all humanity has to work together to beat it. It's great that the Portuguese government is enabling these discussions as part of its presidency of the EU."
The COVID-19 pandemic has exposed just how devastating infectious diseases can be. While new infections are constantly emerging, little headway has been made in our ability to anticipate and address the threat they pose. Furthermore, recent decades have provided us with plenty of opportunities to learn lessons, in the form of Ebola, MERS, or Zika, to name just three.
One of those helping to arrange the event is Pedro Beltrao, a group leader at EMBL's European Bioinformatics Institute (EMBL-EBI). Pedro studies how cellular functions are altered in disease, and his recent work includes research on SARS-CoV-2. He highlights the importance of funding in helping to carry lessons forward and prepare for the future. "The progress that the biomedical community has made in tackling this pandemic has been incredible, really inspiring," he says. "This conference offers a fantastic opportunity to take stock, and to look back at key moments and make sure we learn lessons. It will also really emphasise the importance of having well-funded research and medical ecosystems."
With the world also facing the vast challenges of climate change, antimicrobial resistance, and decreasing biodiversity, the organisers of the event hope to empower science, and to underscore the importance of political support if such threats to public health are to be addressed.
"A key challenge presently facing humanity is to better balance economic activity and the protection of the ecosystem," says Manuel Heitor, Portuguese Minister of Science, Technology, and Higher Education. "As demonstrated by COVID-19 – thought to have originated in bats – an alarming signal is given by zoonotic diseases, or zoonoses, which have been increasing due to the pressure that our societies and their economic development exert on nature. This is a clear manifestation of the unbalanced influence of human beings on the Earth, which is also expressed through climate change. The eventual scientific demonstration of these relations with the pandemic, with which we now live, requires more knowledge to be able to ask more accurate and difficult questions and better understand the risks we run, as well as to guarantee that Europe leads the scientific evolution in this new geological era of the Anthropocene."
/Public Release. This material from the originating organization/author(s) may be of a point-in-time nature, edited for clarity, style and length. The views and opinions expressed are those of the author(s).View in full
here
.