>> WATCH A RECORDING OF THE MAY 2022 CLARENCE VALLEY COUNCIL MEETING HERE
Clarence Valley Council held its monthly Ordinary Council Meeting on Tuesday, 28 June at Maclean Council Chambers. A Mayoral Minute and three Notices of Motion were discussed, followed by 10 of 32 items debated and the other 22 adopted by consent in a meeting which lasted 2 hours 42 minutes.
IPART approves Council's application for 2.5 per cent rates increase
Clarence Valley Council's general ordinary rates income will increase by 2.5 per cent in 2022/23 after the Independent Pricing and Regulatory Tribunal (IPART) approved the single year variation application submitted in April.
IPART determined its unusually low rate peg of 0.7 per cent in 2021 before surging inflation, fuel and other commodity prices increased councils' costs.
In response to the apparent ramifications this would have on council budgets and communities, especially in regional and rural council areas, the Minister for Local Government gave councils the opportunity to seek an additional one-off rate variation to a maximum of 2.5% including the announced rate peg of 0.7%, and approved 86 across the state.
"Clarence Valley Council welcomes IPART's decision to approve the application for a 2.5 per cent rates increase submitted after the April monthly meeting," CVC Acting General Manager Laura Black said.
"The historic low rate peg of 0.7 per cent originally handed down by IPART represented a reduction in projected income of $670,000 which would have resulted in a reduction of services and potential loss of employment. Council would not have been able to deliver on maintenance services already included in its budget.
"The 2.5 per cent increase will allow Council to operate as planned in 2022/23."Councillors ratified the 2022/23 Rates and Charges levy which included the 2.5 per cent increase. Full details can be found on pages 763 to 767 of the June Ordinary Council Meeting Business Paper.
Councillors opt out of recommended 2 per cent pay increase
Council voted 6-3 to not increase fees payable to elected members from 1 July 2022, despite a NSW Local Government Remuneration Tribunal determination of a two per cent increase for local government elected members.
While councillors acknowledged rate payers have been doing it tough and greed it was not the right time to be increasing allowances, debate put the wheels in motion to potentially challenge sections 248 and 249 of the Local Government Act, which require councils to fix their own fees. Some councillors suggested they should not have to fix their own fees by resolution, but rather have the increases determined by the tribunal automatically.
In 2022/23 the Mayor will receive $78,950, Deputy Mayor $31,950 and the other seven councillors $24,810 each, which are the same figures as 2021/22.
Integrated Planning & Reporting Framework 2022/23 adopted
A suite of documents under Clarence Valley Council's Integrated Planning and Reporting Framework (IP&R) 2022/23 were adopted after receiving unanimous support at Tuesday's meeting
Each year Council prepares a draft Operation Plan and accompanying documentation under the IP&R Framework, which is enacted under the Local Government Act 1993 and supported by the IP&R Guidelines issued by the Office of Local Government. The documentation underpins Council's activities, achieves the direction set by the elected members and the aspirations identified by the community in the Community Strategic Plan – Clarence 2032.
"The end of a long road," Mayor Tiley said before taking the vote to officially adopt the framework. "I'd like to convey a congratulations to all our staff for all the work they've put in over the last several months in relation to all those plans and strategies. Well done."
The IP&R Framework includes the Operational Plan 2022/23, Delivery Program 2022/2025, Community Engagement Strategy, Resourcing Strategy incorporating the Long Term Financial Plan (2022/2032 to 2031/2032), Workforce Management Strategy (2022/2023– 2025/2026) and Asset Management Strategy (2022/2023 – 2031/2032), and the 2022/2023 Fees and Charges.
The Community Strategic Plan – Clarence 2032 was approved for adoption at the May monthly meeting.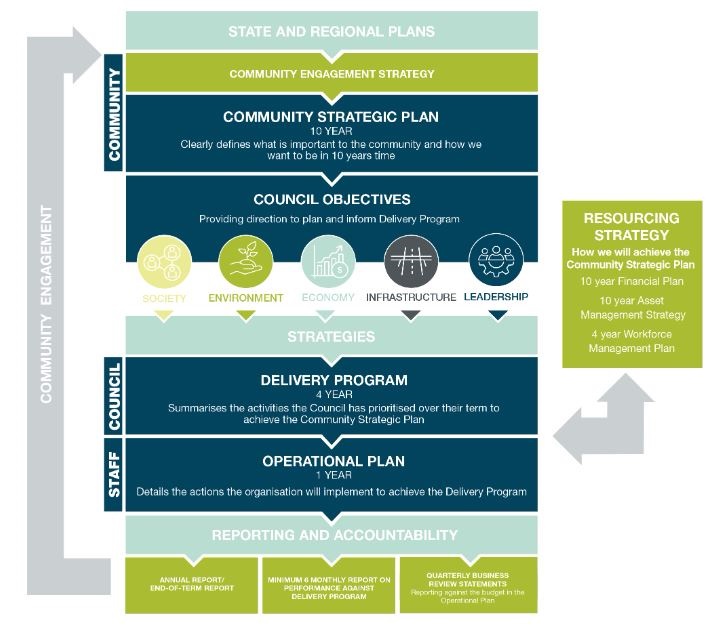 Community Participation Plan (CPP) adopted
The updated CPP was adopted unopposed. It sets out the minimum requirements for informing and involving the community in land use planning and decisions about development applications and is required under the Environment Planning and Assessment Act 1979.
The CPP was updated in response to changes in NSW Government legislation not requiring DAs to be advertised in local newspapers and community feedback to help ensure our engagement and notification on planning matters is current, accessible, inclusive and transparent.
A key change to the CPP is extension of the minimum period that larger scale or potentially controversial DAs are advertised from 14 to 28 days.
Two major land strategies adopted
The adoption of the Employment Land Strategy (ELS) and Rural Land Strategy (RLS) both received unanimous support at the Council meeting.
Cr Debrah Novak made specific mention to the importance of the RLS for primary producers in the region.
"I'd like to congratulate staff on this strategy and the effort that they put into locking in the future of the Clarence Valley agri-food industry," Cr Novak said. "This strategy gives our area a blueprint for greater expansion into the agri-food economy, and also signals to investors that we are open for business when it comes to the agri-food sector."
RURAL LAND STRATEGY: Informs future land use planning and resource allocation. Council resolved at its February 2022 meeting to place the strategy on public exhibition. As a result of the floods, this was extended for a total of ten weeks, during which time 19 submissions were received, with strong support for the initiative shown by Council to recognise the importance of agriculture and the rural landscape to the economy, community and natural environment of the Clarence Valley.
EMPLOYMENT LAND STRATEGY: Ensures sufficient Industrial and Business land is serviced and available for future sustainable development to support a growing economy, job opportunities and resilient communities. The strategy was developed through targeted consultation with Clarence Valley industry groups, State Government agencies, the community and across Council. The 31 submissions received broadly supported the draft, including from the Department of Planning and Environment, the Department of Primary Industries – Agriculture, Regional Development Australia – Northern Rivers, NTSCORP Limited on behalf of Yaegl Traditional Owners Aboriginal Corporation, Harwood Marine Kevin Hogan MP, Serco, Polaris Marine, Andrew Fletcher and Associates, and Clarence Property Group.
Clarence Valley Council thanks those who took time to make submissions to the various drafts on exhibition in recent months which in some cases led to important changes to final versions of documents.
/Public Release. This material from the originating organization/author(s) may be of a point-in-time nature, edited for clarity, style and length. The views and opinions expressed are those of the author(s).View in full
here
.